DULUTH—The raven from Grand Marais was obviously enjoying the roomy suite at Wildwoods earlier this winter. But it was in that "rock star" way. The room was a mess.
Tara Smith sighed, knowing it was going to be quite a job to clean the place up after the raven checked out. "He's leaving soon," she said, and the raven alighted from his corner branch perch onto another across an expanse that was layered with droppings.
To be anthropomorphic, you'd think the bird would have more appreciation.
Wildwoods Wildlife Rehabilitation in Duluth is the place where injured or displaced animals of the north find shelter and care. The raven, like hundreds of animals from across the region, was found injured and taken to the facility.
With some time on her hands during slower winter months, Smith, a care coordinator and often the only staff on hand through the cold season, crunched some numbers from 2017. She estimated that Wildwoods handled more than 1,600 animals last year, representing 152 species. That was up from 2016, which saw a 30 percent increase in admits from the year before.
Last year, Wildwoods added an outbuilding to the six-acre property it moved into in 2016 off Arrowhead Road. It's there where the animals get more room to heal with veterinarian-like services. Smith says the organization has come a long way from working out of a residential basement.
Today, Wildwoods is the second-largest wildlife rehabilitation center in Minnesota.
"It's just improvements now rather than just struggle," she said.
People have begun to see Wildwoods as the place to call when injured or orphaned wild animals are found. It is the only service of its kind in northern Minnesota, which is why animals are coming from more than 20 counties. But oftentimes, Smith said, Wildwoods is a good place to call when you need hands-on advice. The staff encourages people to be cautious with found animals but also talk them through handling situations on their own.
Smith once convinced a couple to pull a can off a skunk's head without getting sprayed. Another time, Wildwoods consulted a Duluth coffee company when an owl got covered in grounds in an exhaust system. The owl was fine, but smelled delicious, Smith said.
"It's fun to walk people through these situations," she said.
While winters can be a time to catch up on paperwork, fundraising and upkeep, one call can change a whole day, Smith said. One day she told a caller that she was a bit distracted since a pigeon had just thrown up on her. She was caring for several birds that had been poisoned.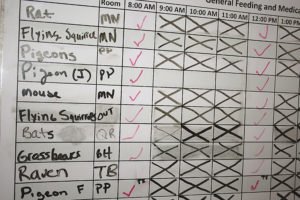 Yes, people call in with worry about pigeons. And mice. It doesn't matter that both are generally considered pests by many. Wildwoods does not discriminate, she said. The majority of animals in the barn this winter were pigeons. There was also a duck, a flying squirrel, rat, grosbeaks and a bat.
It was a big mouse and rabbit year, Smith said. She suspects that some distemper in foxes cut down on natural predators for the rabbits, resulting in a population explosion.
You never know what might come along, Smith said. A first for her last year was a baby porcupine. And there was a raft of larger animals to deal with, she said. Six fawns at once. Three baby bears. An opossum and badger were also a surprise.
She said seeing animals up close never gets old. She delighted in taking care of a river otter last year.
Smith's quick list from 2017 looked like this:
282 rabbits (275 cottontail, 7 snowshoe)
276 songbirds (including 60 robins)
132 squirrels
131 pigeons
130 rodents (including 100 mice and 2 porcupines)
110 raptors (including 16 bald eagles, 15 broad-winged hawks and 12 merlins, 9 snowy owls)
93 mammals (including 74 raccoons)
72 sea birds (including 46 ring-billed gulls)
27 fawns
17 bats
Wildwoods relies on volunteers to care for the animals. Sometimes, those who have experienced reporting an injured animal end up being part of the mission.
"It is amazing how a person's perception of a type of wild animal changes after they directly care for one," wrote Wildwoods founder Farzad Farr in a 2017 blog. "In this way, Wildwoods helps renew connections between people, our natural surroundings, and our wild neighbors that have eroded over time."
Smith revels in her daily up-close encounters with the Wildwoods patients. Even that messy raven.
"Some animals can be hard to deal with," she admits. But she remains diplomatic, something she knows is spreading through the region as Wildwoods becomes the go-to spot for injured or orphaned animals. "It's fun to hear people excited about helping animals."
If you have a wild animal question or emergency, contact Wildwoods at (218) 491-3604. The center relies on community donations to carry on its mission. If you'd like to help, call or go to: wildwoodsrehab.org. The website and Facebook page are great places to read about and watch epic animal rescues.