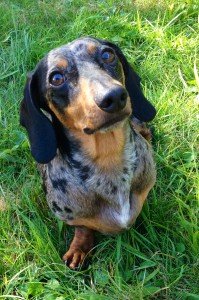 Follow those paw prints in the snow and you may just find yourself at the door of one of the many shelters and dog rescue groups along the North Shore of Lake Superior. Selfless animal lovers in our communities are working tirelessly to match adoptable dogs to their forever homes. These dedicated and compassionate individuals volunteer their time and energy daily to a cause that brings joy to so many families.
Paws for Love
Alan and Kim Tamminen of Thunder Bay, Ontario are working to make the world better for dogs on the North Shore. In 2013 they began Paws for Love, a shelter they run out of their home. Currently providing love and attention to 50 dogs, the volunteer organization gets many puppies from northern communities with no veterinary care.
In an effort to control the population, they put a heavy emphasis on making sure every dog that comes through its adoption program gets spayed or neutered after the adoption. Nikki, one of the volunteers, maintains communication with adoptive dog parents to hopefully ensure follow-through.
"Once we get a puppy into care it is quarantined for two weeks. We administer the first shots, put it in a foster home and feature it on our Facebook page and website. Once a dog is adopted, I follow up with adoptive parents to make sure the dog is spayed or neutered in a reasonable time frame. Part of the adoption cost is a $50 spay/neuter refund that many people choose to donate to the Northern Spay Neuter program instead of recouping," said Nikki.
Part of the process of bringing dogs up to an adoptable standard is doing full health checks. Both the puppies and the adult dogs that find their way to Paws for Love often have very serious medical issues that must be addressed.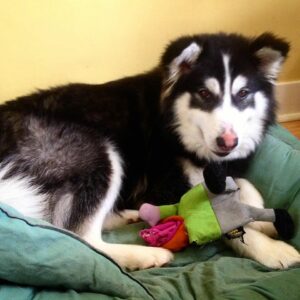 "We do have lots of adult dogs that we bring in. They are the hardest. We have dealt with broken or dislocated legs, missing eyes and cancer," says Tamminen. "Sometimes puppies come with horrible diseases like mange and parvovirus."
Though it can be a monetary struggle, local pet stores help with food donations and local veterinarians offer reduced rates. Financial challenges aside, Tamminen sees the end result as the most important aspect of all.
"We are all volunteers in this; there is no money made at all. Seeing the dogs in their new lives living like kings and queens really makes all the effort and tears worth it in the end," she said.
Over 700 dogs have found forever homes since 2013 thanks to their unwavering effort.
Ace's Waggin
Elizabeth Gray, a resident of Two Harbors, started her rescue group following a volunteer trip to the Crow Creek Indian Reservation in South Dakota. She was struck by the sheer number of homeless dogs on the reservation and felt compelled to get involved.
"That trip I came home with two dogs that I now call family. One was a female adult black Lab that I found abandoned and walking a dirt road with heat exhaustion. She is now named Waste (pronounced Wash-tay), which is Lakota for pretty. The second was a male puppy Rottweiler mix who was severely underweight and had mange so bad he cried every time he itched. He is now a handsome dog named Mato, which is Lakota for bear."
Gray runs Ace's Waggin, the foster-based rescue, with her mom, Kim Ruf-Gray. Every dog they rescue is placed into a foster home, which allows the pair to get feedback on the dog's behavior. Potential adoptive "dog parents" can then get a better sense of how the dog will behave around other pets and children. Their process has worked, though they are limited by the number of volunteer foster families available. So far, they have adopted out 17 dogs since January 2015. Of those 17, Gray and her mom have each fostered five dogs.
"I am thankful for Ace's Waggin. It has made me a more wholesome person. Dog rescue has become a large part of my life. Each dog and their new family will always be part of the Ace's Waggin family," said Gray.
Gray is always looking for foster families and forever homes for the dogs. Visit www.aceswaggin.weebly.com for more info.
Animal Allies
Animal Allies in Duluth is another group leading the way for the voiceless and four-legged members of society. The path of a dog through the Animal Allies intake process is heavily focused on ensuring not only physical health, but behavioral awareness as well.
"Our first step when a new dog comes in is making sure it is seen by our medical team. One of our biggest concerns as a shelter is keeping disease down, so we vaccinate the dogs right away. Once we feel secure that the animal is medically sound, they go through a process of behavioral assessment to evaluate how they do with food, toys, people and other dogs," explains Amy Miller, marketing and communications manager.
The relationships they have with local trainers facilitate creating a remedy for any behavioral training the dog may need before being deemed ready for adoption. One of their trainers has even agreed to provide an additional month of free training for a dog currently on the adoption floor when he meets his forever family.
As they have evolved, they have shifted their focus to the bigger picture of improving animal welfare through community education. Though their adoption numbers are impressive, youths and adults served through humane education programs number in the tens of thousands.
As with the other non-profits, creating funding streams is consistently a top priority for the organization as well. Three fund-raising events dot their calendar every year: the Fitger's Frozen Fundraiser in January, the Walk for Animals in June, and the Fur Ball Dinner in October. Recuperating costs from the busy "kitten season" of summer provides an extra impetus to work hard on the fund-raising events later in the year.
Animal Allies led a campaign beginning in 2010 to eliminate euthanasia of healthy and treatable animals in Duluth. At their January event, the team at Animal Allies chose their 2015 "All-Star Adoptions" to highlight some of the animals that have been given a second chance. Popo, a Staffordshire Terrier mix, came to Animal Allies in April 2015 about 40 pounds overweight. She was unable to stand on her own and her ACLs were torn in both hind legs. Her obesity made operating impossible. Time in the shelter and in a loving foster home provided her the strict diet and exercise regime she needed to trim down and be able to jump and play like a healthy dog again.
Popo's story is just one of hundreds that are possible only due to the rescuers and shelter operators in our neighborhoods. The commitment they show to these animals enriches our North Shore community, through the rescue of not only the pet, but often the adopter as well.
Additional Resources
Other area groups include Arrowhead Animal Rescue in Grand Marais, Lake County Humane Society in Two Harbors, and Lake County Humane Society in Silver Bay. More information about each group and adoptable pets can be found on the respective websites and Facebook pages.