LUTSEN—At Superior National Golf Course, they're just waiting for the grass to grow. Last fall, contractor MidAmerica Golf and Landscape, Inc. completed Phase 1 of a $4.5 million renovation project, the River Nine. Grass seeding took place last fall and new Ohio white sand bunkers were put in place. Five tee boxes were installed, replacing four there previously.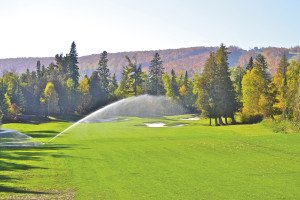 "Golfers will be able to play from broader yardage," said Logan Dahlke, Superior National's director of golf.
The course is committed to maintaining 18 holes open for play during renovation, so Phase 2 won't begin until River Nine opens, which Dalke hopes will be this fall. Then work will begin on the next nine holes, The Canyon. The third phase is to renovate the nine holes comprising The Mountain. This summer, The Canyon will be the front nine and The Mountain will be the back nine.
Dalke is excited about the expected improvements. He said the white sand bunkers have liners for better drainage. The greens are USGA certified and new double irrigation lines will supply water. Golfers will traverse the course on a new, asphalt cart path.
"It's gonna be a brand new golf course," Dalke said. "We're just waiting on photosynthesis."