DULUTH—It's amazing what an old door, recycled paint, and a few pieces of lumber can do for a community.
For a week of service, students from Northwestern College in Iowa worked with the Coldwater Foundation, a leadership development organization based out of Grand Marais, to build playhouses out of recycled doors for the Lincoln Park Children & Families Collaborative in Duluth. Coldwater partnered with Western Lake Superior Habitat for Humanity to construct and assemble the playhouses and paint the collaborative's facility.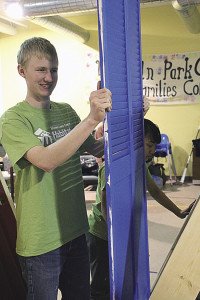 The motivation for the playhouses was a need to replace the well-loved, dilapidated play structure that kids at the collaborative had made out of large cardboard boxes.
"There was an ice cream shop, a library and a gas station that they cut out curved arches to drive their little bikes through," said Executive Director Jodi Broadwell. "They loved it. They played with the city until it was falling apart."
The Lincoln Park Children & Families Collaborative was created when Lincoln Park Elementary school closed in 2011, and the early childhood services moved out of the Lincoln Park neighborhood.
"Some folks came together to form the organization because they wanted to make sure that there would be access to early childhood services," Broadwell said. "The vision was that we would still remain and there would still be early childhood services in this building."
Though the location was ideal, the space needed some renovation.
The initial idea for the project began when Habitat for Humanity contacted Broadwell about a group of volunteers from Northwestern College hosted by Coldwater Foundation that was looking for ways to serve in the Duluth area.
"Habitat approached me," Broadwell said, "and I welcomed them with open arms. This was a great opportunity for us to get our space together."
Kevin Sutton, director of Coldwater Foundation, adapted a simple design that Habitat had found for the playhouses. The A-frame structure has a six-by-six base with three A-frame braces on either side, all attached to a ridgeline pole. Two doors are laid into the frames on both sides of the playhouse to mount the roof.
"From the dimensions of the doors, we came up with a cut list, then purchased materials," Sutton said. "We assembled everything in the Habitat shop then took it over and reassembled them in the collaborative's space."
Except for the lumber and carpet squares on the base frame, all the materials were repurposed. The doors and cedar tree ridgeline were from the ReStore in Superior, and Broadwell chose paint from the free paint shelf at the Western Lake Superior Sanitary District.
"I was super into it," Broadwell said. "I like to do everything as free as possible, and reuse stuff."
The team and partners managed to paint the space and build two playhouses in the three days they worked at the collaborative.
"To have two playhouses is awesome," Broadwell said, "and a great way to reuse those doors, to give the kids something to play with in here."
Repurposing materials and utilizing resources is fitting for the collaborative.
"We don't invent new early childhood services," Broadwell said, "but we provide a safe, welcoming place for existing early childhood services to do their services here in our space."
The collaborative fosters a mentality of social connectedness and cooperation among neighbors and families.
"A lot of stuff we do is about safe, family gatherings," Broadwell said, "connecting families with each other, connecting families with resources and trying to strengthen the community in Lincoln Park. If we know about a resource in the community that a family needs, we can connect or refer them."
The collaborative continues making strides to respond to social, emotional, and economic needs of residents and families in Lincoln Park.
"Lincoln Park is the most impoverished neighborhood in Duluth," Broadwell said, "and a lot of people who live here don't have cars or proper transportation."
The collaborative hosts weekly parent meetings to discuss welfare policies and available support, a Monday night family dinner, family gatherings and are open to other services that help promote healthy living and cross-cultural relationships.
"Lincoln Park is the most diverse neighborhood in Duluth," Broadwell said. "There's a lot of fear of the other sometimes, so when people can get together and hang out with people who look different than them or come from a different culture, then that fear kind of goes away. You see that people are just people."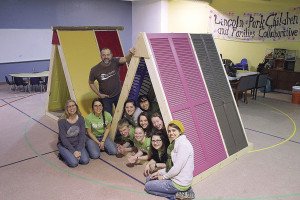 Mental and physical health is integral to all of the collaborative's programs, as is evident by their partnerships with Lincoln Park On the Move Coalition, Local Initiative Support Corporation, and Meet on the Street.
"We're promoting a healthy community," Broadwell said, "not only as far as building cross-cultural relationships and having healthy attachments with our kids, but just being able to get outside, walk the trails. Walk and bike to work."
The work of the collaborative is evident to others, in particular the new partners.
"Everything they do is empowering people to go to work and be self-sufficient," Sutton said. "It's not a charity model—it's an empowerment, capabilities development model. I liked being a part of that."
Broadwell hopes to see the vibrancy and outreach expand.
"I hope to see a big calendar that has all the different organizations in the city that are using our space for their services so that it's easier for Lincoln Park families to connect," Broadwell said.
When an old door is used as a roof, creativity and imagination happen. Broadwell and the Lincoln Park Children & Families Collaborative show that when organizations and resources collaborate to empower people and families to live well, communities strengthen.— Linden Figgie