INTERNATIONAL FALLS—A short distance inland from Lake Superior in nearby Voyageurs National Park, a fascinating research project is underway with a focus on an iconic North Shore species; the gray wolf.
Over the past five years a team of four full-time biologists and six to seven seasonal technicians have been hard at work in the national park trying to answer a deceptively simple question that has puzzled scientists for decades—what do wolves do during the summer?
Voyageurs National Park started studying its wolf population back in 2012 when park researchers began collaring wolves in order to better understand the wolf population within the park's borders.
At first, the Voyageurs Wolf Project's mission was to collect basic data about the national park's wolf population such as number of wolves in the area and the number of wolves per pack.
However, over the years the project continued to expand, and in 2015 the project shifted its focus to studying the summer habits and behaviors of wolves, one of the first studies of its kind.
"Summer predation and pup-rearing for wolves is something that has been sorely understudied around the world," says Tom Gable, a University of Minnesota biologist who serves as the lead for the Voyageurs Wolf Project. Gable has been working on the project for seven years and will be receiving his PHD at the end of the 2020 season.
"There is just so much that we don't know about wolves in the summer," continues Gable. "For example, we know that wolves in a boreal ecosystem rely more heavily on smaller prey such as beavers and deer fawns during this time, but there are no estimates on wolf kills of beavers or deer fawns. That data just doesn't exist."
How do wolves' hunting methods change during the summer? How do these habits affect wolf pup survival? These are some of the questions that Gable and his team hope to answer with their research.
Today, the ongoing Voyageurs Wolf Project has evolved into a collaboration between the University of Minnesota and Voyageurs National Park that strives to better understand the summer ecology of wolves in the Greater Voyageurs Ecosystem.
"One of the main challenges that we face with our research," says Gable, "is that it is hard to directly observe wolves during the summer. It's almost impossible to watch a wolf hunt small prey during that time of year."
According to Gable, this challenge is caused in part because of wolves' tendency to become more solitary predators in the spring and summer during pup-rearing, but also because of dense summer vegetation that can obscure hidden cameras and researcher's line of sight.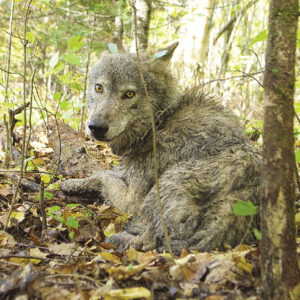 To overcome the challenges associated with direct observation, Gable and his team have GPS-collared seven different wolves in the area in order to track and study the predation behavior of these individuals. Using the information from their collars, the Voyageurs Wolf Project team is able to follow up on kills as well as discover the locations of den and rendezvous sites.
Tracking the wolves through the boreal forest is hard work, forcing Gable and his team to work long hours in the field seven days a week between April and October. But the work is rewarding, according to Gable, and despite rarely seeing wolves in the field, the team's research has already produced a number of fascinating findings.
"One interesting observation that we made," says Gable, "is we found a pack of wolves that hunted and killed spawning suckers in a creek three years in a row. This was the first documented observation of wolves hunting freshwater fish anywhere in the world, and we caught it on video."
"It's well known that wolves go after spawning fish in coastal environments where you have big salmon runs," continues Gable, "but catching wolves fishing in a small creek in Minnesota is categorically different from that."
Another breakthrough came when Gable and his team observed wolves "ambushing" beavers by waiting by their lodges and dams.
"Hunting beavers by ambushing them might seem intuitive to us," says Gable, "but prior to our work wolves had not been thought of as hunting prey in this way."
"In fact," continues Gable, "many scientists would adamantly argue that they were not ambush predators, but instead exclusively cursorial, meaning that they hunt by outrunning and outlasting their prey. The fact that wolves can go back and forth between these two strategies is really quite unique and speaks to their general intelligence."
To learn more about the Voyageurs Wolf Project and its ongoing work in Voyageurs National Park, visit their website: voyageurswolfproject.org. You can also find lots of up-to-date information, photos, and videos from their research on their Facebook page.
The Voyageurs Wolf Project is funded in part by the Minnesota Environment and Natural Research Trust Fund.