The start of November signifies a number of things on the North Shore: The start of the Lake Superior storms/gales season, the transition from fall to winter, and firearm deer hunting season in Minnesota. While not all of us participate in this annual tradition of deer hunting, many North Shore residents and visitors spend their weekends and spare time in deer stands or blinds, doing their best to bag the deer of their dreams (or any deer). Whether you are one of these successful hunters or someone who received some venison from a friend, this wild meat can be a delicious option for trying new recipes and techniques. Think beyond the overcooked, gamey meal you may have had in the past with these recipe inspirations.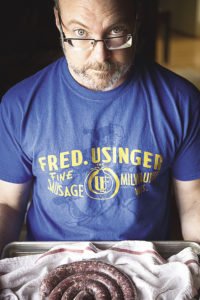 Whether looking for a venison recipe or a recipe for something a little more uncommon (think dove or nettles), Hank Shaw likely has it covered. Between his website (www.honest-food.net) and his cookbooks, Shaw covers a variety of recipes and cooking techniques for wild game, fish, foraged foods, and charcuterie. His new cookbook, entitled Buck, Buck, Moose, focuses on cooking antlered animals, including deer, elk, antelope and moose. One recipe in the new cookbook is for South African Bobotie, a national dish of South Africa, using ground venison. Think of it as a more exotic take on a Minnesotan hotdish.
I also tried one of Shaw's many recipes available on his website. The Venison Potstickers called for ground venison and the many asian flavors you'd expect, including ginger, garlic, green onions, soy sauce, and sesame oil. I cannot say that I made my own wrappers this time, instead using store-bought won-ton wrappers cut into a circle with a round cookie cutter. My taste tester was very happy with the results and I was pleased with an untraditional recipe to use venison. If you happen to try this recipe, know that potstickers freeze quite well so you can have some stocked away in the freezer for later when you are craving some Asian takeout.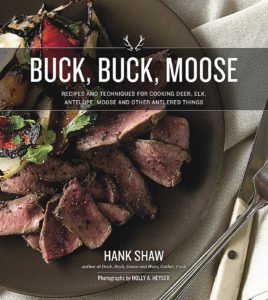 Shaw brings a wealth of experience as a journalist, restaurant cook, and wild foods harvester, being known as the "Hunter, Angler, Gardener, Cook." This is apparent in his recipes and his writing, inspiring others to explore new foods and cooking techniques. He is currently on tour with his new book and will be coming to the North Shore to the New Scenic Café in Spring 2017. If you would like to pick up a copy of Buck, Buck, Moose in the meantime, it will be available locally for purchase at Drury Lane Books in Grand Marais or online at Amazon.
In Grand Marais, venison and other wild game are being put to good use by students in the "All Ground Up: Sausage Making" class at North House Folk School. This class, taught by local business owner and mayor Jay Arrowsmith DeCoux, teaches students how to grind, season, stuff, cook, eat, and serve a variety of sausages. When wild game meat such as venison is available, sausage making is a fun and delicious way to use the local bounty.
In the class, students learn a variety of sausage recipes, including two that work very well for venison. The classic recipe is called the "North House Wild Sausage" and was developed by local residents Craig and Dianne Peterson. Each student tries their hand at each stage of the process, so they are ready to make their own sausage once they return home. And don't worry—if you take the class, you'll go home with 25 pounds of fresh sausage. Even if you don't take the North House class, we have provided two of the popular recipes for your use at home. If you are new to sausage making, be sure to check out Hank Shaw's selection of tips, techniques, and resources on his website.
If you are interested in learning how to make your own sausage, Arrowsmith DeCoux will be offering the class again in early 2017, on two weekends: January 14-15 and February 11-12. Registration and more information is available at www.northhouse.org.
---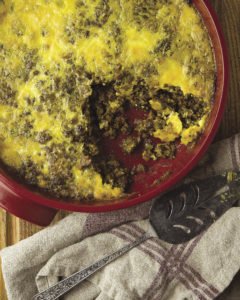 South African Bobotie
By Hank Shaw, from cookbook, Buck, Buck, Moose
Bobotie is essentially a curry meatloaf casserole with baked egg. There are an awful lot of variations on bobotie (pronounced bo-BO-tee), but the goal is curry-like, sweet, sour and savory flavors. I add a little cayenne for balance, but this is not traditional. You'll note a bunch of alternatives in the ingredient list. The first listed are my preferences, followed by easier-to-find alternates. This is a one-pot meal, although I like it served alongside rice or a salad. Serves 6 to 8 people.
Prep Time: 20 minutes
Cook Time: 1 hour
3 slices white bread
2 cups milk
2 large onions, chopped (about 3 cups)
3 tablespoons butter
2 garlic cloves, chopped
2 pounds ground venison
Salt
2 tablespoons mild curry powder
2 teaspoons garam masala, or 1/2 teaspoon ground clove and 1 1/2 teaspoons ground allspice
1/3 cup chopped cilantro or parsley (loosely packed)
1 teaspoon cayenne pepper (optional)
2 tablespoons mango chutney or peach jam
3 tablespoons golden raisins (optional)
3 citrus leaves (or bay leaves)
Juice of a lemon or lime
TOPPING
1 cup heavy cream
2 large eggs
Preheat the oven to 325°F. Soak the bread in 2 cups of milk. Cook the onions in the butter over medium heat until they're soft, about 6-8 minutes. Sprinkle some salt over them as they cook. Add the garlic and the venison and brown well. Salt this as it cooks, too. Break apart the ground venison as it cooks so it looks like taco meat. When it's pretty much browned, add the curry powder, tamarind and all the remaining spices and herbs, and the raisins if using. Cover the pan, add the lemon or lime juice, and let this cook for a few minutes.
Squeeze out the milk from the bread and mash it into the mixture. Turn off the heat. Move the mix into a casserole dish and press it down well. Beat the eggs and cream together and pour over the casserole. Bake for 45 minutes to 1 hour, until the egg mixture is set and turning golden.
---
North House Wild Sausage
Submitted by Jay Arrowsmith DeCoux
Local flavors! Developed at the North House by Craig and Dianne Peterson, this sausage is tailored for wild game, but is still good with beef and pork. This is a heavily seasoned sausage that takes advantage of Dianne's "Northwoods Seasoning."
Amount for 10 lbs:
1/2 cup northwoods seasoning (see below)
2 lb cooked wild rice
2.5 cups fresh cranberries
2 lb. wild game (like venison) or beef
8 lb. pork butt
Add all of the ingredients and mix well until the spices are evenly distributed. Grind the meat mixture through a medium grinder plate once and then add the withheld cranberries. Mix thoroughly. Grind a second time through a medium plate and then stuff into hog casings. Use as fresh as possible or freeze as soon as possible.
---
Northwoods Seasoning
Makes 1.25 cups
3 tablespoons kosher salt
1.5 tablespoons black pepper (fine)
3 tablespoons garlic powder
1.5 tablespoons onion powder
3 tablespoons dried parsley
1.5 tablespoons oregano
1.5 tablespoons thyme
3.5 tablespoons paprika
3 tablespoons chili powder
3.5 tablespoons cayenne powder
Mix all spices together and store in an airtight container away from moisture and light. It will clump up, but just shake it and it will loosen up.
---
Moroccan Lamb Sausage
Submitted by Jay Arrowsmith DeCoux
A deceptively simple sausage with a tremendously complex flavor, it is traditionally made with lamb, but is outstanding with pork or wild game, such as venison.
Amounts for 10 lbs:
2 tablespoons table salt
2 tablespoons black pepper
4 teaspoons marjoram
4 teaspoons oregano
2 tablespoons cayenne pepper
1 tablespoons dried coriander
1 teaspoons+ ground cumin
3.5 cups minced fresh onion
2 cups dried parsley
2 cups water (or other liquid)
10 lbs. course ground lamb or venison
Mix all spices with liquid and stir well. Pour spice mixture into meat and mix well. Let the sausage sit overnight for better flavor. Stuff into pork casings, use fresh or freeze within 3 days.