Once a year, a certain holiday comes around that helps us remember to take some time to celebrate love and affection. It also happens to be one of the most popular holidays to honor by dining out. This year, Valentine's Day lands on a Sunday. I predict that this will be one of the nicest Valentine's Days because many restaurants will be offering special menus for the whole weekend. If you are still looking for a spot to bring your loved one, I have a few ideas for your Valentine's Day weekend.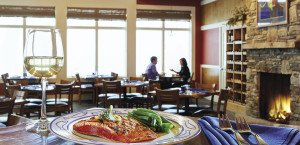 The North Shore is known for many romantic locations, from views of cascading waterfalls to cabins tucked away in the woods. One of my favorites is the Grand Marais Harbor, with the charming downtown overlooking the ever-changing views of Lake Superior. The Crooked Spoon Café has been a staple of Grand Marais for almost 10 years and this past year they added on. You can now enjoy this beautiful view from their new enclosed rooftop bar. For those looking for a simple way to celebrate, the rooftop bar is a perfect spot to enjoy a glass of wine and an appetizer or dessert as the sun sets or the stars sparkle.
If you are like me and want to take full advantage of eating an extraordinary meal, the Crooked Spoon Café will be offering a special Valentine's menu Friday, Saturday and Sunday. I would recommend starting your meal with a local brew or glass of wine and appetizer upstairs in their rooftop bar, before you head back downstairs for your meal. This year, their Valentine's menu will be created to be shared as a couple, with an appetizer to share, a choice of two different entrees and a dessert. Set wine pairings will also be available to enhance the meal.
Like anyone who has food restrictions, I'm often nervous about special menus and whether there will be something I can enjoy. Fear not, as the Crooked Spoon will be offering their regular menu in addition to the special menu, which includes vegetarian and gluten-free options. As co-owner Sara Hingos shared, they "hope to provide a romantic, memorable meal" for each couple that joins them this Valentine's Day. This husband and wife duo has been celebrating their Valentine's Day together at the restaurant for many years, while helping others enjoy a memorable meal.
The Crooked Spoon's usual reservation policy will be in effect for the holiday weekend. Parties of six or more can make reservations (218-387-2779 or crookedspoon@boreal.org) and all others are first come, first served. If you aren't able to make it on Valentine's Day weekend, be sure to visit their rooftop bar another time this winter—it will be open Saturday nights throughout the season.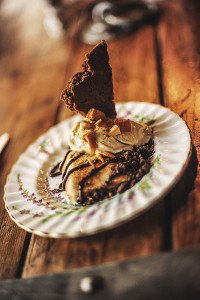 On the North Shore, we are quite lucky to have many great restaurants right on the shores of Lake Superior. At Larsmont Cottages, off the Scenic Drive between Duluth and Two Harbors, sits the Ledge Rock Grille. Their executive chef, Uriah Hefter, is offering a three-course meal with an optional wine pairing for Valentine's Day weekend for $50/person or $65/person with wine pairing. The menu will start with an amuse bouche; a compressed strawberry with chocolate dust. For the first course, the options will be an edible earth with arcadian greens, tomato and peach vinaigrette, a chilled sour cherry soup, and a roasted carrot salad with peppered micro greens, feta and truffle balsamic. A grilled rainbow trout, duck confit and Caribbean seared ahi tuna will be the options for the main course. The final course will be dessert, choosing from a chocolate torte, peach semifreddo, or a crème brulee cheesecake.
Ballatore Champagne will also be available. Each person will take home a chocolate truffle with the purchase of a bottle. Reservations are recommended (218-834-8250).
If you are looking for an extra memorable dinner date, the Ledge Rock Grille also offers a chef's table experience with the only open kitchen on the North Shore. Perfect for any food lover, the chef's table allows you a front row seat to the kitchen. Watch professional chefs prepare your 6-course dinner ($100/person) and learn about the techniques and ingredients they use. To explore more, visit www.larsmontcottages.com/ledge-rock-grille. The restaurant will also have its usual menu available over the weekend.
Restaurants in the Waterfront District of Thunder Bay are hosting the Winter Delights Festival, Feb. 1-14. Whether you want to celebrate Valentine's on the 14th or earlier in the month, you'll be able to take advantage of a prix fixe two-course meal for $25 (CAD) at many of the Waterfront District restaurants. I'm already dreaming about what the menu will include at the Red Lion Smokehouse, the Sovereign Room and the Foundry Pub. The Waterfront District has 25 restaurants and 32 shops to check out. Plan to bundle up for a stroll and you can also enjoy the galleries and shops in the neighborhood. For more info about the festival, visit www.facebook.com/waterfrontdistrict.bia.
Valentine's Day is a time to celebrate love, whether with a significant other, friends or family. It's also an opportunity to treat ourselves to a fancy meal and try something new. I hope you have a wonderful Valentine's Day and enjoy a special dining experience.