With the high cost of fuel these days on both sides of the border and the lingering shadow of covid, some are rethinking taking long road trips and looking for alternatives in the region. It's a good time to look around at what places are nearby in our Northern Wilds to explore, discover or revisit.
Kudos go out to the non-profit Lakehead Regional Conservation Authority (LRCA)—a community-based environmental agency—which owns eight world-class wilderness sites the public can access, some right in the city of Thunder Bay, while a few others are a short drive away. LRCA also owns three forest management sites with public access to hiking trails at two of them (Mills Block and Wishart). Created by the Province of Ontario, LRCA is one of 36 Conservation Authorities.
A wide variety of activities are available to urban explorers to experience, including hiking, kayaking, canoeing, fishing, leisure and rock walking, birding, picnicking, photography, forest bathing (gentle walks in the forest to absorb forest healing experience), public access to boat launches into Lake Superior, and more.
In 2020, more than 475,000 people visited the LRCA sites, with the most popular being Mission Island Marsh with 74,000 visitors and second, the Cascades with 73,000. LRCA maintains the trails, parking lots, boat launches and other facilities on the properties they own.
So where are these wilderness places to explore? Three of the eight conservation areas are in the city—Mission Island Marsh; Cascades; and Hazelwood Lake—while less than an hour's drive is Mackenzie Point; Silver Harbour; Little Trout Bay; Hurkett Cove; and Cedar Falls. More information, directions and maps are available on the LRCA website: lakeheadca.com. In the meantime, here's a snapshot look at the sites.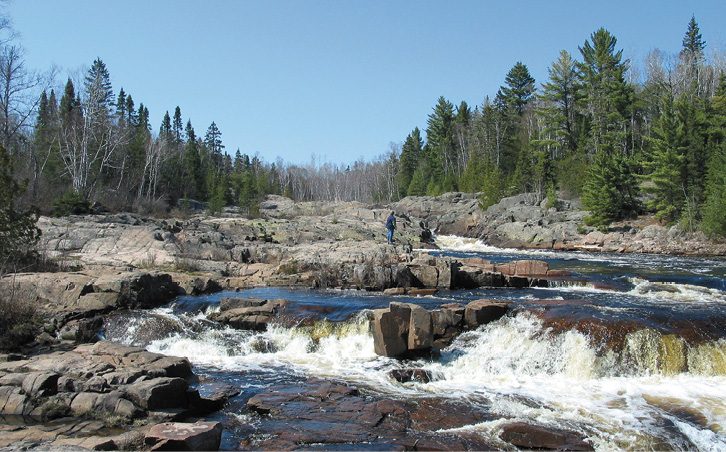 Bird watching and shopping malls do not seem like a good neighbour mix, but within minutes from the city's sprawling Intercity Mall is the Mission Island Marsh Conservation Area, one of the few wetlands left along the Thunder Bay Harbour. It offers an unobstructed lakeside view (even from the parking lot) of the famous Sleeping Giant, the Welcome Islands and Mutton Island. A pavilion has displays, picnic tables, and information on four self-guided Mission Island Marsh Learning Trails (Forest, Coastal Wetland, Lagoon and Meadow). It also has a paved wheelchair-accessible 580-metre loop trail through a meadow, forest and lagoons.
Like rock walking? The Cascades Conservation Area is one of Ontario's best sites for easy rock walking on ancient Cambrian Shield rock outcrops (some dating back 2.5 billion years) along the Current River beside the cascading rapids. Located in the city, a quick drive takes you from the city's busy urban environment to a 163-hectare wilderness area at the northern end of Balsam Street, just minutes from the traffic light turn-off from Highway 11/17.
Before you head out on the trails though, check out the interpretive panels at the pavilion and find the details of the colour-coded walking nature trails to the river. Leading from the pavilion, there's also a paved wheelchair-accessible 755-metre loop trail that winds through the boreal forest.
About 7.6 km (25 miles) from the city centre is the large semi-wilderness Hazelwood Lake Conservation Area, which has more hiking trails than any other LRCA site. There's also good fishing, a beach, swimming, picnic tables, BBQs, trails, canoeing and kayaking. This is the perfect place for family outings.
If you are close to the waters of Lake Superior, the less-travelled beautiful Mackenzie Point Conservation Area is a 'must-visit' site just a short drive east of the city at the end of Coral Bay Drive. Mackenzie Point offers great scenery for photography, whaleback rocks for walking (ancient rocks weathered smooth by nature and time), wave-watching, star-gazing, and absorbing the raw power and energy of the lake.
Hurkett Cove Conservation Area is one of Ontario's best birding sites and is less than an hour's drive east of Thunder Bay at the end of Black Bay Road off Highway 11/17. Check out the pavilion with displays and picnic tables before heading out on the trail to see songbirds, raptors, waterfowl and shorebirds.
Over at Silver Harbour Conservation Area, there's a large sheltered picnic area, an easy walking path on a short peninsula that juts out into the lake, and public access to boat launches onto Lake Superior (two long, wide concrete launching ramps and three fixed docks).
The other two LRCA conservation areas are a short drive from the city: Little Trout Bay with rugged landscape, hiking trails, a pavilion, picnic tables and boat launches into the lake, and Cedar Falls Conservation Area with fishing (rainbow or speckled trout), and a well-marked trail to Cedar Creek and a cascading waterfall, amidst an evergreen forest.
Any cost to visit the sites? Yes, but it's a small one: $5 (Canadian) per vehicle per visit, or for unlimited all-year access to all sites, the LCRA Explorer's Card is $45 (Canadian), available for purchase through the LRCA website or from their office.