Grand Marais—"It forced me to disconnect from everything. It forced me to just be here and to focus on what's happening and how beautiful it is."
Memphis native Allie Leon is accustomed to having a schedule, but her recent trip to the Boundary Waters forced her to leave expectations behind. Leon and her husband Zach dropped by the North Shore as a small segment of an opportunity that sounds like fantasy to many: travel for eight months in a van across the U.S., photograph what you see, and post it online. In short, use your creativity to get more people outside.
Van life for the pair had only been underway for about a month when they re-routed for a pit stop in one of the most visited wilderness areas in the country. Minnesota, specifically the Boundary Waters, didn't have the traditional notoriety that many of their other destinations had. This was a huge draw for a couple with aspirations to try new things.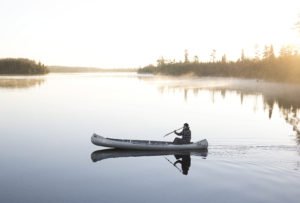 "Minnesota had been one of those places that we were so excited to see because it seemed so different. We were excited about taking on the challenge of visiting states that don't have this crazy reputation," explained Allie. "The state had so much that we had never done before. It did seem so wild."
Zach agreed.
"It becomes an experience and not just a destination. I think that's really cool," he mused. "With the Boundary Waters, it's harder to just drive up, look around and leave. You have to go with some sort of intention."
With over 11,000 followers on Instagram, Zach and Allie are creative souls with a passion for expressive photography, nature and writing. They are sponsored by Teton Sports, a company that produces gear for budget adventurers.
Zach and Allie's visit to northeastern Minnesota was largely arranged by Backcountry Hunters and Anglers, a group dedicated to being the sportsmen's voice for public spaces and wildlife, and also by the Sportsmen for the Boundary Waters, whose main desire is to protect that particular area from mining pollution. In addition to raising awareness of the environmental harm caused by mining, short promotional films, produced by Sportsmen for the Boundary Waters and shown throughout the weekend, also served to dispel common stereotypes about hunters and anglers. Zach and Allie were moved by that perspective as well.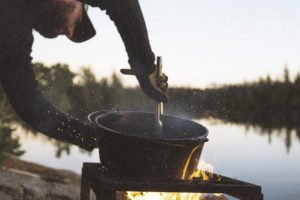 "[Hunters and anglers] are in touch with the ecosystems, knowing what's in season and the legal actions behind everything. They aren't wasteful individuals; they are very in touch with what they love doing and how to keep everything the way it is," said Allie. "These people are so in love with this place and so passionate about conserving it; it rubs off."
In addition to a very popular Instagram account, the couple also maintains a website where you can follow their travels; zalleon.com.—Casey Fitchett