Want to wash your camping dishes in the wilderness with zero effort? Let me share a life hack made in the Northern Wilds.
I had fried up a big pan of bacon on my MSR stove one Friday evening at a campsite on Tofte Lake outside Ely, and was dreading washing the grease off. On a whim I threw the greasy pan in our crayfish trap overnight and plopped it in the lake.
The next morning, the pan with bacon bits burnt all over was now spotless! No exaggeration—it was cleaned to a shine by hundreds of crayfish. I'm not sure how Leave No Trace this method is, but I can say there was definitely no trace of the bacon…
I literally pulled the pan out of the trap and started cooking on it again—no soap, no sponge, nothing. It was like having one of those Japanese robots that does your housework for you—but wilderness style. When we bought our crayfish trap at Piragis Northwoods Company in Ely, we didn't realize we were getting a free dishwasher to go with it.
Rusty crayfish are an invasive species that are overtaking some northern lakes. I personally don't wrestle with any hard feelings about harvesting them. The MN DNR allows individuals with valid resident or nonresident angling licenses to harvest up to 25 pounds of live crayfish. Here's how to become a crayfish trapper and get your next meal straight out of the lake.
First, you'll need a trap, which weighs almost nothing. Ours, made by Promar, has nylon netting wrapped around a wire frame. The collapsible trap folds up flat and is easy to take on your next camping trip. Steve Piragis, owner of the namesake store in Ely, says that he originally got the idea of carrying crayfish traps about 20 years ago.
"We had a friend from Sweden who told us that many people there use traps as a way to get some interesting wild food resources. We found someone in Duluth who imported the traps, and put them in the catalog," said Piragis.
Next, you'll need to do your research to find lakes where "rusties" have become established. Ask around locally, inquire at your favorite bait shop, or just scan the lake bottom the next time you're at your favorite lake for this invasive species.
Rusty crayfish are native to the Ohio River Basin, but were likely transported to Minnesota by fishermen as bait, then released into the water rather than being properly disposed.
According to Matt Weberg, assistant area supervisor in the Grand Marais office of the Minnesota DNR, crayfish are predators. Weberg explains that in a lot of lakes in the Northern Wilds, the macroinvertebrate (bug) community is very important to the food chain, and rusty crayfish can eat those bugs before the fish species get them. This can disrupt the natural food chain. Furthermore, crayfish can reduce the amount of habitat for aquatic bugs by eating the aquatic plants that the bugs hide in. Crayfish can clean out a lake with their voracious eating habits and impact the ecosystem so that it's not as productive as it should be.
Weberg also states that in lakes where rusty crayfish and native crayfish co-exist, the rusties are much more likely to push the native crayfish out.
"It's not a mutualistic relationship between crayfish once the rusties get in the lake," says Weberg.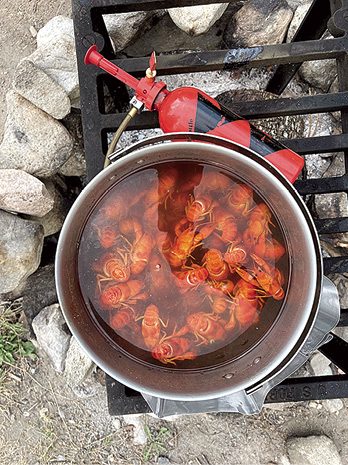 Weberg refers to the Pike Lake Homeowners Association as a Grand Marais-area entity that has promoted crayfish trapping as a way of dealing with runaway rusty crayfish populations. Besides Pike Lake, Weberg names Caribou Lake in Lutsen, and Hungry Jack, West Bearskin and Duncan in the mid-Gunflint Trail as other area lakes with confirmed rusty crayfish populations.
So, what do you do when you catch enough rusty crayfish to make dinner? The first step is to boil them until they turn red. Try seasoning the water with bay leaves, salt and Old Bay to make a broth. It took our family about 100 crayfish to make a meal (you'll want corn, bread and other side dishes to round out the skimpy crayfish), since the only meat you get comes from the tails. According to Piragis, rusty crayfish are a "slow feast." They're not a lobster, that's for sure. Piragis says a lot of customers know that crayfish are a delicacy down south in Cajun country, and that piques their curiosity to net them in Minnesota.
Besides eating a free meal of crayfish, and preventing the ecosystem damage they do, one also gets the pleasure of playing with them. Our daughters spent hours on the beach handling the not-so-dangerous crayfish. When the crayfish pinched them, the girls whooped out loud—something kids are always looking to do anyway.
Make crayfish your next foraging target and do some environmental justice by removing this invasive species from northern waters. Have a fun, lean meal and enjoy playing with these pint-sized crustaceans that make kids squeal in delight.