Have you ever wished you could do woodworking repairs around the house, or sew up a worn-out garment? As inflation continues to shoot through the roof, people are considering how to re-use and re-purpose existing items, instead of paying inflated prices for brand new ones. But how do you pick up these home economics skills in your adult years?
Enter the Duluth Folk School, centrally located at 1917 Superior Street, in Duluth's vibrant Lincoln Park Craft District. According to Bryan French, co-founder and Folk School executive director, the idea for the Duluth Folk School was born in May 2015. French's idea was for Duluthians to get access to craft programming and abundant local educators without having to go to far-away folk schools.
The Folk School went on to hold its first classes in May 2016, but it wasn't all easy.
"At first we thought it would be a great idea if we were nomadic," French explains. "We didn't want to have a home base. We wanted to serve the entire length of Duluth from Lester Park to Chambers Grove. But being nomadic turned out to be a terrible idea, because everybody wants to know 'Where do I go to find you?' And there was never a place to find us. My car was just full of tote bins all the time."
French and his team eventually settled on a permanent home at their current location in Lincoln Park, "smack dab in the middle of town, and right on the bus lines." But when they made an offer on the building, they knew there was a lot of reconstruction work ahead.
"There was water damage in the building," said French. "A firefighter was here for an event once, and he said 'Oh, I was here when the sprinklers went off.' He said it was like swimming in the basement to get to the water shut off valve. The building was in terrible condition."
That's where the true values of a "folk" school came into play.
"We got the Folk School community together, and people volunteered to come down and help us," French recounts. "Folks were scraping glue off the floor. The dovetail cabin (housed within the Folk School building) was a community project. We collected the wood, milled it, brought it here and hand hewed everything, and cut the dovetails. We stacked the logs and built the whole cabin inside the school building."
French takes pride in how the Folk School building itself is representative of the school's purpose, saying "A lot of what we've done here is a demonstration of people learning how to build." This community approach is alive and well to this day.
The Folk School has 108 teachers on its 2022 roster. One of them is educator and entrepreneur Cindy Hale, who is co-owner of Clover Valley Farms. Hale has taught vinegar-making, cooking, natural history, and orcharding classes through the Folk School. One of her favorite Folk School experiences was the Community Rug Felting Project in 2019, led by Mary Sannerud of Otlak Felt Studio in Grand Marais. Hale highlights the creative energy at the community rug events that were housed at the Folk School.
"We held multiple workshops where we recruited individuals to come up with design elements for the community rug, then people made some of the prefelts and did a final three-day event at the Folk School, where we laid out the rug," says Hale.
Hale was enraptured by the community process.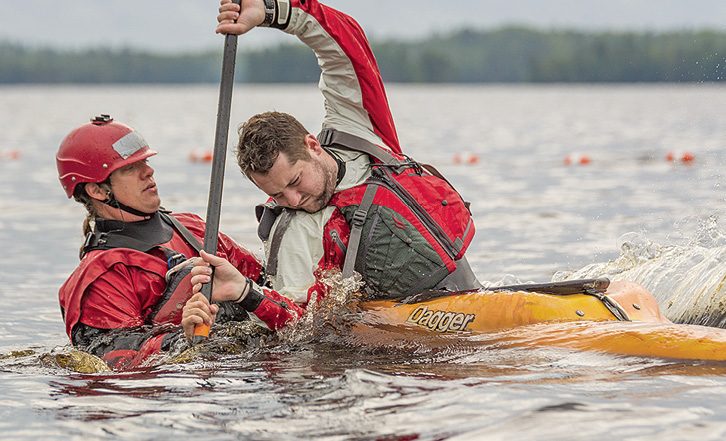 "The actual felting of the rug involves literally dancing on it, rubbing it, and rolling it," says Hale. "It was a three-day process and dozens of people of every age came and participated. Musicians played music. People were dancing on the rug. It was uber fun. That to me really epitomizes the potential of the Folk School. Bringing community together to learn about and actively participate in something they may not have heard of before, like community rug felting."
Today the rug hangs on the walls of the West Duluth branch of the Duluth Public Library.
Another person who has been influenced by the Folk School in multiple ways is Kyle James, co-owner of Voyageur Tattoo. With a studio on the upstairs floor of the Folk School, James and his wife Charlie work in the Folk School space daily. James first got to know the Folk School when he took classes in how to use a circular saw, hand planing wood, and kayak rolling. James explains that having a personal teacher was key to the classes he took in the Folk School.
"It's so hard to ask a question, like a very specific question, to the Internet. A lot of the times you can't find that answer without scouring and scouring. It's just a lot easier to ask someone who has experience," says James.
James, who is a tattoo artist, recalls that he was later checking out the Folk School newsletter ("because I'm always looking for that next thing that I can learn"), and saw a unique opportunity.
"They posted that they had a studio available for rent in the Folk School," he says. "The space is so cool that I couldn't say no. I spoke with Bryan French on the phone and met with him to lock down the space that night, because I didn't want it to disappear."
Today, Voyageur Tattoo has a five-star rating from 60 Google reviews, something James credits in part to the Folk School atmosphere.
"I'd say almost every customer has made some kind of comment about how cool the space is," says James. "About how nice it is to be above the [Dovetail] Café here. It's such a relaxed and intimate space, you can really get to know your clients, and they don't have to worry about what getting a tattoo in front of an entire studio of people is going to be like."
James and Hale both come back to the community feel of the space that French has worked so hard to cultivate. James defines it like this: "I've found that there's a lot of openness in this space. There are so many like-minded people in Lincoln Park, and at the Folk School in particular."
Today the Folk School is an open, collaborative space with a main classroom, a large café, and six studio spaces for rent. A listing of current class offerings can be found on the classes tab of the Duluth Folk School website (duluthfolkschool.com). French calls the Folk School's range of courses as "generalist," and says the school responds to local needs.
"We're trying to contextualize what we do within our region. Folk schools are 'putting their hand on the ground and feeling what the region needs,'" he says.
There is something to learn here for everyone with a desire to get back to hands on, "shoulder to shoulder" learning, as French calls it. Classes provide people the skills to build or re-purpose their own possessions, putting art and creativity into their lives, rather than just grabbing items off the Target shelves.