Art is one of the most powerful ways of keeping heritage alive. While the modern world seems to evolve at an increasingly rapid pace, art has a staying power that connects us to the ways of the past and those who have gone before us. For Mary Schliep, the art of rosemaling is both a beautifying craft and a way to honor her Norwegian roots.
Schliep's father Chris Tormondsen was an immigrant who left Norway at the age of 14 bound for Tofte. It was there that he built a life and where Mary Schliep grew up. Her interest in rosemaling began when her father came home one day with a Norwegian "Tina" box that was decorated with rosemaling. She was captivated by the design and in 1989 she began taking rosemaling classes once a week in Two Harbors.
Rosemaling, which means "flower painting" in Norwegian, dates back to the mid-1700s. At the time, decorative painters from greater Europe came to Norway to decorate homes for wealthy merchants. In rural Norway, local residents began to imitate the work of the artists who visited the upper-class families, and distinctive styles of rosemaling began to emerge in each region. For example, Telemark rosemaling tends to feature asymmetrical scrolls, while the Hallingdal style features symmetrical designs, and Vest-Agder tends to feature tulips due to frequent trade with Holland. Rosemaling also became popular in rural Sweden. Eventually, immigrants like Schliep's father brought their folk art with them when they came to the United States, and in places like Minnesota, where many Scandivanian immigrants settled, the tradition of rosemaling continues on.
After taking classes in Two Harbors and continuing to do rosemaling, Schliep headed where many serious rosemalers go: Vesterheim, The National Norwegian-American Museum and Heritage Center in Decorah, Iowa. It was there that she took classes from top instructors, including two instructors from Norway, and perfected her painting skills.
The most basic building blocks of rosemaling are C curves and S curves. From there, the scrollwork in rosemaling is made more intricate with detailed patterns and flowers. Rosemaling is often painted on furniture, bowls, platters, or other wood surfaces, sometimes with an accompanying quote.
"I mainly use oil paints for rosemaling," Schliep said. "Sometimes I'll use acrylics for other things like painting gnomes, but oils are better for rosemaling."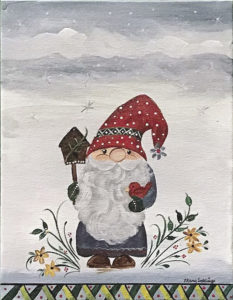 When the North House Folk School opened in Grand Marais, Mark Hanson contacted Schliep about becoming a rosemaling instructor. She agreed, becoming one of North House's earliest instructors, and has been teaching six classes a year on the Telemark and Valdres styles. Schliep says that rosemaling is quite popular, and her classes typically have waiting lists for interested learners.
Most of Schliep's work comes from consignments. Through attending festivals, people from all over North America have come to know her work, and she gets orders from all over the U.S. and Canada. And in addition to rosemaling, Schliep also teaches Swedish folk painting, or "dalmalning," which is often more personalized than rosemaling and used to tell stories.
While the current pandemic has put a pause on in-person classes, those who are interested in learning rosemaling for themselves have options online.
"There are so many resources out there today," Schliep said. "Zoom classes are really interesting and fun to watch—some of them have a fee but some of them are free. North House will have some Zoom classes, and there's a lot you can find online if you want to learn."