People love the North Shore for all sorts of reasons—for the art it inspires, for its acres upon acres of wilderness, for the big water of Gitchi Gummi.
The North Shore is distinct and, perhaps because of this, so too are the people that make up its community.
Many of the people that live on the Shore have established roots that go back generations. The Tofte's have been around long enough to have a town named after them.
Others have found themselves drawn to the place more recently, perhaps out of a sense of wanderlust or an attraction to beauty. Or maybe they were just looking for a change of pace, something a little less city-like, a little less known.
Which brings us to the story of Tim Young and his growing, largely adopted family, who are in so many ways a perfect example of what makes the community on the North Shore such a beautiful place to call home.
Tim Young is a painter, an author, a potter, a nurse, a photographer, a wedding officiant, and an adoptive father. He has been living in Grand Marais since the mid-1980s, and has now lived in the same house for over 30 years.
"[Grand Marais] is where I belong," says Young, "it's where I've been able to make my dreams come true."
Though best known for his paintings of fish, Young's portfolio as an artist extends well beyond the canvas.
Over the decades Young has authored a number of books ranging from the sci-fi adventure series Flash Meridian, to a deep dive into his philosophy on life and art in My Hand Paints. Most recently, Young published his third book, Rear View Mirror, that, according to Young, "picks up where My Hand Paints left off. Literally, I just kept writing."
In addition to his paintings of "fish in trees," Young creates abstract works that he often accompanies with anecdotes from the moment(s) or thoughts from which they are inspired. His painting "Paljain jaloin lumessa" (Finnish for "Barefoot in the Snow"), for instance, is a different experience after reading the story that inspired it.
"Creative outlets are important to me," says Young. "I often describe painting as meditative. Any creative expression is therapeutic, and because of this the North Shore is the perfect place for me."
"Not only is it beautiful in every direction that you look," continues Young, "it is a community that supports and values artists."
Since the onset of the COVID-19 pandemic, Young has been focusing his energy into ceramics, a "lifelong dream" of his that he has recently begun to fulfill thanks to a potter friend that lent him a wheel.
"This is another example of how supportive the community is," says Young when referring to the artist who helped get him started with ceramics.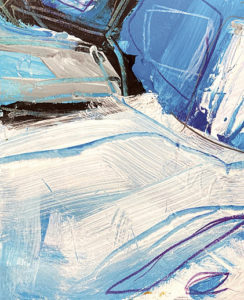 "Art is not a competition," continues Young. "Even if we work in the same medium, we produce different results, we express our own voice through our art. So, while I'm still painting in acrylic on canvas, I'm also trying to bring that same painting style to my ceramics."
Examples of Young's recent ceramic works can be found on his website, and he will be showing his pottery during the ceramics show at the Johnson's Heritage Post Gallery in December 2022.
By scrolling through Young's website (myhandpaints.com) and seeing all that he has created over the years, one gets a sense for the immense energy, curiosity and passion that motivates the man in all that he does.
Young does not do anything half-heartedly—when he takes something on, he devotes his energy to doing that thing fully and doing it right. And there is perhaps no better example of this than his journey with adoption.
"I always wanted to be a parent," says Young. "We first adopted after a miscarriage, so I just had to get more creative."
"I was lucky," continues Young, "I came from a stable home where I knew my parents loved me. Not everyone gets that. So, I guess I want to pay it forward."
Young and his former wife first adopted a newborn in 1996, Madeline, who he raised in addition to two step kids, Mathew and Heather. All three are now grown with kids of their own.
He then went on to welcome three older siblings—Summer, Raymond and Shawn—into his family out of the foster care system, though the process was far from linear.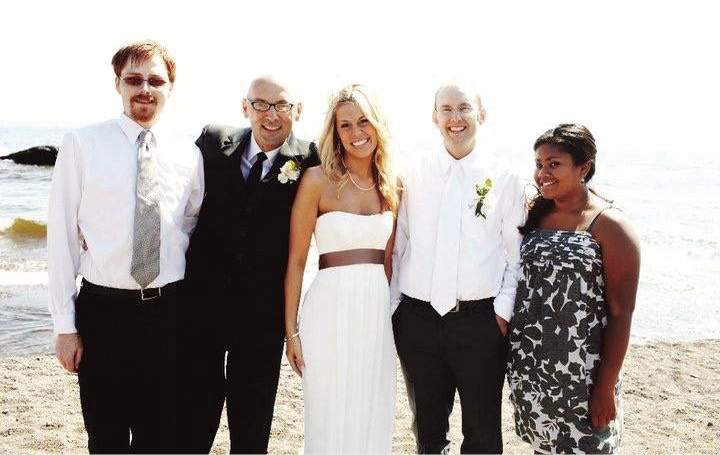 "Of the three siblings," says Young, "one aged out of foster care before adoption day, and one, for his own reasons, did not want to be adopted. I have a relationship with all three."
"Even though I wasn't able to adopt Summer," continues Young, "I became her legal guardian and we changed her last name to mine."
When asked about what the biggest challenge has been with adoption, Young cites the slow pace of the adoption process and the trauma associated with life in the foster care system.
"Every kiddo that comes from foster care has had trauma in their lives," says Young, "and it can be a challenge addressing those."
"You have to avail yourself of services that your family needs," continues Young. "Don't be afraid to ask for help and accept the help when it is offered."
Despite the challenges involved, Young has no regrets with the process and has plans to grow his family again this year now that his son has graduated from high school and is an adult. Young has already signed with an adoption agency that specializes in placements from foster care.
For other people interested in pursuing adoption, Young's first piece of advice is to ask lots of questions. Talk to both agencies as well as other people who have gone through the adoption process.
"I've found it helpful to keep an open mind," says Young. "Consider older kids, multiple kids (sibling groups) or kids with special needs."
A few links that Young has found helpful include: mnadopt.org, thereelhopeproject.org, nacac.org, northhomes.org, and amoersandfamilies.org.
Lastly, I recommend Tim Young's blog post from December 29th entitled "Please don't." It is short and sweet, and an insightful read on the perception of adoption. The last line has stuck with me and seemed like a fitting way to conclude this feature.
"Adoption can be a very good thing. It can meet the needs for kids and for adults. It's not easy. It's not perfect. They're not lucky. We're not heroes."