Tiffany Allen was a very busy woman. With a full-time career in property management, as well as being a young mother, she treasured times when she could just be out somewhere with members of her extended family. One such outing made for a profound change in her life.
"We were out walking on the shores of Lake Superior in 2016," the Lakehead resident recalls, "and I noticed pieces of driftwood here and there. They were beautiful, so I started picking some up to hang in my home."
"I had always enjoyed hanging plants and wall hangings," Allen adds, "so around that time, I started noticing photos of macramé projects on social media."
Macramé, from the Arabic maqramia, or "ornamental fringe," has been practiced by human artisans for at least 40 centuries. Essentially, it is a form of knotting to produce two- and three-dimensional designs from strung yarn or rope. The two foundational knots of macramé are the familiar square (reef) knot and half-hitches, the latter being used in various combinations known to macramé practitioners as "hitching." These two knots can be used to create intricate, spellbinding designs in the hands of artists. Finished designs, especially two-dimensional ones, are often hung from horizontal sticks so that their artistry is most easily seen and appreciated.
Intrigued by some of the more modern macramé project designs, Allen started to research these basic knots of macramé to see what was possible. One piece of driftwood and a ball of yarn later and Allen had created her first wall hanging. Encouraged by this accomplishment, she created more and more finished macramé pieces in a wide variety of colours, and even plunged into dyeing her own yarn with natural materials.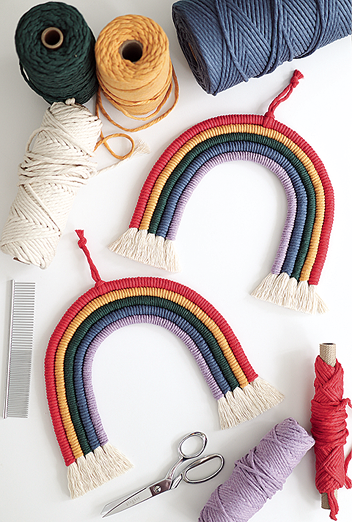 Creating a macramé hanging item calls for some careful mathematics. For a more intricate design with more knots, Allen needs to measure out yarn some 9x the length of the finished hanging. A simpler, less intricate design or one with more spacing between sets of knots comes in at 6x. Then there is the colour matching as well as that of the different thicknesses and qualities of different yarns.
And while driftwood is generally easily found by taking a walk on a Lake Superior beach, macramé yarns are for the most part not available locally, to Allen's disappointment.
"I order online, especially from North America, Australia, Stockholm," she says. "In Canada, it's mostly from suppliers in B.C. and Ontario."
While the bulk of her orders are for unbleached cotton, she now has a good problem for an artisan to have:
"The possibilities for the colours now are endless," she says. "Suppliers keep coming up with new ones all the time."
In response to environmental concerns, manufacturers are also coming up with greener ways to make their products.
"A lot of the cotton yarn and rope we see now is made up of recycled or upcycled cotton," she says. "That's my preference."
"One company," Allen adds, "even takes the leftover waste bits of string and rope from the garment industry, breaks them down and spins out new string and rope from them."
Manufacturers are also increasingly using sustainable materials such as jute, which was popular in the 1960s and has now resurfaced in popularity, and even bamboo fibre and linen. The differing plant fibres add to the complexity of texture possibilities for the macramé artisan.
"Cotton is the smoothest fibre and jute perhaps the rawest," she explains, "with linen in between the two."
So far, Allen's work is doing well, to the point where she now mostly creates to fulfill specific customer orders. She also has a number of creations ready-made for craft shows, as well as demonstration pieces for another aspect of her creative outlet: teaching.
"I'm hoping to teach classes at the Goods & Co., market in the old Eatons building starting this summer," she says. "And I've written a book to teach the world about macramé. I'm very passionate about macramé and I love doing it. I spend 10-15 hours a week on it, usually after my children are in bed for the night."
Allen's two young children have been caught up in their mother's enthusiasm.
"My 4-year-old loves colourful wall hangings or feathers," she says, "and my 2-year-old can say 'macramé.'"
Tiffany Allen's book, You Will Be Able to Macramé By the End of This Book, is available by pre-order for $27.99 CAD, and available for purchase from July 5. To pre-order, visit: macrameanddriftwood.com.