There is something about a canoe that allows for a great connection to water. In a canoe, you are practically sitting on the water, although there is always a small layer of separation. The canoe is an ancient form of watercraft, yet remains among the most portable, practical types of boat you can own. And they are great to use for fishing. That's a real bonus.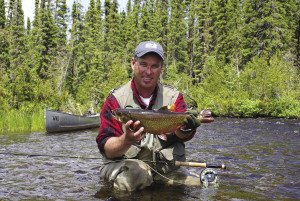 Like a lot of people in northwestern Ontario, I grew up fishing out of a canoe. My family did regular canoe trips into the Graham area and Quetico, and they all included some angling. We had a classic red cedar strip, but that was mostly saved for day trips to speckled trout and lake trout lakes outside of Thunder Bay. The smell of that cedar strip is the thing I remember the most. The scent was a mix of wood and fiberglass, and the smell only got richer as the sun beat down on it. There is nothing nicer than looking at a gorgeous speckled trout laying in the bottom of a cedar strip. It really is the ultimate trout fishing image. The down sides of that old cedar strip were the general leakiness of it and the weight. I can recall my father groaning under the weight of it on portages.
On our longer canoe trips, we always used aluminum canoes. They were very dependable and durable, but not that much fun to paddle. In fact, they could be a real drag to paddle, as it seemed they disliked moving forward. All that said, when we ran rapids and bounced off rocks that would have splintered a cedar strip and cracked a kevlar, we were ok with the downsides.
Many fish were put in the bottoms of those aluminum canoes, and the bonus of that is that they could be washed out very easily and quickly in the lake. One of the real negatives of using a cedar strip—and to a lesser extent a kevlar—is they hold fish smell. This is a real problem in bear country. More than a few anglers have had
the unenviable experience of having a bear try to eat their canoe due to fish smells. Always clean a canoe bottom after a fishing trip.
It's hard to pick a favorite canoe fishing memory. There are a few. About 25 years ago, my father Gord Sr. and I did a long canoe trip together on the Albany River. It was quite an adventure, done in a well-used aluminum square stern canoe. We paddled down that great river many miles, then motored our way back up. It was a great time and the fishing for walleye and pike was off the charts.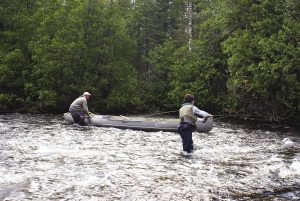 In one little side channel of the Albany, there was a small rapids that fell into a deep hole. We were fishing for walleye when I saw a large swirl from what had to be from a huge pike. I had rigged a large white spinner bait on a heavy action pike rod, so I bombed it to the base of the rapids and started reeling. Sure enough, that big gator ate the spinner and the fight was on. Dad and I had no idea what we were into until the pike swam under the canoe. We could see its head on one side, and its tail on the other. Massive. The pike towed us around for a few minutes and then it was time to land it. Putting a 44-inch northern into the canoe was potentially dangerous and scary, but it went ok. I'll never forget seeing that huge fish laying on the floor of the canoe, and covering a good chunk of it. After a couple pics, the huge pike was released.
One of the great things about canoes is they are usually hard to fall out of. For many years, I never tipped a canoe. Never even came close. Then, several years ago, I went on a canoe trip with Shawn Perich and his late father. On a speckled trout lake in the Algoma region, we pulled up our canoes for a break. I was still in the stern of the canoe, and thinking about getting out, when the canoe suddenly tipped and I was in the water. When I surfaced, sputtering in the icy drink, I could see Perich and his father having a little giggle. Both were standing at the bow of the canoe.
The moral? Be careful who you fish with in a canoe!