Duluth—More than 1,500 volunteers are pitching in this season to help build Bentleyville Tour of Lights, a nonprofit initiative known as the largest free walk-through lighting display in America. It attracted an astounding 270,000 visitors in 2015, with 18,000 people attending each of the three Saturday nights before Christmas. Event organizers expect more growth this year.
Orchestrating and coordinating the massive volunteer effort is a complex art form; some people participate year-round to help with planning and promotion, others volunteer during setup or teardown, some only assist when Bentleyville is open.
The number of tasks and to-dos required to run Bentleyville is tremendous. Those who work all year develop new lighting ideas, prepare merchandise and setup, weld and restore displays. Some people run Bentleyville's public relations, promoting it at the Minnesota State Fair and other events. Others clean up a two-mile portion of Highway 61, just north of Duluth, which Bentleyville has adopted.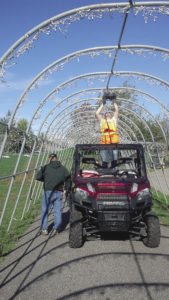 Starting in late September of each year, takes about two months. For a large portion of the setup process, 130 to 150 volunteers pitch in each week. It's a region-wide initiative; people drive from all over, including Iron River, Wisc. and Stillwater, Minn. and work alone or in groups.
Public volunteering closes in the few weeks before Bentleyville opens, and that's when the "Red Coats" take over. They're a group of about 35 people who plan Bentleyville year-round and are responsible for the painstaking detail work that ensures Bentleyville is perfect when people arrive.
Once the display opens to the public, it needs about 60 volunteers each night to be fully staffed. Those people work various shifts, such as in the gift shop, dressing up in character costumes, or handing out free hot chocolate, cookies, coffee, popcorn and marshmallows to guests.
Often, groups help run Bentleyville's nightly operations. The Lions Club has volunteered every Tuesday night for the past seven years, Republic Bank sends its employees at times, and the local post office and Holiday Gas Station employees each spend a night volunteering.
Once Bentleyville ends, tear down takes two to three weeks, depending on the weather, and people pack 10 semi-trailers and 12, 40-foot containers full of lights. It takes an additional few weeks to further organize the displays.
Nathan Bentley, the founder of Bentleyville, said they're thankful for all the volunteers—especially repeat volunteers. Bentley said it can be challenging to understand the complicated festival lingo that is often heard over the volunteers' radios, so it's helpful that repeat volunteers know the lingo and how to get things done.
Considering the difficulty of planning such a large volunteer initiative, the "Red Coats" have a target volunteer—a newly retired individual.
"They are looking for something to get involved in," said Bentley. "They find a home here…and are involved the entire season."—Kelsey Roseth
---
What you need to know
Bentleyville is open: Nov. 19–Dec. 26
Sun.–Thurs.: 5-9 p.m.
Fri.–Sat.: 5-10 p.m.
See Santa: Nov. 19–Dec. 23 5-8 p.m.
New this Year!
A new entrance allowing more people to enter at once.

New 600-foot long tunnels.

Tree now has 150K lights, up 50K from last year.

Santa has moved!
To Volunteer: bentleyvilleusa.org