In a day and age where fewer people are learning to fly and small-town airports are feeling the effects across the country, there is one small-town airport on the North Shore that continues to stand the test of time.
The Grand Marais Airport & Seaplane Base, covering an area of 220 acres at an elevation of 1,799 feet, has been serving the flying community at its current location since 1996. Few people are aware of the airport, fewer still have paid it a visit, and yet despite its modest standing within the Cook County community it is part of a rich history that goes back more than 70 years.
Prior to 1996, the airport was situated on the shore of Devil Track Lake, where it was built, maintained, and operated by the Krotz family for nearly 40 years.
The Grand Marais airport, like so many businesses along the North Shore, began as one man's dream to start a new life away from the cities.
"My father moved up here to open a resort right after the war in 1945," says Kathy Krotz-Finn, Cook County resident and the middle child of Clarence Krotz's three daughters. "It was his dream, it's what he wanted to do."
Clarence J Krotz, Kathy Finn's father, grew up in Chicago as the son of a jewelry maker before going on to serve as a B-26 bomber pilot in the Mediterranean Theater of WWII. Krotz successfully completed 73 missions over Italy and North Africa, before setting his sights on a new life in the woods.
According to Finn, Krotz had been saving his money throughout the war, and after completing his final mission had sent the money to his two brothers in Chicago with instructions to "purchase property, preferably on a lake in Northern Minnesota, where he could start a resort and build an airport."
In their search, Krotz's brothers discovered a stretch of promising land along the shore of Devil Track Lake in Cook County, and in 1945 Krotz purchased the property that he and his soon-to-be family would eventually turn into Grand Marais' first "fly-in resort."
Krotz immediately set to work in turning his newly acquired land into the resort of his dreams.
Two years later in 1947, Krotz had already completed the lodge, airstrip and seaplane base; the same year that he was to marry Dorothy Rindahl. Krotz and Dorothy would go on to have three daughters—Ginger, Kathy and Clarice—and run Skyport Lodge together until Krotz's death in 1981.
At the time, Krotz's airstrip was not the only airstrip in the county. In fact, it was not even the only one in Grand Marais.
"In 1933, during the Depression," says Finn, "the CCC had been trying to build an airport down by where the football field is in town today. Before building his own, dad (Clarence Krotz) checked theirs out, but found that the lay of the land was all wrong, that the grade was wrong, and that it was never going to be able to be an airport like they planned."
"He told them this and they were kind of distraught," adds Finn, "but he felt he had to say it because it was true! And so that's when he went up and started his own airstrip."
According to Finn, her father's assessment of the CCC's work was later validated when the state visited Grand Marais in 1948 to assess the airport in town and found it "unfit" for licensure "except for private use." Then, having just decided not to license the airport in town, they paid Krotz's airstrip a visit up on Devil Track Lake.
"He wasn't quite finished with it all at that point," says Finn, "but they could see that it was 'el perfecto!' That he knew what he was doing, and so they licensed him right on the spot."
With a licensed airstrip and a good portion of the resort complete, Krotz's next step was to acquire an airplane. So, in 1950, Krotz purchased a 1941 Piper J-3 Cub with floats which he used to offer pilot lessons at the resort, shuttle guests into remote lakes of the Arrowhead, and pass on a passion for flying to his three daughters.
Of Krotz and Dorothy's three daughters, Finn was the one who ultimately got "bit by the flying bug." She was the only daughter to receive her pilots license, and the one who inherited the Piper Cub after her father's death.
When asked about life at the Lodge, Finn had one word to describe it—awesome.
"I can't tell you how many planes I gassed up and tied down over the years," says Finn. "It was awesome growing up at the resort, I loved every minute of it."
"Sure, there was a lot going on, a lot of work that needed to get done each day," continues Finn, "but it was work that we all enjoyed, and meeting all of the different people was great, in some ways it was the best part."
With cabins, motel rooms, and a lodge to run on top of operating the Skyport airstrip and maintaining the Piper Cub, all in a location as remote as Devil Track Lake, it is perhaps an understatement to say that the Krotz family had a lot of work on their hands.
However, despite the challenges of resort life, Finn looks back on her childhood on Devil Track Lake with fondness and a plethora of good stories, especially when it comes to the family plane.
And was she ever nervous flying the Piper Cub?
"Oh heavens no!" says Finn. "We grew up that way. I mean we were babies when we were first went up in the Cub. There were years that we didn't have a car at times, but we always had the airplane, always had the Cub."
"It wasn't strange to us, it wasn't odd at the time," continues Finn, referring to the frequent flights that she and her family would take in the family plane. "We didn't even think of it as anything eccentric, it was just normal. The Cub was our bread and butter and that was all there was to it."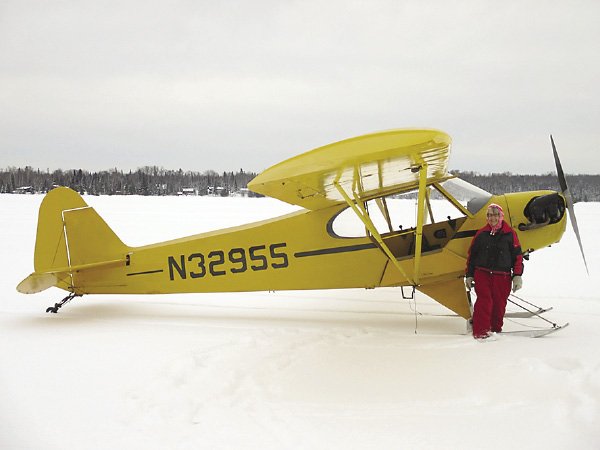 Though she may have felt comfortable flying the family plane from a very young age, Finn does recall one flight that was more "exciting" than the rest.
One day, during a routine joyride in the Cub with her father, they were flying over the Devil Track River when he suddenly turned around and said to Finn, "I've got the controls."
"He immediately took us down, way down," remembers Finn. "You know the part in the river where there are canyons? Well, we were down so low that it felt like the Cub's wings could touch the canyon walls at any moment."
With the cockpit hanging within the canyon walls, Krotz maneuvered the Piper Cub along the curves of the river, weaving through the canyon while his daughter watched in awe from the co-pilot's seat.
"I was very nervous, but it was fun," continues Finn, "and at the end of the thing, we pulled out, got up to altitude, and he looks over to me and says, 'ok you can take over'."
"Once I had taken control again, I asked him, 'what was that all about?' And he looked over and said, 'Oh I used to fly like that in the war, I couldn't resist'."
With the help of a co-pilot, Finn continues to fly the Cub today and enjoys "buzzing" friends and family as they watch from below. She would still be flying solo if it weren't for a dislocated left arm that makes it impossible to "pull the prop."
Finn plans to someday pass the Piper Cub down to one of her or her sister Ginger's grandchildren, hoping that one of them will catch the same flying bug that she did as a child, and carry on the Krotz family tradition of taking to the skies.
Skyport Lodge Today
"We want to share the history. That's why we went for the original name of Skyport Lodge," says Rachelle Christianson, who owns and operates the lodge on Devil Track Lake with her husband Cory.
The lodge was completely rebuilt by previous owners, Doug and Patty Nordahl, about 20 years ago. The Christiansons purchased it in September, 2016. They have focused on creating a neighborhood grill that celebrates the history of the old airport. Historic photos of Skyport adorn the walls.
"The history resonates with a lot of people, both locals and our guests," Christianson said. "Sometimes they share their memories of Skyport and the Krotz family."
Christianson sees the airport as an untapped resource for local tourism. Hoping to increase their fly-in traffic, Skyport is planning to build a dock conducive to float planes. They have developed stay and play packages that can be customized for folks arriving by plane. Christianson will provide shuttle service from the airport (as do others), because the airport doesn't have a car for visiting pilots to use. She wants to work with the airport and aviators in ways that are mutually beneficial.
"We want to create a bridge with the airport," she said. "We want to bring back the Krotz's dream of a fly-in lodge that caters to pilots."—Shawn Perich