The muskie is famously known as the fish of 10,000 casts, which is enough to keep most sane people from even considering a trip for them. If you do decide to try fishing them, you quickly discover that muskie do this trick where they move in behind your lure looking all "bitey" then slink off at the last second. This frustrating move can happen many times in a day of casting, which is why the old line that a good day muskie fishing "is two swirls and a follow" has the painful ring to truth. Yet, when it all comes together, hooking a 4-foot-long fish that can fly out of the water like a torpedo, has a way of getting under your skin.
My first experience muskie fishing took place well over three decades ago, near Sioux Lookout, Ont. My dear departed friend—and muskie mentor—Russ Swerdlyk and I were fishing on Little Vermilion Lake, casting a lure called a Suick. The Suick is a lure that looks like an oversized popsicle stick and is fished in a choppy, downward motion. Swerdlyk and I had been out a couple of days with no success, save for a bunch of follows, when it finally happened. A muskie of about 36 inches rose out of the weeds and, instead of just following, inhaled the 6-inch lure on the end of my line. Bedlam ensued and a few minutes later, my first muskie was in hand. So began a decades long love/hate relationship with Esox masquinongy.
I've had the pleasure of chasing muskie across Ontario from the Ottawa River to Lake Nipissing to Wabigoon to Lake of the Woods. Much of that fishing has been done in the fall when muskie are thought to be "easier" to catch. To be honest, muskie are not easy in any situation, but they do seem to lose some of that tendency towards lockjaw when the water cools.
Muskie fishing is primarily a trolling game in the fall, but you can cast during a warming trend or if trolling gets too boring. And, believe me, trolling can be boring. You will sit for hours, waiting for a muskie to decide to grab your oversized lure that can measure a foot or more.
Yes, you read that right.
Muskie lures have gotten bigger and increasingly elaborate over the years. Some giant crankbaits measure 14 inches or more. Oh, and these lures are not cheap. A typical muskie crankbait will cost anywhere from $25 to $100 or more, depending on the make, paint job and size. Even three decades ago, you could order custom lures that had sparkle paint jobs like those found on bass boats. Today, custom muskie lure makers can command $250 or more for one lure, and they will have a waiting list. The rods, reels and lines used for muskie fishing also tend to be on the pricey side.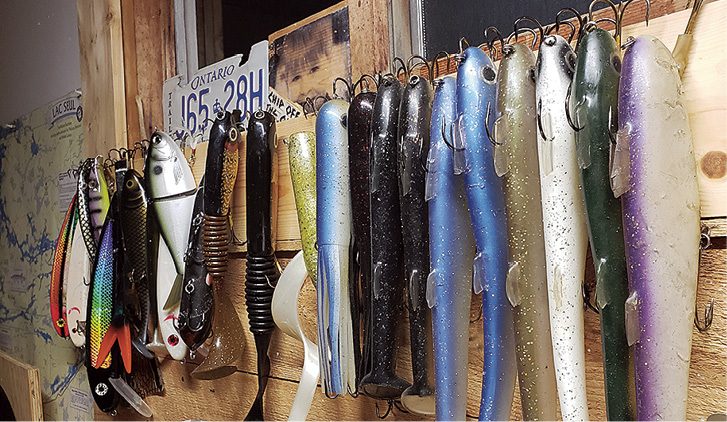 Yet, muskie don't care if you have expensive lures or not. In fact, my very best fall trolling lure the past few years has been a stock Muskie-Mania Jake lure in a white finish. I used the same one for several years and caught a bunch of big fish on it, including my personal best that measured 51.5 inches. It was a sad day when the lure finally snagged bottom and could not be saved. As you might guess, I ordered another one that was the same. So far, the replacement lure is not as deadly.
Fall muskie fishermen often watch the moon phase. A full moon, and the days before and after, are known to be prime for catching larger fish. Why this is so has never fully been understood, but the spawning cycle of herring and whitefish are timed around a full moon. Muskie love to eat soft rayed fish such as herring, so when these fish begin to congregate, you can assume there will be a few predators around. Some anglers like to jig large, heavy lures such as the Musky Innovations Bull Dawg or Bondy Bait, which look like a whitefish or herring. These over-sized lures require heavy rods and line, as the strikes are savage.
The very largest muskie I've ever laid eyes on was caught trolling during a full moon phase in October. My fishing partner was using a deep diving lure called an Ernie bait that gets down deeper than the Jake I was trolling. We were going through a deep hole when his rod bucked back, and he set. At first there was no movement on the rod, but then the tip dipped back and line started to peel out.
"This is a big one," said my partner, who has caught a few. We killed the boat and I grabbed the giant-sized muskie net. You have not lived until you've picked up a net that is 4 feet across. The fish didn't go too crazy, but getting it in the mesh the first time was going to be important. Big fish don't give you many chances. When it finally appeared beside the boat, it looked like a green submarine. I dropped the net near the muskie's massive head, and my partner lead it in. The fish just seemed to keep on coming. The tape read 54 inches, the fish of a lifetime. It's fish like that that will keep some of us coming back for muskie every fall.