As we move closer to the Winter Solstice, we settle into the darkest and quietest time of the year. The hum and brightness of summer is replaced by November gales and dwindling daylight hours. The bright side of all this darkness? The dazzling night sky.
The Northern Wilds have some of the darkest skies in the nation, with the Boundary Waters designated as a Dark Sky Sanctuary by the International Dark Sky Association. (One of only a handful of designated sanctuaries worldwide.) So, take advantage of the darkness to see what you can find in the inky sky.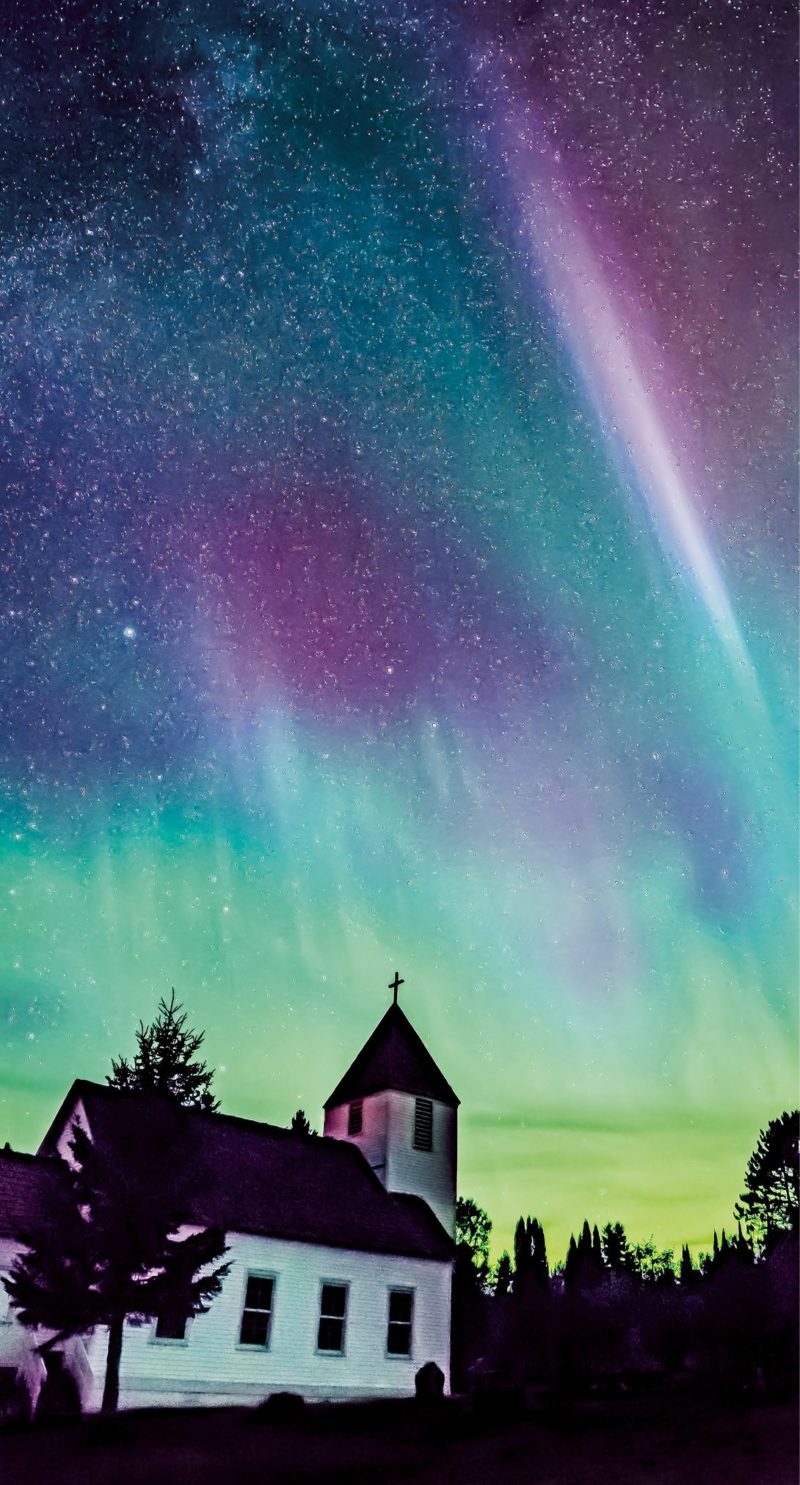 The Northern Lights
One of the most striking features of northerly skies is the aurora borealis, or the northern lights. Although the aurora can appear at any time of year, more hours of darkness mean a greater chance of catching nature's light show.
David Johnson is a Grand Marais photographer who has been capturing the night sky, including the northern lights, for years. He often goes out at 3 or 4 a.m. to do photography, and has mastered the art of capturing northern Minnesota's sky. Johnson said he follows a few Facebook groups that discuss aurora conditions, and if the forecast is good he might stay out all night chasing the auroras. Often, he has a few locations in mind of scenes he wants to capture with the northern lights.
"There are so many places to go and so many scenes that you want to capture with the aurora," Johnson said.
For those wanting to capture the northern lights on a camera, Johnson has a few tips for those new to nighttime photography. The first is to have a way to stabilize your camera, whether that's with a tripod or even setting it on your vehicle.
"You definitely want to be in manual focus, not auto focus," Johnson said. "When it comes to ISO, which is your light, I start between 1600 and 2000 ISO, or less if there's moonlight. Then your aperture, which is how far open your lens is—you want to be wide open. I start off at 5 or 10 seconds and then keep dialing it in. Sometimes it's a scramble when you first start getting into it, but you get it dialed in and it's not too bad to figure out."
And while most of us associate the aurora with undulating lights across the sky, sometimes the aurora appears as a distinct band or pillar stretching east to west. This is known as STEVE, or Strong Thermal Emission Velocity Enhancement. Sometimes STEVE can have a picket fence appearance, and can be seen farther south than typical aurora displays.
Moving Objects
The night sky is also filled with moving objects that can be fun to spot. The first of these is shooting stars. Shooting stars happen when a meteor enters and burns in Earth's atmosphere. Even though most meteors are tiny–like a grain of sand–larger meteors produce even more brilliant displays and can have a "fireball" appearance when entering the atmosphere.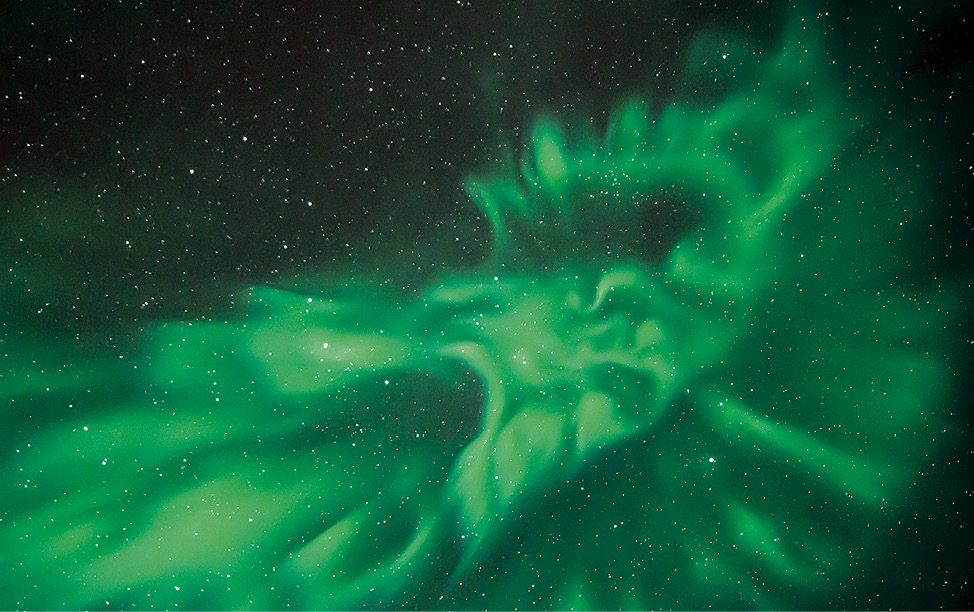 In addition to meteors, the night sky is filled with man-made objects. Satellites appear like slowly moving stars as they orbit Earth. Thanks to our ever-connected modern society, it's become easier than ever to spot the many satellites that keep our worldwide communications going.
Two particular satellites may stand out to viewers. One is the International Space Station (ISS), a platform for scientific research. Low in Earth's orbit, the ISS is the third-brightest object in the sky. (You might even mistake it for a plane, except it doesn't have any flashing lights.) You can track the location of the ISS at: spotthestation.nasa.gov.
Another unique moving object (or objects) is the Starlink constellation of satellites. Owned by SpaceX, Starlink provides satellite internet service. To date, Starlink has launched over 3,000 satellites. From the ground, these satellites may look like a "train" of lights moving together across the sky.
Brilliant Stars
The dark winter skies are also a perfect time to see the Milky Way and winter constellations. Cold temperatures mean less moisture in the air, leading to more brilliant stars. The most famous of all the winter constellations is Orion, the hunter, which rises in the southern sky on winter nights. Other prominent winter constellations include Canis Major, Canis Minor, Gemini and Taurus.
Overhead, stargazers will also see the Milky Way on a clear night. So named because our galaxy can appear to cast a white cloud over the sky, the term "Milky Way" typically refers to this distinct band, even though all the stars in the sky are part of the Milky Way galaxy. The gauzy appearance of the Milky Way is thanks to our galaxy's billions of stars. While most of these stars are too far away to be seen with the naked eye, they collectively form the characteristic glow that illuminates the night sky.
It's also possible to spot some of our galactic neighbors. The Andromeda galaxy is a neighboring spiral galaxy at 2.5 million light years away. Andromeda can best be seen in the autumn months, from September through November.
For those interested in learning more constellations, installing a star map app can help new stargazers learn the name of constellations and search for their favorite stars in the sky.
Noctilucent Clouds
Are those northern lights or clouds? If it's summertime, it might be hard to tell. Noctilucent clouds are the highest clouds in Earth's atmosphere, and can be visible at twilight during the summer months. These clouds are formed when ice crystals in the mesosphere form around tiny particles left behind from things like meteors or space crafts. When the sun is below the horizon, its light can reflect off these clouds, giving them an otherworldly, glowing appearance reminiscent of the aurora. (Noctilucent means "night shining.") The reason these clouds are visible in the summer is because very cold temperatures are needed in the mesosphere for them to form, and the mesosphere is coldest in the summer.
While noctilucent clouds are occasionally visible at lower latitudes, the best chance of viewing them during peak months is between latitudes of 50 and 70 degrees.