Welcome to Northern Wilds! Your email has been confirmed. Each month you will receive a link to the latest PDF version of the Northern Wilds magazine. Weekly, you will also receive a short newsletter with topics that struck our fancy that week.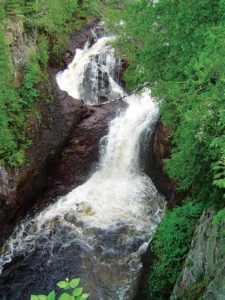 Free gift!
As our free gift to you, please enjoy this Devil's Kettle waterfall hike guide: DevilsKettleHikingGuide 
The Devil's Kettle
Minnesota's most mysterious waterfall
Everyone who makes the one-mile hike through Judge C.R. Magney State Park to the Devil's Kettle on the Brule River asks the same question: Where does the water go? Above the falls, the river splits in two at an outcropping of rhyolite—volcanic rock as hard as granite. The east side of the river plummets 50 feet into a pool, in typical waterfall fashion. But on the west side, the water plunges into a cavernous hole in the rock and vanishes.
Past attempts to determine if the water re-enters the river downstream were inconclusive. Scientists hope to solve the mystery in the fall of 2017 by pouring a fluorescent, vegetable-based dye into the Devil's Kettle, which they believe will be visible where the water enters the river downstream.