His dad was a Red Sox fan around the time of the Splendid Splinter. His mom wouldn't name him Theodore because of the cartoon chipmunk with the same name. So, they compromised and named him Tedd, with two d's. That's how Tedd Williams was born 62 years ago. Double d Guitars is the name of his operation in Saginaw, Minn. Two lowercase d's are inlaid in the head of his guitars. A unique symbol for each unique instrument.
He and his wife Cassie have been married for 37 years and live in the place he built himself in 1980. They have four children. Two of his five grandchildren laughed and rode their bicycles around his shop while he sipped coffee and talked about his life in "medicine and music."
Williams was a Hospital Corpsman in the U.S. Navy from 1973-79. He spent the 80s getting several degrees, including a Masters in Organizational Management. He also taught high school English. Then he joined the Minnesota Air National Guard in 1990. He worked in the Medical Group of the 148th Fighter Wing in Duluth until he retired in 2010.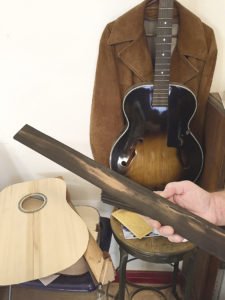 Lloyd LaPlant, 88, is a well-known luthier (maker of stringed instruments) in Grand Rapids, Minn. Williams wanted to commission LaPlant to make him a guitar to mark his retirement from the military. LaPlant told Williams to come to Grand Rapids and make one for himself.
"I asked him, 'You think I can?' But, I'd done stuff. I built this house. I wasn't intimidated," Williams recalled.
LaPlant gifted the wood to him for his first guitar. It took Williams six months to build and he finished in June 2011.
"I'd go up to Grand Rapids on Tuesdays. I'd show up and stoke up the woodstove out in Lloyd's shop, like an apprentice. Then I went inside and drank coffee with the family. After that, the shop was warm and we'd go out to work," said Williams.
When did he know that this was for him?
"The first day," said Williams. "I said to myself, 'This is really fun.' I'd take a process that I finished over to Lloyd and he'd grunt and I knew I was on the right track. On the second Tuesday, I knew I wanted to keep doing this. I thought: An introvert in a woodshop by myself? I was in heaven."
Williams got into music at eight years old when his gym teacher Dad sang Caruso arias from operas around the house. His Dad bought him a ukulele and encouraged him. Then Williams got a Danelectro guitar without an amp.
"I could play a lot and it was quiet," he said. He never stopped playing. He never took lessons. "Give me an hour and I can play anything with strings and frets," he said. Then came the piano, the flute, and the saxophone. He always sang. "I mostly learned piano and guitar so I could accompany my singing," said Williams. He met his wife Cassie while playing the piano.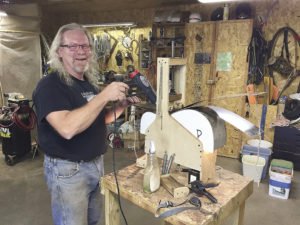 When Williams turned 50, he committed himself to playing the banjo. He must've figured it out since he plays the banjo in three bands: Sarah Mae and The Birkeland Boys (bluegrass), gospel music with Witness, and with a trio called Due North. The shop where the famous Nechville Banjos are made is in Bloomington, just miles from his mother-in-law's house. Williams stopped by the shop in 2006 and met Tom Nechville. After helping out in the shop that day, Nechville took Williams out to lunch.
"We talked about everything but banjos," Williams said. "When Tom needs a driver and muscle, I help out."
They travel to music festivals around the country. Steve Martin needed to modify a banjo that was owned by the late John Hartford (the songwriter of "Gentle On My Mind"). Williams went with Nechville to Manhattan and helped work on that priceless banjo. Not bad, rubbing elbows with a nationally known banjo picker/comedian/actor after picking up the banjo at age 50.
Williams gave a tour of his shop and the office next to his shop. He clearly believes in creating guitars that people will play. He dismisses some of his more beautiful guitars as "art projects" despite the fact they sound great. One guitar he made with a Koa wood body and a maple neck was an example of beautiful form and function. On the back of the guitar, the grain of the dark wood looks like two wolves.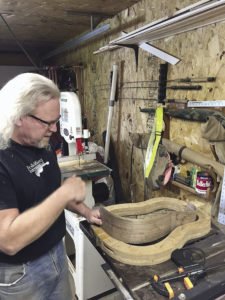 He quoted his mentor LaPlant as saying, "We aren't reinventing the wheel here." Williams uses traditional guitar body shapes pioneered and proven for decades by the manufacturers Gibson and Martin. Many of his guitars have spruce bodies, which is a typical wood choice. Williams has respect for traditional shapes and woods. Williams echoed LaPlant when he said, "You could make a guitar with a weird body shape for a few hundred bucks, but then you'd have to shell out a thousand bucks to get a custom case to put it in."
Williams respects precedent and players, but he is still excited about the individual character of each guitar. He held out a piece of Macassar ebony that he would use to make a fretboard for a guitar. He talked about the beautiful "chocolate colored" striations in the grain that would give the guitar a unique look.
"Solid black ebony would make it look just like every other guitar in the world," Williams said.
The joy he takes in making these instruments is infectious. Williams said he has two mottos. His first one is, "No one has more fun than I do." His second one is, "I strive for mediocrity in all I do." The latter is easily dismissed as self-deprecating humor. Maybe it's even a way to take pressure off himself as a builder. "Music is playful and emotional," said Williams. He repeatedly said that music is an "intimate act" and "cathartic." The joy and humor of his mottos probably help power the 80 hours that it takes him to make each one of these important music-making tools. He's about to start his 70th guitar since his first in 2011.
Several Double d Guitars are in the hands of serious musicians, many in Nashville. Shad Cobb, Tim Carter of The Carter Brothers, and notable session man Smith Curry all have guitars that Williams made. He gifted a guitar to Curry after he had the bad luck of a house fire.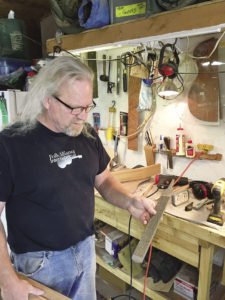 "The night before I string up a guitar, I get so excited, I can't sleep. I get to the part of the process where I glue the bridge on and clamp it so it'll dry overnight. This means the following day, I only have two hours of work left to string it up." Williams said, "This is when I do something pseudo-spiritual. I let the person know that it'll be done the next day. Some people write a song that they play for the first time on the new guitar. Some people that aren't local will ask me to play a particular song the first time I string up their guitar. There's a Latin inscription that some violin makers inscribed into the wood of the fiddles they made, from the point of view of the wood: In life I was silent / In death I sing."
Not only is he creating the instruments, but he's proud that he personally made most of the jigs, forms, and even the tools that he uses. He described how he forces the body together in a form, unlike some other makers who choose to bend the wood perfectly without a form. "Wood under pressure is livelier," said Williams. The guitar braces inside the body give the guitar front and back a slight curve or radius. "The guitar body and the sound hole are essentially an air pump," he said. After spending time in his shop, you start to see guitars as living creatures.
If you want to find out more about Double d Guitars, look for Tedd Williams on Facebook. Make sure you type two d's. If you're still not sure, see if the guy looks like he's having more fun than you. That's him.