Thanks to a certain holiday, February is well associated with chocolate, even celebrated as Chocolate Lovers' Month. The connections between Valentine's Day and chocolate dates back to the mid-1800s, when Richard Cadbury, son of the Cadbury founder, started creating special boxes of chocolates to increase sales. In 1868, he debuted a heart-shaped box of chocolates for Valentine's Day, dubbed a "Fancy Box," well adorned in the Victorian fashion. Whether you are seeking out a Valentine's Day gift or simply some scrumptious chocolate, take a look at one of these local shops to satisfy, no fancy box required with these delicious chocolates.
In the Waterfront District of Thunder Bay, a small shop brimming with chocolates is not to be missed. ChocoLitts opened just over a year ago, with owner, Rena Litt, at the helm. The unique name was inspired by her last name and a nickname for her children, "chick-litts." ChocoLitts, pronounced like chocolates, is known for just that. Litt has been doing special orders of printing on chocolate for 10 years and has now expanded into truffles, sponge toffee, and other delectables.
All items are made in house, using real chocolate. Litt sources locally and other items are fair trade. I sampled a spicy dark chocolate truffle on a visit this winter, made with chili powder from a local vendor. While not for the faint of heart, it was a hit at our house. Chocolate-covered bacon is another specialty to check out, especially for the bacon lover.
For a more quintessential Valentine's gift, look to ChocoLitts' truffles. With a wide variety of flavors, you are sure to find some that will please your sweetheart. Choose from options like dark chocolate orange, Kahlua, creme de menthe, cinnamon, raspberry, and sea salt and caramel. Valentine's Day specials will be featured on ChocoLitts website (chocolitts.com) and Facebook page.
Another popular gift idea for out-of-town relatives and friends is ChocoLitts' Thunder Bay chocolate bar, featuring the Sleeping Giant in chocolate form. Chocolate-dipped wine bottles make another special, one-of-a-kind gift. For the most customized gift, work with Litt to create an edible chocolate with your own personalized message or picture. For more information on special orders, contact ChocoLitts.
In February, ChocoLitts (207 Park Avenue, Thunder Bay) is open Wednesday through Friday, 10 a.m. to 6 p.m. and Saturday 10 a.m. to 4 p.m. The shop will be open Tuesday, Feb. 13 for last minute Valentine's Day shoppers.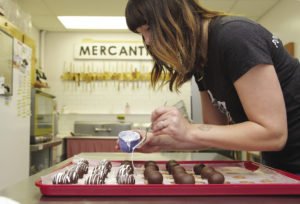 In Grand Marais, another entrepreneur is making delicious things with chocolate. Chelsea Pusc is the brains and arms behind the Gunflint Mercantile, whipping up fudge, truffles, and much more. After coming to the area to work for Voyageur Canoe Outfitters, Pusc purchased the Gunflint Mercantile seven years ago this February. She has brought her passion for creating and ideas to the business. She is always testing new flavors, so stop in and "you just might get to be a taste tester," said Pusc.
Known for its fudge, the Gunflint Mercantile offers some popular varieties including maple bacon and dark chocolate sea salt caramel. The base fudge recipe is an old recipe from the Patton family up the Gunflint Trail. For ingredients, Pusc goes closer to her childhood home, sourcing her sugar from the Renville, Minn. beet sugar factory, where she grew up. Butter comes from Wisconsin, bringing Minnesota and Wisconsin together in the most delicious way.
This February, you'll want to stop in the shop or check out the Gunflint Mercantile's website.
"One of my favorite holidays is Valentine's Day, so I have a few things up my sleeve," said Pusc.
Boxes of truffles are a great option for a more quintessential Valentine's gift, featuring her large, handmade truffles. Each batch is made from scratch and stirred by hand. If you are looking to really cover your bases, Chelsea partners with Grand Marais florist, Terra Bella Floral, to have a fudge kabob delivered with your flower order. Other Valentine's Day specials will be posted on the Gunflint Mercantile's Facebook page. If your Valentine is not a fan of sweets, her wild rice and mushroom soup mix is another customer favorite.
The Gunflint Mercantile (12 First Avenue West, Grand Marais) is open Thursday through Monday, 10 a.m. to 5 p.m. in February. It will also be open every day the week of Valentine's Day. For more information on orders, visit: gunflintmercantile.com.
In Canal Park Duluth, a small shop tucked inside the DeWitt-Seitz Marketplace has a presence much larger than its square footage. For 30 years, Hepzibah's Sweet Shoppe has been fulfilling customers' dreams of chocolates, fudge, licorice, and other imported sweets. Having grown up on the North Shore, I have fond childhood memories stopping in for a special treat and one day look forward to sharing the tradition with my daughter.
The name may seem a bit unusual to some, but Hepzibah goes back to the start of Duluth. The shop is named after Hepzibah J. Merritt, a woman who helped establish the first settlement in the Oneota Territory, which is now West Duluth. A mother to eight boys, her sons discovered the world's largest iron range, the Mesabi Iron Range, creating Duluth's place in history. With the shop located across from the shipping canal in Canal Park, it is quite fitting. Hepzibah's sells one of a kind chocolate ore boats, connecting to both its location and historical name.
If a sweet ore boat won't tickle your sweetie, award winning truffles and imported chocolate and treats from Europe might fit the bill. "We have Austrian black forest cherry chocolates, Reber Schwarzwälder Kirsch, which also make the chocolate Mozarts," said shop manager, John Ryde-Crane. Imported from Holland, they also have Droste Pastilles with bittersweet and dark chocolate, among many other imported Valentine chocolates. Two of the favorite truffles are the Minnesota moose, dark chocolate with dark chocolate ganache, and Baileys Irish cream, Baileys in milk chocolate ganache. They have a large selection of candy as well, for the non-chocolate fan—I love the red licorice wheels.
Hepzibah's Sweet Shoppe (394 S. Lake Ave, Ste 104, Duluth) is open Monday through Saturday 10 a.m. to 9 p.m., and Sunday 10 a.m. to 8 p.m. (call if you'll be stopping by on a Sunday evening to ensure they are open: 218-722-5049).