Grand Marais—Snow has begun falling in the Northland and snowmobilers are making plans to head out to their favorite riding areas. Last winter, the U.S. Forest Service updated its travel management snowmobile rules, so some riders may be wondering if that means a change in riding opportunities. As of now, there should be no change for riders in the Superior National Forest.
The process leading to the rule change started in 2010 when Winter Wildlands Alliance, a coalition of over 90 organizations, challenged the Forest Service's authority to give managers in its 154 National Forests the authority to oversee over-snow vehicle use.
National Forest Service policy already restricted where off-road vehicles could go in the summer, but in the winter, snowmobile management was optional. The Winter Wildlands Alliance asserted that the Forest Service was not doing enough to protect opportunities for quiet winter recreation and allowed significant damage to fragile winter ecosystems.
According to Superior National Forest spokesperson Kristina Reichenbach, over-snow vehicle use is regulated separately from other types of motor vehicle use because there is less potential damage to the environment.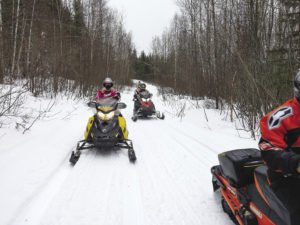 Reichenbach added, "Over-snow vehicle use for transportation or for recreation is limited to times when snow is deep enough to avoid damage to the ground. When properly operated and managed, over-snow vehicles do not make direct contact with soil, water or vegetation."
Cook County Ridge Riders Snowmobile Club president Forrest Parson agrees that snowmobiles leave no trace.
"We're not impacting anything. Once the snow and ice is melted, tracks are gone," said Parson.
A 2013 decision in the U.S. District Court in Idaho concluded that the Forest Service has the authority to allow over-snow use. However, it also determined that U.S. Forest Service managers must specifically designate which roads, trails and areas can be used by over-snow vehicles. Once over-snow vehicle use designations are completed for a unit or district, over-snow vehicle use will be allowed only on those designated routes and in those designated areas.
Good news for locals is that the new snowmobile rule allows old management decisions to be rolled into the new plans and local Forest Service officials retain the discretion to manage over-snow vehicles in keeping with local conditions as appropriate. That means previous decisions regarding over-snow vehicle use in the Superior National Forest will remain the same.
"Snowmobile rules state that cross-country travel by snowmobile is legal except where prohibited," said Jon Benson, assistant ranger for Recreation and Wilderness for the Tofte and Gunflint Ranger Districts. "In general, that means that snowmobiles can travel anywhere they aren't specifically prohibited. For example, places where snowmobile use is not legal, including but not limited to the Boundary Waters, ski trails, hiking trails, biking trails, etc."
Under the new rule, National Forests with existing decisions will need to develop an over-snow vehicle use map, and provide public notice of its availability.
Benson said Superior National Forest has yet to receive direction regarding completing the map. However, Benson said, "As far as I am concerned, we are not planning any changes that would be noticed by snowmobilers this winter. It should be the same as last year."
That's good news, said Parson, who encourages snowmobilers to prepare for another great riding season.
"I can't wait for the lakes to freeze up," he said.