North Shore—Snow is falling, temperatures dropping and things are at long last starting to look like winter along the North Shore. This wintry change can only mean one thing; youth ski programs have arrived.
With hundreds of kilometers of gorgeous ski trails from Duluth to Thunder Bay, the North Shore and surrounding area is one of the best places in the world to pursue this historic pastime. A craft for people of all ages, skill levels and physical abilities, cross-country skiing is a skill that provides enrichment through both physical activity and by establishing a connection with nature in a fun, active, winter setting.
However, with all of the equipment, time, and energy required to get kids started with cross-country skiing, it can understandably be a bit of a challenge to get youth involved with the sport.
Thankfully, along the North Shore, there are plenty of youth ski programs and opportunities to help get your kids involved. Here are a few of the programs available throughout the area.
Duluth
When exploring youth ski opportunities in Duluth, a good place to start is the Duluth Cross-Country Ski Club (DXC). They offer a KidSki program for ages four to 12 at Snowflake Nordic Ski Center that runs every Sunday from Jan. 8–Feb. 12. KidSki is a progressive program (meaning kids have an opportunity to progress to different levels as their skills improve) with an emphasis on using a fun, game-based approach to teaching kids the craft of cross-country skiing.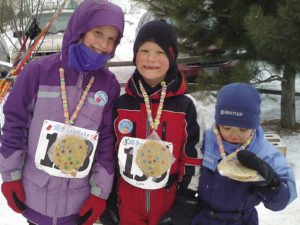 Parents are also encouraged to get involved, either through the program ParentSki or by becoming a volunteer. DXC is always looking for volunteers to help out with food, the chalet, coaching, and the carnival at the end of the year.
Other youth cross-country skiing programs from around the Duluth area include the Nordic Spirit Youth Ski League at Spirit Mountain, and the Nordic North Stars Youth Programs. More information can be found for both of these opportunities at duluthxc.com/other-local-programs and nordicnorthstars.com.
Grand Marais
In Grand Marais, Y-ski is the local youth cross-country ski program. Sponsored by the North Superior Ski and Run Club, Y-ski is a program held at the Pincushion Mountain Trail System on Sundays from 1-3 p.m., designed to encourage kids to develop their cross-country skiing skills through games, group activities and general exposure to the sport.
Y-ski is affordable, fun and accommodating to young skiers of all skill levels. Equipment is available to rent for a nominal fee, and just like KidSki in Duluth, they are always on the lookout for volunteers.
If interested in signing your child up for Y-ski or volunteering as a group leader or group assistant, contact Patty Johnson by email at patjj@hotmail.com or visit pincushiontrails.org for more information.
Ely
The Minnesota Youth Ski League (MYSL) Hidden Valley Chapter is situated up near Ely and is another great program that helps introduce the area's youth to cross-country skiing. MYSL emphasizes skiing as a fun, lifelong activity, and is available for kids between the ages of four to 15.
To get in contact with MYSL either email MYSL@elynordic.org, or join the Ely Youth Ski League group on Facebook. General information can also be found at elynordic.org/mysl.
Thunder Bay
Like Duluth, Thunder Bay has all sorts of great youth ski programs available to the community. The Kamview Jackrabbits, for instance, is a program based out of the Kamview Nordic Center that strives to provide a recreational yet instructional ski experience for kids. Like many of the youth ski programs along the North Shore, they are entirely run by volunteers and always looking for leaders, assistant leaders and helpers. For more information, check out the Kamview Jackrabbits Facebook page.
For young skiiers looking to take their Nordic Skiing to the next level, the Big Thunder Nordic Ski Club offers more rigorous opportunities and junior racing programs out of Kamview. For more information, visit btnordic.ca/programs.