Sailing the waters of the Lake Superior—the world's largest freshwater lake—with Sail Superior Yacht Charters is the ultimate summer adventure, with plenty of 'wow' sightseeing moments.
"I encourage people to get the feel of Superior. It is really easy to get on the lake, and there are so many ways to enjoy it by people of all ages and abilities," said Captain Gregory Heroux, owner of Thunder Bay's Sail Superior Yacht Charters.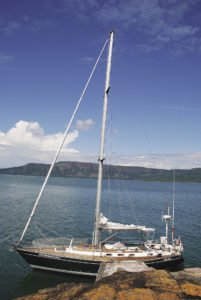 Sail Superior offers an excellent menu of sailing cruises, including 90-minute harbour tours; twilight wine-and-cheese cruises; afternoon or day trips to Welcome Islands, Porphyry Point Lighthouse or Thompson Island; Hike 'N Sail on Sleeping Giant; Sail-and-Scuba; multi-day Big Lake Adventures; customized sailing cruises for groups, families and special events; and more.
For starters, the 90-minute harbour tour on the 38-foot Journeyer gives a unique perspective of the city seen only from water. The tour allows a close-up of the waterfront's massive elevators, red-and-white Thunder Bay Main lighthouse, 500-foot former ore dock and even a "saltie" or lake freighter coming in the harbour.
The most popular charter is the afternoon excursion (3.5 hours) on the 40-foot ocean-class Frodo that goes beyond the breakwater to the Welcome Islands, a group of four islands about 6 nautical miles offshore from the city. You can relax and even go for a swim near the shores of the largest island with its high cliffs, former lighthouse site (last keeper left in 1985), birds and a sheltered anchorage that is the perfect spot for an on-board lunch (catered or bring your own). Gaze over to the east for a closer look at the famous Sleeping Giant and to the west, with an interesting view of the city and the eastern high ridges that were once Superior's beaches.
Sail Superior's world-class cruises on the Canadian shores of Lake Superior has received the prestigious tourism designation Ontario Signature Experience (OSE) by Ontario Tourism as one of the best tourism experiences in Ontario. Like the Hike 'N Sail: Sleeping Giant, a full-day excursion which takes travellers about 13 nautical miles east of the city, past the Welcome Islands, and across the Bay of Thunder Bay to Sawyers Bay, located behind the Sleeping Giant's head on Sibley Peninsula. A dinghy takes guests to shore where they can hike on moderate, advanced and expert trails. You can venture to the top of the high cliffs, rising more than 1,000 feet above the waters, for a dramatic 'wow' panoramic view of islands, mainland and Lake Superior. And for those wanting to stay longer, the trip can be extended overnight.
"Each excursion is unique, as Lake Superior always has something to say about what you will see and which directions you will take. It is different each time. I never get bored sailing Superior," says Captain Heroux, who has been sailing on the lake since a young age. He started Sail Superior with his late father in 2001 after sailing across the Atlantic Ocean in Frodo. Today, it's a full-time business with a small fleet.
There's an exotic romanticism when summer sailing on Superior and experiencing its raw wild beauty and feeling the power and mystique that draws people to return to its waters.
A writer once told Captain Heroux after sailing on Lake Superior for the first time, "I've sailed around the world but this is the Mount Everest of freshwater sailing."