St. Paul—Minnesota state parks and trails will join other states in a nationwide effort to get as many kids and adults out hiking on Jan. 1 as possible. The effort, led by America's State Parks, will include more than 400 guided hikes in all 50 states.
First Day Hikes in the Northern Wilds will take place at Jay Cooke State Park (Carlton) from 1-2:30 p.m. and Tettegouche State Park (Silver Bay) from 1-4 p.m. The hikes will promote families to get outdoors to burn off holiday calories, cure cabin fever and enjoy the winter landscape and wildlife.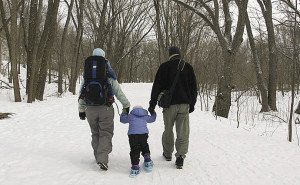 "Research shows that spending time outdoors rejuvenates the mind and body," said Erika Rivers, director of the DNR's parks and trails division. "Minnesota state parks and trails can be a great resource to anyone whose New Year's resolution involves improving their health and fitness."
All First Day Hikes are free, but a vehicle permit ($5 for a one-day permit or $25 for a year-round permit) is required to enter Minnesota state parks.
Snowshoeing will also be an option, weather permitting. Some parks have snowshoes available in child and adult sizes; call ahead to reserve a pair.
"If a First Day Hike doesn't fit into your family's schedule on New Year's Day," Rivers says, "remember that Minnesota state parks and trails are open every day, even in winter, so come visit and hike whenever you can."