Stand-up paddleboarding (SUP) creates instant converts
Two winters ago, I was lucky enough to visit Hawaii. After dozens of wipeouts, I surfed a wave for the first time in my life. While I rested on my belly on my board, I watched an old man standing up on his board and smoothly paddling out to catch another wave. He was smiling even more than I was. I asked around and learned that what he was doing was called stand up paddle boarding or SUP.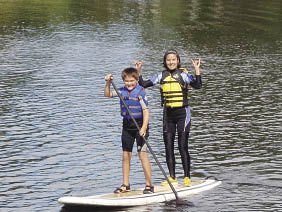 Late last summer, I heard that the University of Minnesota Duluth Recreational Sports Outdoor Program (UMD RSOP) offered SUP lessons. I made it into the last class of the year and met my instructor, Zak Winkler, at the mouth of the Lester River in Duluth. A sibling duo, Mona and Eddie, were there for the lesson, too. Lucky for me, Lake Superior was as calm as I'd ever seen her.
Zak patiently explained how to carry the big board, how to hold the paddle, and how to swap sides with the paddle. We started out like infants and splashed around on our knees to get the feel for it. Then we jumped up and glided around.
Actually, just Mona and Eddie did. I kept falling overboard. Like a bad craftsman, I blamed my tools. I swapped boards with Eddie and, to my relief, there was a big difference between our two boards. At last, I paddled away without fear of dumping into the cold water. Note to self: All boards are not created equal.
I paddled up to Mona and asked her what she thought. "I'm buying one," she said. Boom. A convert.
It's not surprising that paddle boarding is popular. There's something oddly liberating about standing up on such a tiny vessel. You feel like you're walking on water. I remember thinking, "Wow, I'm way up here," the first time I caught a wave in Hawaii.
I felt the same thing on Gitchee Gumee (Lake Superior). By the end of the lesson, I was trying to catch some tiny rollers with Zak's coaching. It was fun, even though I didn't hang ten – or even one.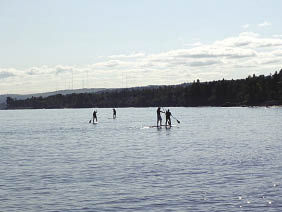 My family watched from the shore. I promised them we'd rent a stand-up paddleboard later, which you can also do from the UMD RSOP folks. On a nice day in September, we strapped the rental board to the roof and went to Whiteface Reservoir north of Duluth.
My wife never liked our kayak. "Too confining," she said. What about SUP? I couldn't pry the paddle out of her hands. Or the kids' hands, for that matter. Guess what Mama wants for her birthday? Boom. Another convert.
The UMD RSOP offers five lesson dates on Lake Superior this summer along with other demo days and rental information. Visit www.umdrsop.org for details.
There's a tiny chance my spouse will upgrade me to "good husband" status if I get her the right board before summer. A small price to pay to enable my family to walk on the water.