Grand Marais—For most who opt to pitch a tent in the wilds of Ontario or along Minnesota's North Shore, a leather recliner and silk robe are not considered essential items. Satellite television and being able to check email with the click of a button aren't often requirements that will make or break a trip for early season lake trout anglers heading toward Quetico Provincial Park.
But for glamping expert MaryJane Butters, an extended list of luxury items are the exact ingredients required for her recipe to enjoying quality time in the wilderness.
"Glampers head outdoors with their fine china and lofty down pillows," said Butters. "They set their tables with vases full of gathered wildflowers."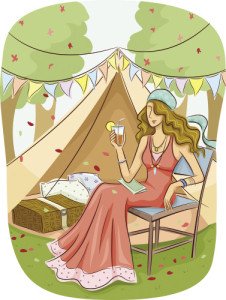 So what is glamping? Quite simply, it's spending time outdoors with all the comforts of a five-star hotel room. It can involve sleeping in a tent, but such stipulations aren't necessary to define the trend of glamorous camping. Think the exact opposite style of camping, exemplified by Cheryl Strayed or Reese Witherspoon from Wild and you're on the right track for visualizing what glamping is all about.
"It's daring but doable," Butters said. "Glamping isn't the concept portrayed in the movie Wild."
Butters and her expertise on glamping have been featured in The New York Times Magazine, Travel & Leisure and on The Today Show. She has also written a book on glamping, appropriately titled "Glamping with MaryJane." For Butters, glamping is about exposing the joys of nature to people who might not otherwise be willing to take a walk on the wild side. And Butters is not shy about emphasizing the role women have played in the rise of popularity when it comes to glamping.
"Glamping appeals mostly to women," Butters said, "and the men in their lives that are willing to go along for the ride."
When it comes to camping in canoe country or along the shores of Lake Superior, glamping has yet to arrive with the same boom it has made in places such as the wilderness and parks near San Francisco or Seattle. Grand Marais parks manager Dave Tersteeg said how popular glamping is in Minnesota and Ontario depends largely on one's definition of the activity.
"Anytime you're sleeping outside and not in a traditional bed, house or hotel, yet still experiencing hot showers and sit-down meals, you could call that glamping," Tersteeg said.
While the North Shore doesn't offer $1,000 per night glamping in a treehouse, it does offer the ability to experience roughing it in style, Tersteeg said. At the Grand Marais Recreation Area, people can sleep on the ground if they choose to, but they can still dine at local restaurants or shop at downtown art galleries. Glamping offers the best of many worlds on the same trip.
"The big appeal to glamping at the truly luxury level is bragging about the experience," Tersteeg said. "Folks want one-of-a-kind experiences when they vacation, and at its best, glamping creates these experiences."
Tersteeg said that much like roller blading and leg warmers, glamping is a trend. As of the early stages of this summer, Tersteeg said he is not aware of any active marketing campaigns pushing glamping in the region.
All the same, glamping appears to have found its way to Minnesota. In the eco-tourism town of Ely near the Boundary Waters Canoe Area Wilderness, luxury tents are available to rent that sleep up to four people. The description of the rental states that the tents are 12-feet by 20-feet and come complete with a king-size bed, which can be converted into two twin-size beds, if so desired. Linens and pillows are included, and each tent is completely carpeted. By nearly every aspect of the definition, this constitutes glamping.
"The concept has continued to diversify in that women are increasingly comfortable planning outdoor trips and they often have children," she said. "What child wouldn't love a fun and pampered outdoor experience?"
Perhaps a child who enjoys portaging and cleaning fish near a campsite secluded deep within the remote reaches of the BWCAW or the Quetico … But this is 2016. And it takes all kinds.