Walleye. Lake trout. Trophy pike.
Undoubtedly, these are the fish which lure anglers to the waters of the Northern Wilds.
And yet, one fish and one specific means of catching said species remains the hidden gem of the region: fly fishing for smallmouth bass.
Far too many anglers in Minnesota and Ontario dismiss smallmouth as pests, lacking as adequate table fare or simply as rogue garbage fish. What these same anglers overlook is the sheer joy that comes with catching smallmouth. They pull hard. They jump high. They are the powerful bronze-backed beauties of the region.
"Smallies are pound-for-pound the hardest fighting freshwater, warm-water fish," said Erik Fleming, a Minnesota resident who frequently fishes for smallmouth up the Gunflint Trail. "In fact, I have fished a lot in saltwater and guides will compare crevalle jack to smallmouth as one of the hardest fighting fish pound-for-pound."
Though far from 'garbage fish,' it would be an oversight to assume that smallmouth bass are welcome in every lake along places such as the Gunflint Trail near the Minnesota-Ontario border. A major knock on smallmouth is that they're not native to most lakes in the North Woods. (It's worth noting that the same thing could be said about walleye, by the way.) And be that as it may, according to Steve Persons, the area fisheries manager for the DNR in Grand Marais, stocking of fish such as smallmouth along the Gunflint Trail began well before there was an established and protected wilderness area that is today commonly known as the BWCAW. Early stocking records for wilderness-area lakes date back to before the 1920s. Much of those early stocking efforts were focused on bringing diversity to game-fish populations in area lakes.
And it's true, smallmouth may wreak havoc on other game fish populations in certain lakes. The list of lakes where smallmouth are considered a nuisance by some anglers is long enough to fill many pages in this magazine. But a negative attitude typically leads to fewer fish. And so this article is about the positive aspects of fishing smallmouth. And with a fly rod in hand, there are many positives to focus on.
Catching smallmouth on a jig, under a slip-bobber or on topwater lures such as the Hula Popper or Jitterbug, can create fantastic days of memorable fishing. However, using a fly rod to catch smallmouth takes the sport to a new level of excitement. Ask anyone who has landed a smallmouth over 18 inches while using a fly rod if they enjoyed the experience and you're bound to get an enthusiastic response.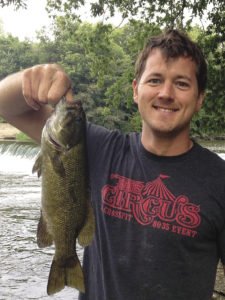 And for those who have enjoyed catching smallmouth bass in Minnesota and Ontario on fly rods, fish on. For those new to the sport or who have not experienced its many thrills, let's try to keep this simple. Don't get too caught up in what type of rod, reel and line to use. Such notions can be investigated as you progress as a fly angler. For now, stick with a 7-weight rod that is 9-feet in length. Use any functioning fly reel you can get your hands on and equip it with floating, weight-forward line. During the summer months, fishing with poppers or imitation frogs is a tremendous, and arguably the most entertaining way to fish for smallmouth using a fly rod. In fact, mid to late summer is an excellent time to try fly fishing on lakes throughout the Northern Wilds. Insects are abuzz and that often means fish are feeding on top of the water. After the bugs begin to taper off, try using a Clouser minnow which sinks, going deeper to find the fish.
Considering the fact there are hundreds of lakes where you can fish for smallmouth bass in northern Minnesota and across the border in Ontario, let's start with just two. And let's narrow our search to the Gunflint Trail.
Poplar and Hungry Jack lakes are excellent locations to chase smallmouth using a fly rod.
Poplar Lake and Hungry Jack Lake are found approximately 30 miles up the Gunflint Trail from Grand Marais. Poplar is on the southwest side of the Gunflint, while Hungry Jack is located on the northeast.
When and how to fish: For early morning and late evening, use floating line with any color and size of foam popper. During late morning and through the afternoon, fish with intermediate line and streamers, leech pattern or a blacknose dace with hook size 4. A 7-weight rod is recommended. A 9-foot tapered leader with an 8-pound tippet is the perfect combination. Use fluorocarbon leaders for streamers and nylon for floating flies or poppers.
Where to fish: On Poplar, target the island chains in the southcentral part of the lake. Stick close to the shorelines with poppers, and move slowly outward when the heat of the day arrives. Other areas to fish include shorelines in the bays near the Lizz Lake portage, near the mouth of the Rush River on the west side of the lake, and in the southeast corner of the lake along the reef just north of the portage to Swamp Lake. On Hungry Jack, bass are abundant in most bays, including the large bay beneath Honeymoon Bluff and those found on the lake's southern shore.
What to expect: Smallmouth numbers are good in Poplar and Hungry Jack, with most fish averaging 13 to 15 inches, though there are fish in the 19- to 21-inch range.
Special regulations: While Poplar follows standard smallmouth regulations for fishing in the northeast part of the state (see DNR regulations book or website), Hungry Jack has special possession limits for smallmouth. On Hungry Jack, all smallmouth that are between 12 and 20 inches must be immediately released, with one over 20 inches allowed in possession.