Jan Sivertson—co-founder and owner of both Sivertson galleries and the frame and print shop—has seen her business expand significantly over the past 40 years.
What began as a simple art gallery that Sivertson ran out of her father Howard's basement in 1980, is today a successful, community-focused business that boasts a destination gallery in downtown Grand Marais, a second gallery—Siiviis—in Duluth, and a professional frame and print shop based out of Grand Marais.
Last winter, Sivertson grew the business further by expanding the galleries' website to offer online ordering and framing. Now, after a spectacularly busy 2020 spurred at least in part by the success of the new website, Sivertson and her team have plans to grow the framing and printing side of the business by moving operations into the Kennedy building next door.
"We just purchased the space behind us where the bike shop used to be," says Neil Sherman, master framer at the Sivertson Frame shop, "and we plan on expanding into that building to help keep up with growing demand."
According to Sherman, the framing business has been booming since the pandemic, something he correlates to the success of the gallery and the uptick in online orders made possible by the new website.
"Previously our website did not offer framing options," says Sherman, "so that's new within the last year and has been driving a lot of business, especially this winter which is usually a slower time of year for us."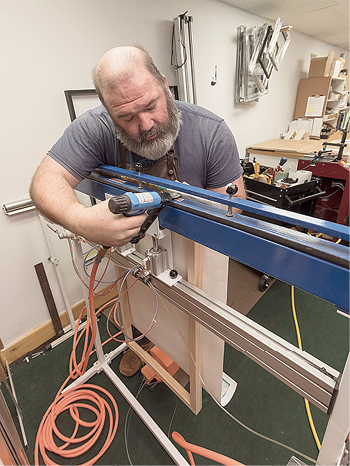 In addition to expanding the frame shop into the newly acquired building next door, Sherman will be hiring a second part-time framer to help keep up with orders.
Sherman first got into framing in 1997 after moving to Minneapolis from the Iron Range to pursue a career as a painter.
"I moved to Minneapolis to study landscape painting," says Sherman, "and got a job at a frame shop to keep myself 'afloat.'"
"Then," continues Sherman, "during the winter of 2004 a painter friend of mine and I were in Duluth painting before the Christmas holiday, when we stopped in the Sivertson Gallery in Canal Park (Siiviis) to check out the artwork."
"I was chatting with one of the sales people there," continues Sherman, "and it came up in conversation that I did picture framing and they were like 'Oh! We're looking to hire a picture framer at our Grand Marais store.' A couple of weeks later I got an interview, was hired, and have been in Grand Marais ever since."
Sherman started his career framing for Sivertson by working alongside the master framer Steve Byers who was in charge of the frame shop at the time. According to Sherman, Byers was key to much of the early success and development of the Sivertson framing business, and "made it easy" for Sherman to "jump into the job and fit into the community."
While a majority of the work that Sherman does involves the galleries, he is increasingly being kept busy by a variety of business and personal orders from within the community.
"Obviously, we do lot of work for both of the Sivertson Galleries," says Sherman, "but we also have a walk-in custom framing service where people can bring in their own items or something that they purchased from the store to have framed."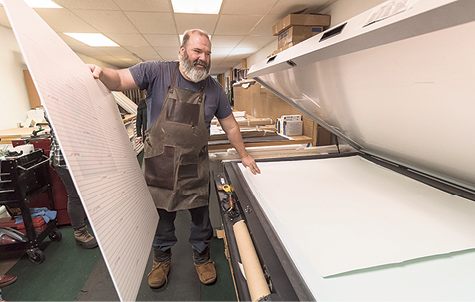 "Most customers don't initially have an idea of what sort of matting and frame will complement their piece," continues Sherman, "so what I do is lay out a few samples that I think would look good, and then from there it is kind of an editing process until the customer finds a combination that they like."
Sherman also works with framing three-dimensional objects, and recently framed an old package of gum for a customer along with a series of magazine articles that had sentimental value to the customer.
The frame shop is not the only aspect of the business expanding into the newly acquired Kennedy building, however.
Mark Tessier is the project manager at the Sivertson Galleries and does the photography and digital work on all of the original works that utilize the Sivertson giclee printing business. Just like Sherman, Tessier is excited to expand the printing business into the new workspace.
Tessier typically works with artists who bring in pieces of original work that they'd like prints of, however he will print and offer photoshop services to anyone with a photo or piece of artwork that they'd like printed.
"We've got a couple of printers here," says Tessier. "An Epson P 5000 that we use for anything 17×22 and smaller, and then for the larger reproductions like for canvas and large paper we utilize an Epson P 9000 that can handle widths up to 44 inches and a maximum canvas length of 40 feet."
"Mostly we work with artists," continues Tessier, "but every now and again we'll have a local or tourist come in with a photo that they'd like printed or edited. Most newer phones even can make a fairly decent sized photo."
Further information on the Sivertson frame and print shop can be found on the Sivertson website, sivertson.com.