A growing trend in the housing market seems to have its roots in something natural, realistic and geared toward the future: The tiny-house movement.
"I've talked to a lot of people in (Cook) County who think they have too much house," said Mark Hansen, a builder of small homes who lives in Grand Marais but is staying in his tiny house on wheels in Duluth for the winter. "It costs them so much to heat these big structures. But I think the handwriting is on the wall. Most people are going to start living with less."
It wasn't long ago that building the largest house possible was considered the way to live and part of what constituted living the American dream. But Hansen, one of the founders of the North House Folk School in Grand Marais, has been fascinated with tiny housing for nearly all his life. He said the size of a house is relatable to another of his life's passions: boating.
"There is a saying that big boats mean big problems, and little boats mean little problems," Hansen said. "The same goes for housing. Little house, little problems."
And while it may be an upward trend, the idea of building, owning and ultimately living in a small house isn't for everyone, Hansen acknowledged. After all, a tiny house is often about the size of a deluxe ice-fishing shack, though many tiny homes feature a loft. A structure of that size leaves little room for luxury items. For example, there aren't many tiny homes that feature giant televisions or bulky sofas. Most tiny houses don't have a bathroom or shower inside. The size of the house all but eliminates the option to host a social gathering. Often times, Hansen said, building a small house comes down to practicality and/or necessity with respect to people's finances.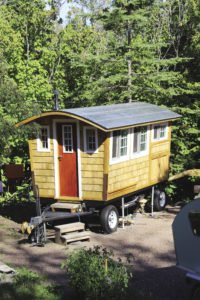 In Cook County, new residents often find the housing market to be difficult at best. Spaces to rent are scarce and the option to buy or build isn't always realistic. Hansen said some young couples arrive in the region looking for land and are forced to merely pitch a tent until better accommodations arrive. Others, looking for something more reliable than a nylon roof, have opted to build a tiny house, even if it is only a temporary living situation.
Hansen himself is no stranger to living in a small home. He spends months out of each year living in his mobile 72 square-foot house, also known as a gypsy wagon, parked at a Duluth marina.
"Rather than buy an apartment, we went this route," he said. "It's a lot more fun and interesting."
Building a tiny house and eventually living in it is often centered on economic benefits and minimizing one's impact on the planet. And while such notions might be genuine, if not necessary, when it comes to actually living in a small home, there can be mixed results.
Betsy Jorgenson, along with her husband, Odin, recently spent a year living in a 12 by 16 foot house. The structure, which Betsy described as a "stick frame," was located on property they own near the Kadunce River. After she became pregnant, the move into the tiny house was one of necessity, not necessarily planetary consciousness.
"It was not a lifestyle decision," Jorgenson said. "It was an economic decision."
Jorgenson said she knows at least five other people or couples in Cook County who also took to living in small houses while they waited for something larger to build or buy. And while Jorgenson was quick to point out that people in third-world countries have been living in tiny homes and gotten by with "a lot less for a lot longer," it simply wasn't the right fit for her blossoming family.
"I think the demographic is really, really small that can pull this off," she said. "I think it's a cool thing, but you just can't have a lot of stuff."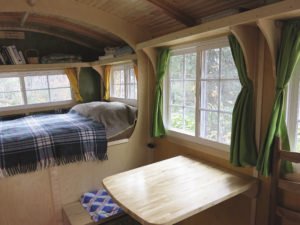 There is little question that living in a small house takes creativity, flexibility and ingenuity. As longtime residents of the Northern Wilds who are both active and well-adjusted to living simply, one might consider the Jorgenson couple ideal candidates for living small.
So why didn't the situation in a small house bode well for them? One word: space.
"You really have to minimize," she said. "Or you need to have a storage unit … Or just accept it and become a true minimalist."
The Jorgenson family has since moved to a newly-built home also located on their property near the Kadunce, this one boasting a 24-by-30 footprint. While she toiled through her year in the tiny home, it helped to see her future living quarters being erected nearby, she said.
"When you're doing something with a challenge, you want it to have an end point," she said. "That is what helped me get through it."
Space issues aside, tiny houses are big on saving money. A 100 square-foot house can be built for approximately $8,000, according to Hansen. These structures are easy to heat or keep cool as seasons fluctuate. In addition, tiny houses can often be built without having to obtain a building permit. And on a positive side, not having much space means you don't need (or simply can't have) many possessions, which can also be viewed as a means of saving money.
While even the staunchest supporter of tiny homes should admit the lifestyle is not for everyone, there is no question building smaller homes is a trend in this country. Whether this trend comes from a standpoint of economic necessity or environmental consciousness isn't so much the point. The reason more people will gravitate toward small houses, according to Hansen, is because the time has come to address the size of structures we dwell in.
"This is all going to happen," Hansen said, "It's just a matter of people getting wise to limited resources and more and more people on the planet."
As for Jorgenson, a multi-level mansion might not be in her future plans, but another tiny house won't be happening either.
"I wouldn't try it again, though there is a certain lure to casting away your possessions," she said. "But camping is a good fix for that."