Life House is a true safe haven for Duluth youth. Since 1991, the non-profit organization has remained steadfast in their commitment to reconnecting young people to their dreams.
A team of over 40 full-time employees, including people with lived experiences and staff with credentials such as licensed clinical social workers, a licensed alcohol and drug counselor, and a licensed teacher, serve around 900 unduplicated youth each year. The organization provides a safe alternative to couch hopping or living on the streets for homeless individuals between the ages of 14 to 24, including many young parents with children. For many, this assistance can reduce the feeling of being stuck and hopeless in life.
Jordon Eunison-Chisti, a Duluth native, has been the executive director of Life House since January of 2020. Beyond overseeing the daily operation of the services they provide, he is also responsible for directing the vision for the organization. Because there is no cost for any of Life House's services, they are able to work with young people in unique and progressive ways.
"Supporting our staff, thinking about our strategic plan, and connecting with community members is a large part of what I do. I ask myself, 'What are the partnerships we are cultivating or the relationships we are building in our community and beyond, and how can we best support our young people?'" he says. "We want to put forth practices that are sometimes evidence-based, but we also want to know what our practice-based evidence is. What are the practices we are creating that we can start to document that become evidence?"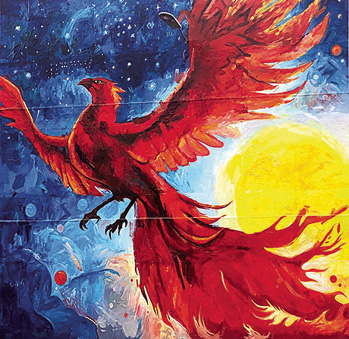 In 2022, 60 percent of the youth identified as Indigenous, Black, and Multiracial, and 38 percent self-identified as LGBTQ+. This diversity in the youth served by Life House makes its commitment to hiring a diverse team with various backgrounds even more meaningful. With staff representation from different races, genders, ages, LGBTQ+ identities, and cultural traditions, their diversity reflects the organization's belief in the power of people from different backgrounds coming together to create a better future for the youth that need support.
"Making them feel like they are welcome, belong, and listened to is a really important piece. We have a really dynamic group of people and team who they get to connect with. Oftentimes, they are with us for two to five to 10 years depending on where they are in their life and their age."
The idea for Life House was born in the early '90s when the founder's son told her that his friend had nowhere else to go after a sleepover. This heartbreaking experience sparked the founder's desire to make a difference in the lives of homeless youth. The organization completed their first needs assessment in 1991, providing outreach and access to basic needs for youth on the streets. In 1992, they opened the region's first Drop-in Youth Center in downtown Duluth and implemented their Housing Program, which provides case management for homeless youth. The Youth Center continues to reach those in need; it served 7,145 meals in 2022.
Life House expanded their programs and services over the years. In 1996, they opened the first transitional living facility for homeless youth in Minnesota. In 2001, they moved into their own building, which allowed them to increase the Drop-in Youth Center space and enhance on-site supportive services, including mental health team members. In 2005, they implemented the Futures Program to help youth overcome barriers to achieving self-sufficiency by providing on-site programming in education and employment.
In 2009, Life House created the Life House Lifeline, which integrates access to basic needs with support services in five core areas: drop-in center, housing, health and wellness, education, and employment. The organization also developed a leasing program to provide scattered-site housing for homeless youth. Over the next 10 years, they began their Street Outreach Program, identifying and providing homeless youth with basic needs and assistance in accessing emergency shelter, food, and crisis services; they partnered with employers to provide job training and placement as part of Duluth at Work; and they implemented the Life Hacks program, providing incentive-based independent living skills classes resulting in increased participation in Youth Center classes, support groups, and activities.
Life House was also selected as one of four agencies statewide under the Safe Harbor Act to provide safe housing to sexually exploited and trafficked youth. They opened the Sol House for survivors of sexual exploitation and/or human trafficking and expanded their age range for supportive services to 14-24 years old. They started the transitional employment program, now called Legitimate Hustle, in 2017, which provides in-house paid job training, particularly through social entrepreneurship. They also purchased the former Cooper's Engraving Building to house Futures and the Legitimate Hustle Program and opened The Loft, a 10-bed emergency shelter for youth. Finally, in 2021, Life House expanded their buildings to include the Imaginarium, which provides space for additional programming around integrative health and healing.
No matter the initiative or program, Life House continues to make a significant impact in the lives of homeless and street youth, providing a safe and supportive environment where they can thrive and pursue their dreams.
"We are the trustworthy adults in their lives or their family in many ways. Whether they are unstably housed or just navigating challenging life circumstances, we stand alongside them and support them as they figure out their next steps and how to pursue their dreams," Eunison-Chisti explains. "We offer wrap-around comprehensive supportive services, so you walk through our doors and pretty much anything that you might need assistance with, we're able to do it on site in one place."
Community members who would like more information about the organization or ways to get involved should visit their website: lifehouseduluth.org.