Dad started it. When I was a boy, our family would go on what were simply called "rides." Often, they began with a destination in mind, perhaps a state park or a similar outdoor attraction. Inevitably, the destination became just a waypoint on a spontaneous adventure. At some point, Dad would turn on a side road, saying "I wonder what's down there," and away we would go. We explored all sorts of places within an hour or two of my hometown Duluth.
This apple didn't roll far from the tree. Over the years, I've roamed a fair bit of the Northern Wilds on both sides of the border. Many backroads and byways still need to be explored. Many more are worthy of revisiting. I guess my work is cut out for me.
Like Dad, I often begin my rambles with a destination. A couple of years ago, I had in itch to visit Forest Center, once a thriving logging community on the edge of what is now the Boundary Waters Canoe Area Wilderness. The buildings were removed long ago. I drove west on Highway 61 and then headed north on the Sawbill Trail, soon leaving the blacktop behind. From there I followed a series of forest roads north and west, eventually reaching Forest Center. I hadn't been there in over 30 years. What I remembered as a relatively open area where we set up camp while fishing nearby Lake Isabella had been grown over by the forest and then burned by the Pagami Creek Fire in 2011. I wandered around the site with my dogs and made a nostalgic hike to Lake Isabella.
It was a great ride, made all the better by some of the stops I made along the way. I checked out a couple of trout streams and made scenic stops. A high point of the day was pulling up beside a roadside flowage with abundant wild rice. Enjoying the bounty was a flock of Canada geese and several family groups of ducks. I enjoyed watching them go about their business.
While some of us venture down the backroads year-round, many folks are more likely to go for a ride during the fall color season. For the less adventurous, there are official routes marked with signs. These roads are great places to see spectacular fall color, because they typically lead through maple stands with brilliant colors in September. On the other hand, because they are well-traveled, the official routes may not be the best places to encounter wildlife. You'll have better luck if you wander off the beaten path.
If you truly want to encounter a moose, a black bear and other forest critters, it is best to be serious about your quest. You are unlikely to see many animals if you go looking for them in midday, when they retreat into the forest. Hit the road at daybreak, when wild animals are most active, to greatly up your odds of seeing them. Don't like early rising? Then get out there in the evening when the animals begin to stir.
When seeking wildlife, have reasonable expectations. The Northern Wilds is not a park. The dense forests limit how far you can see. This means that all wildlife sightings are a matter of happenstance. You have to be in the right place at the right time. Also, at the conclusion of your drive, recall all of the critters you encountered. Perhaps you weren't lucky enough to see a moose or a wolf, but you may have happened upon a roadside fox, a beaver swimming in a pond, a couple of ruffed grouse and other animals. When you tally it up, you may be surprised at how much you've seen.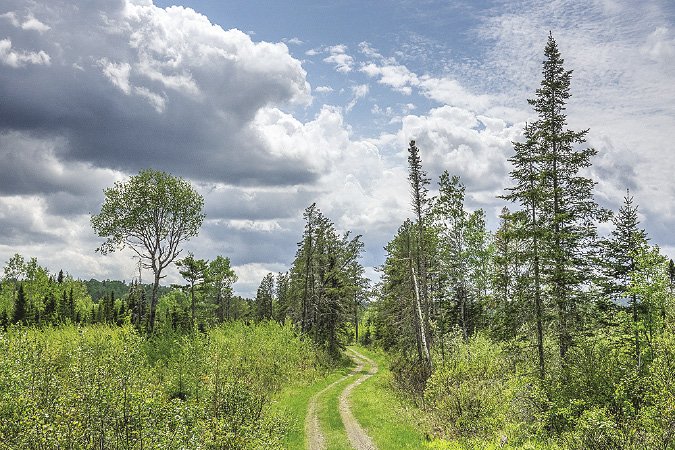 Backroads driving isn't for everyone. Some folks don't like bumpy gravel roads. Others are unable to see the forest for the trees. But if you enjoy wandering off the beaten path, going for a drive in the woods is simple, inexpensive fun. And there's nothing wrong with that.
Backroads Basics
Backroads adventuring is easy, but you should know a few pointers to stay out of trouble. Some routes are lightly traveled, so you may be on your own if you have a problem. Like the Boy Scouts say, "Be prepared!"
Carry a paper map and know how to read it. A paper map never runs out of power or gets out of service range. The best one available for the Minnesota portion of the Northern Wilds is the official Superior National Forest map, available at ranger stations. You can also use county maps, including the map of Cook County published by Northern Wilds, or an Atlas. In Ontario, a good choice is the Backroads Mapbooks guide for Northwestern Ontario.
Don't trust Google Maps. Local law enforcement officers have plenty of tales about people who found themselves in a jam because they followed inaccurate directions on Google Maps. Also, cell phone service is patchy or nonexistent.
Some folks use mapping apps such as GAIA. You can download the map you need prior to entering an area lacking cell service.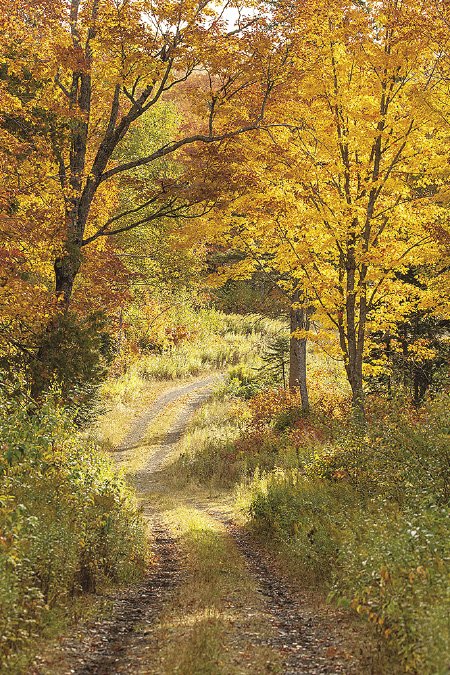 A GPS unit will show where you are. However, it won't show the condition of the roads, which may be anything from well-maintained to minimum maintenance. You will get more accurate information about roads from a good paper map.
Know your vehicle's capabilities. That local guy in the beat-up four-wheel drive can go just about anywhere. That's not true for the family sedan. You don't want to bottom out on a big rock sticking up in the road, have your vehicle scratched by overgrown brush or get stuck in a muddy spot.
Don't drive into trouble. Unless you have an appropriate high-clearance vehicle, avoid two-tracks and minimum maintenance roads. Stay off snowmobile and ski trails, which are well-marked with signs. If you come across a large puddle, get out and check the water depth and solidness of the road bed before driving through it.