Most sisters grow up sharing activities together. Few go on to be business partners together. For sisters Anna [Right] and Sarah [Left] Hamilton of Cook County, their shared activities include not only running a business, but pouring their energy into several impressive endeavors. This dynamic pair is determined to do what they can to help those who need it. They've seen some amazing outcomes from their projects.
Many who know Anna and Sarah Hamilton know them from Trail Center Lodge. They've owned and operated the popular lodge and restaurant on the Gunflint Trail for over 25 years. In many ways, Trail Center has been the foundation that has allowed the Hamiltons to launch their other endeavors. As a main meeting place on the Gunflint Trail, Trail Center has fostered a sense of connectedness and a community that has made some of the Hamiltons' projects possible.
Perhaps the project most firmly associated with Trail Center is Camp Chow, a line of dry meals that require only water to prepare, and are perfect for outdoor adventures. A step inside Trail Center reveals a huge range of Camp Chow options, from soups and desserts to hearty breakfasts and dinners. Every meal is handmade and packed right on the property. While Camp Chow is a small company—with an official team of two—it has a wide reach, with meals sold across the country, and the brand continues to grow.
"This year, Minnesota Bound took Camp Chow to the State Fair," said Anna, "and now we're working on it a lot."
Though Camp Chow is a small business, it has filled some big needs. Last year, when Hurricane Maria devastated Puerto Rico, Sarah felt she had to do something to help those going hungry after the hurricane. Camp Chow was the perfect solution. Sarah and her team ended up sending 2,000 packs of Camp Chow to those affected by Maria. The money needed to ship the food was raised by community members and others with connections to Trail Center, a community that makes efforts like this possible.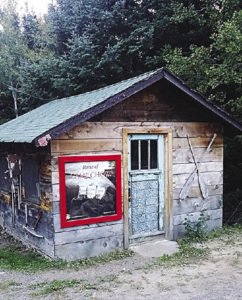 "Trail Center is a wonderful avenue, and is really the reason I can do these things," explained Sarah. "People come and get connected to Trail Center, and then they want to get involved. Everyone wants to help."
In addition to providing food to Puerto Rico, Sarah discussed another project she's been working on: providing heat to the Pine Ridge Indian Reservation through a sustainable wood program. The Lakota reservation, which sits in southwest South Dakota, experiences harsh winters on plains where trees are scarce. The local wood distributor, One Spirit, has a team of 10 that works with only two chainsaws and two wood splitters. The struggle to acquire wood every winter, coupled with high poverty rates, means people on the reservation freeze, and deaths due to cold are not unheard of.
Long-term, Sarah wants to end the heating crisis at Pine Ridge. At present, they're partnering with the local lumber company to stock wood during the summer so that the people of Pine Ridge have enough wood for the coming winter, and don't have to face an imminent storm with the uncertainty of whether they can make it through. Sarah said she's been writing up a new fundraiser, and hopes that people will continue to support the desperate need for firewood on the Pine Ridge Reservation. "Amazing things have happened with this, and we hope to do more," she said.
Along with providing food and heat to those in crisis, the Hamilton sisters have begun work on another issue closer to home, that of affordable workforce housing. Anna has recently been busy working on a few properties that can be turned into affordable homesteads for Grand Marais families.
"We bought a house in town with a little cabin on the property. We had the cabin in mind when we bought the house, and we're working on renovations to turn it into an affordable rental," said Anna.
While they aren't looking to be landlords full-time, Anna and Sarah recognize Cook County's need for homes that working families can afford. The newly founded Hamilton Housing Company, a nonprofit, won't solve all the county's housing issues, but will provide safe and cost-effective homes for some families who need it. Anna and Sarah have also purchased a cabin in Creechville that they hope to integrate into their housing plan.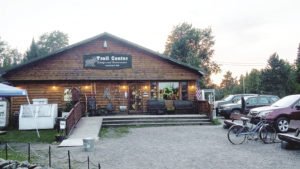 "We want to have our first affordable home by winter," said Anna, "and our plan is to build a handful of cluster homes that we can sell for way under $100,000. They're going to be in town because we want them to be connected to water and sewer. It won't be our full-time focus, but we want to do our part." Like the Pine Ridge project, the affordable housing mission has seen a lot of people willing to donate, and is yet another example of what's possible when a community comes together for a good cause.
In addition to their projects providing food, heating, and shelter to people, Anna has also been diving into a creative project: storytelling. This year, she published her first book, Boy, a novel about friendship, love, and loss. Boy deals with the issue of dementia, a topic many readers can relate to.
"The goal of the book was to get the message out about dementia, but it morphed into something much more than that," Anna said. "It's a sweet little story about life that's centered around Thanksgiving. I get a lot of questions about if I'm going to write a sequel, since Boy leaves the reader wondering. I have started a sequel, and finishing the renovations will give me more time to write."
Though Anna and Sarah Hamilton are leading some amazing endeavors, they don't claim to be superheroes. They each say they're "just doing what they can." From feeding hurricane victims to crafting life-affirming stories, the results of the Hamilton sisters' efforts show just how much can happen when people do what they can, and how life-changing it can be when people come together and give what they have, however much.