North Shore tributaries of Lake Superior are constantly changing corridors of life. They reflect the four seasons, becoming mighty torrents in spring and trickles in late summer. Exploring rivers always means embracing change and experiencing the ephemeral nature of water and life.
Perhaps these ever-changing characteristics are what continuously draw people to the North Shore in all different seasons. Steelheaders come in droves in April and May to try to hook into the beautiful chrome fish making its spawning run up from Lake Superior. Hikers file up and down hiking trails along the Split Rock, Gooseberry, and Caribou Rivers all summer and fall, looping the banks of these undeveloped rivers cascading through Minnesota's fabulous state parks.
But for river skiers—those hardy souls who explore stream beds when they freeze and get covered in a blanket of snow—winter is the supreme season. Winter is when rivers give themselves up to easy travel. This is your chance to traverse your favorite river from its headwaters to the mouth at Lake Superior, gliding your way down the river's chutes and falls, navigating the water body in its endless course towards the sea. Sure, you can try canoeing or kayaking some of these rivers, or maybe wade them on a hot summer day. But only in the coldest throes of winter do rivers open their beds to modern-day explorers waiting patiently to experience them in their full splendor.
River skiing is about accessing a world few people ever see.
"A lot of rivers have trails alongside them, but there are other parts of rivers that are inaccessible in summer unless you scale down a cliff and walk right in the creek bed," says John Oberholtzer, an experienced river skier from Lutsen. "With river skiing, you get right down into the stream bed, and get all kinds of sights and sounds that you wouldn't otherwise be able to experience. It's such a pristine, cool environment that's now easy to get down to."
So how do aspiring Nansens, Amundsens and Shackletons get started exploring North Shore riverbeds that can be ice one day, and open water the next? Is it worth the risk? Or is it the risk itself that makes river skiing so appealing to some? Oberholtzer lists "adventure" as a top reason to try river skiing.
"It's not going to be for everyone, but I think a lot of people assume it's going to be more dangerous than it really is," he says. "The sense of adventure of skiing down all kinds of whoopties and frozen waterfalls—it's awesome. The river is un-groomed, un-tracked, and you have to make your own adventure."
Once you've got the determination to go try river skiing for yourself, you'll need some basic equipment. You can get by on your skinny classic skis designed for groomed tracks, but a better bet (especially when skiing upriver) is to use metal edged backcountry skis. These wider skis give you more control, both when making sharp turns, and when ascending steeper pitches. Backcountry skis provide extra flotation, making for fun descents down frozen waterfalls. Keep in mind that these heavier skis can become tiresome when pushing upriver. Ideally, wear tall, durable backcountry ski boots—you'll likely be breaking trail through deep powder come mid-winter. Properly-sized ski poles are a must too, and provide a small measure of safety as a tool for poking at unsure ice. Backcountry ski equipment can be rented for a day from local shops like Sawtooth Outfitters in Tofte, Stone Harbor Wilderness Supply in Grand Marais, or from the Outdoor Pursuit programs at UMD and St. Scholastica in Duluth (open to the public).
Oberholtzer says that river skiing is not about athleticism, proper waxing or technique.
"I tell beginners all the time, 'You can take your skis off at any time and go down on your butt. Don't worry about that. This is about the beautiful thing you're going to do down on the river. You'll find your own way,'" he says.
The key to a successful river ski is to take a buddy, or three. Skiing down a flowing river promotes socializing, as well as teamwork. This is not something you want to try solo. Getting a crew of people together who share a love for wildness makes a day on the river even more special. You form bonds as you take turns navigating the untouched snow. One person breaks trail, leading the way, and you rotate guys and gals through the guide position, thereby spreading out the exertion of establishing a route through fresh powder. Then, take a break together and listen to the river rushing right below you.
For Buck Benson of Grand Marais, the constant downhill motion of river skiing establishes a palpable rhythm for skiers.
"The rivers here are all rushing to get down to the [Big] Lake," says Benson. "That's the way the geology is. The rivers have cut big swaths through the rock over the years and created those beautiful canyons that you ski through. It's nature at some of its finest, and that adds to the conversation."
Another benefit of going with friends is carpooling. Sure, you can ski up many North Shore rivers from Highway 61, and you'll have to do so on rivers like the Split Rock or the Gooseberry, which don't have roads crossing their upper stretches. But, when skiing upriver, Benson notes, "You'll struggle to get up some of the rapids and falls without slipping and sliding. You'll eventually have to take your skis off." So, for the ultimate in backcountry luxury, organize a group trip and have one person leave their car by Highway 61, then shuttle everyone up to a starting point at a higher elevation in the second vehicle. This carpool system can work well on the Cascade River, for example, by leaving the upper car on the Pike Lake Road and skiing down to Lake Superior.
Being together with friends helps to properly evaluate safety as well. Changing river ice demands a constant focus on safety. For Oberholtzer, "You have to kind of figure it out. You have to stop and assess things, and not be foolish about it. It's on you and your friends to figure out if the ice is safe or not."
Benson concurs: "It's common to have open water at various moments on your route down the stream. Of course, you're thinking, 'OK, where do I go to get around this?'"
Benson points out that knowing when to walk around a section, or turn around completely, is an important skill.
"Sometimes you need to be able to say 'Hey, maybe the river's not really ready now. This might be a turnaround time.' There's nothing wrong with that—to turn around and go back. Judging those kinds of conditions will keep you out of trouble," he says.
Having your ski mates with you makes a quick rescue possible should somebody fall through the ice.
"People get wet. It just happens," Benson explains. "It's good to have a dry bag in your pack, carrying some extra clothes, an extra pair of socks, gloves and bottoms, and a rope that you can toss to your friend in the event that they're struggling to get out."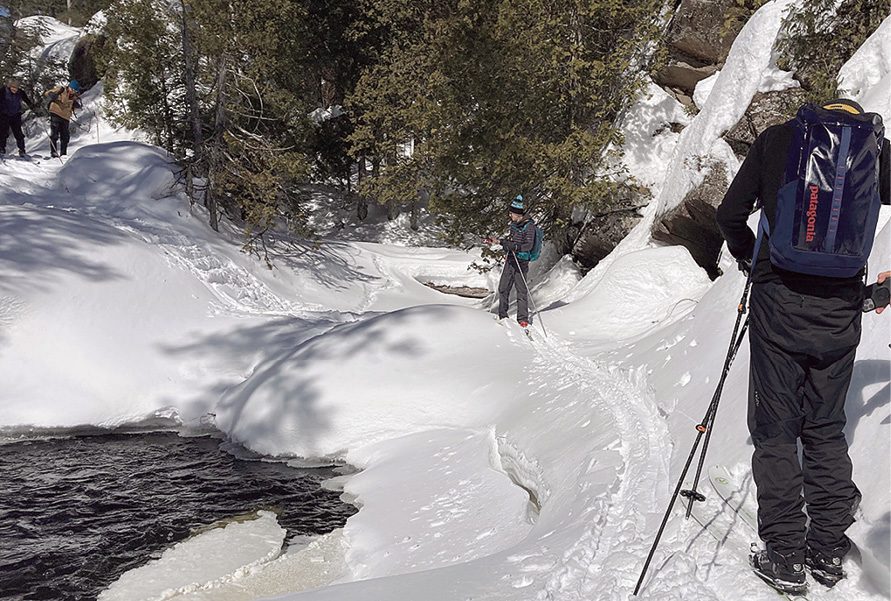 Benson adds that most of the water in North Shore rivers won't be over a person's head, especially in winter. Still, "when things do happen, you want to have the things you need to remedy your situation."
River skiing is rarely fast and furious. It's contemplative. Benson gushes over the dramatic surroundings: "There are so many things to look at, like the tannin-stained foam bubbling out of the rapids, and the tracks of animals. Streams and wetlands are full of life. Even in the dead of winter, there's a lot of life that happens around a river."
Oberholtzer says hearing running water as you ski can be disconcerting at first, but also promotes reflection.
"I'm really thinking about the journey of water, about how snow melt eventually has to find its way out to the ocean," he says. "You can complete the whole journey of water on rivers like the Brule, or Devil Track, and put your pole right into Lake Superior."
Benson recommends "relaxing into the river, rather than racing it." This isn't about perfect grooming and maximum efficiency. It's about slowing down and observing the root-beer colored flow gurgling underneath you. It's about examining the gorgeous ice falls coming out of the canyon walls.
With winter now embracing the Northland in its icy grip, river skiers are watching their favorite streams closely. Benson recounts the anticipation brought on by deep freezes and heavy snow, saying "Somebody has to make those first tracks on a river. Just like powder skiers out west, there's a lot of people in this neck of the woods who look forward to making those first tracks."
Make it your New Year's resolution to go explore these wild North Shore riverbeds accessible only in this special season.