A local love of art is apparent when walking through the city of Grand Marais, evident not only in the art-focused businesses but also in the public art that adorns the city. Many of the murals are the work of Lyle Saethre, a Grand Marais artist who spent his retirement painting the town. Almost 20 years later, the murals are being restored as part of a project by Art 'Round Town and the Cook County Historical Society, in the hopes that these pieces of Grand Marais history will be able to be enjoyed for years to come.
Lyle Saethre was born in 1927 and first developed his interest in painting as a child. Dorie Carlson, Saethre's daughter, said that despite his initial interest, he experienced a stigma against boys doing art, and was teased by other students while attending school in Grand Marais.
"He was friends with Bill Bally," Carlson said. "Bill was a little older, and he protected Dad when they teased him about his drawings. I think that is why he never continued drawing when he got older."
Saethre stayed in Cook County as an adult and became an electrician. Despite the hiatus from painting, his love of the craft persisted, and as he got older he began to rekindle his interest in art. Carlson said that she gave her father a class at the Grand Marais Art Colony, and he also took classes while spending the winter in Texas. Carlson said that despite the classes he still experienced some hesitancy in pursuing his art, concerned that he wasn't good enough. But it was while he was working for artist Nita Anderson at the Eight Broadway Art Gallery—trading electrical work for painting lessons—that he grew in the confidence to finally follow his passion. After taking lessons with Anderson, he decided to spend his retirement using his talents to paint murals around Grand Marais.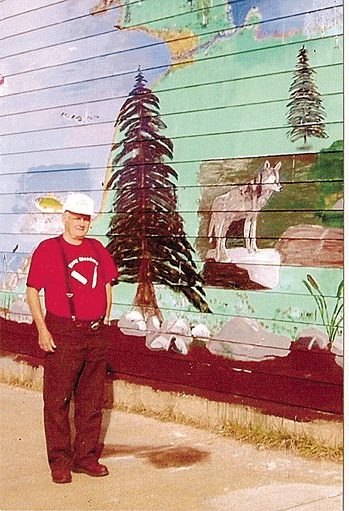 Lyle Saethre's murals depict scenes from the North Shore's history, telling the stories of historic events and preserving the memory of how Grand Marais and other places along the shore looked years ago. His most recognized murals include the garage door of the Bally Blacksmith Shop, painted in 2003, and the murals on the south and north sides of the Beaver House, painted in 2003 and 2004. He also painted the mural of the Edmund Fitzgerald on the retaining wall of the South of the Border Cafe, and a scene of historic Isle Royale on a semi trailer that is currently located at Thompson Performance on Highway 61.
While a few of the murals were commissioned, most Saethre did for free, donating his time and talent out of a desire to preserve the North Shore's history and add beauty to the city. Carlson described her father as being the "ultimate recycler," recalling how he would attend the paint recycling day at the local recycling center, and would return with a myriad of different colors of outdoor paint. He also loved the social aspect of being outside painting, and was happy to climb down from his ladder truck and answer the questions of curious onlookers.
Saethre passed away in 2009, and his murals have begun to show the wear of almost 20 years of exposure to the elements. Last fall, several community members came together to discuss how to protect Saethre's murals, and they created a plan to protect them from further deterioration and preserve them for future generations to enjoy.
Spearheading the promotion of the Saethre Mural Restoration Project is Art 'Round Town, a Grand Marais-based organization dedicated to celebrating, preserving, and promoting public art. Some of their past work has included saving and storing the mosaics on the old Co-op building and sponsoring the mosaics at Johnson's Foods. Ann Mershon, the president of Art 'Round Town, conducted research on how to preserve the murals, and learned that painting over murals is typically frowned upon. Instead, her research led to discovering MuralShield, a clear consolidant specifically designed to preserve and protect acrylic murals against the elements and further deterioration. Not only will MuralShield weatherproof Saethre's murals and protect them from UV light damage, it will also brighten the colors and prevent the paint from cracking.
"MuralShield has to be sprayed on, and the hope is to hire people to apply MuralShield on all of the saveable pieces," Mershon said.
In order to accomplish this, Art 'Round Town is raising awareness and fundraising for the project. Just one gallon of MuralShield, which covers about 200 square feet with two coats, costs about $100, making it a significant investment to preserve all the murals. Already the project has received grants from Visit Cook County and the Cook County Chamber of Commerce's Great Place Project, as well as a donation from the Saethre family. Mershon said that they hope to finish the project by next summer, but the timing depends on fundraising.
This summer, Art 'Round Town will focus on promotion of the project, including producing a brochure with a map of Saethre's murals that will be available at the tourist information booth. Visitors can use the brochure for a self-guided walking tour of Saethre's murals. Art 'Round Town will also be having a promotional event on August 7, the Saturday of Fisherman's Picnic, with a tent behind the Bally Blacksmith shop.
Just as Lyle Saethre preserved pieces of history through his murals, the community's help in preserving the murals will also ensure that the stories of Cook County and the man who painted Grand Marais will be saved for years to come.
Those looking to learn more or get involved in the Saethre Mural Restoration Project can contact Ann Mershon at Art 'Round Town at (218) 387-2245.