How does it feel to paddle a 100-year-old piece of Northwoods history? To ply the waters of Wisconsin's Bois Brule River in a wooden canoe designed and built with hand tools? Let's add to the mystique that this particular boat was made by master boat-builder Joe Lucius. Would you feel the spirit of the Brule, or would the leaky relic just give you wet feet?
The answer can still be found today thanks to the handiwork of Damian Wilmot of Superior and Lloyd Hautajarvi of Duluth. The two Brule history buffs have a strong passion for keeping the river's culture and story alive. Together, they are currently doing their third restoration project of a Lucius wooden canoe out of Hautajarvi's workshop nestled high up in Duluth's Woodland neighborhood. The two take river-beaten Lucius canoes, some built as far back as the 1890s, and reconstruct the wooden ribs, floor planking, thwarts and seats as necessary to get the boats back on the river. Their goal is to make these venerable boats operational again, all while recapturing the beauty and heritage of the Lucius originals.
Joe Lucius contributed to the legend of the Bois Brule River in northern Wisconsin for over 60 years. Lucius worked as a contractor for members of the famed Winneboujou Club—a landowners' association started in 1895 on the banks of the Brule. Lucius built freighter canoes designed to transport raw materials for constructing the wooden estate houses that the Winneboujou Club owners called "lodges."
Lucius' distinctive design idea was to make his canoes longer and wider than traditional birchbark canoes, thereby giving them a greater hauling capacity. According to Wilmot, "There was no network of roads back then. When Lucius was hired to build one of these lodges, all of his purchase parts, like fasteners and fixtures, came to Winneboujou Station in the upper Brule valley on a train. He needed a way to get those materials upriver to his building sites. Lucius would pole the boat upriver from the train station."
Meanwhile, the Brule was gaining fame as one of America's premier hunting and fishing grounds. The rich and powerful were beginning to congregate on the spring-fed, wild river, hiring local Ojibwe guides to teach them the river's secrets. Lucius contributed to creating the Brule's legendary stature by building the boats that opened this paradise to wealthy railroad barons (and U.S. presidents).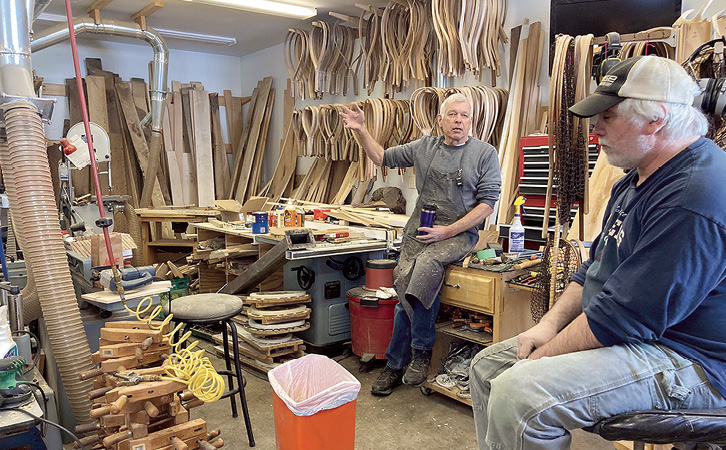 Lucius' creations are unlike the aluminum and fiberglass canoes that gained popularity over wooden boats in the latter 20th century. Weighing in at up to 200 pounds, and built out of native cedar planking with ribs of white oak, a Lucius canoe is culturally a part of the Brule itself, to be used with respect and awe for the past.
Now, on a sunny Sunday morning in late February, Wilmot and Hautajarvi are in Hautajarvi's backyard workshop finessing steam-bent ribs for a canoe restoration project ordered by customer Jeff Day. Having grown up fishing the Brule, Day says his whole family sees sentimental value, as well as functional purpose, in getting the family's Lucius back on the water after a stint of 40 years waiting patiently in the boathouse.
Wilmot and Hautajarvi are bending the white oak cross-ribs to hold the boat's planking together. They've already ordered bronze nails from Hamilton Marine in Maine: the bronze hardware resists pull-out stresses even when wood swells or shrinks. The two are surrounded by hand tools—staying true to Lucius' original building methods.
The duo knows how much work this third restoration is going to take: Wilmot and Hautajarvi spent 750 hours restoring the Lucius 20-footer that Wilmot uses as the guide boat for his Fly-By-Night Guide Service fishing trips on the Brule. That project, which took two winters to complete, was a much bigger undertaking than the current restoration the two are doing for Day.
But for Wilmot and Hautajarvi, every boat they can get back on the river in fine working condition is about more than preserving a boat: it's about preserving a culture, a way of life. Wilmot takes the culture even further on his guided trips, adding cane rods, local "Brule flies," and the traditional Brule dinner. Wilmot's satisfaction comes from keeping the river's heritage alive.
The Lucius boats themselves are "living" remnants of the past for Wilmot and Hautajarvi.
"We took this current boat out of the Winneboujou Club boathouse at the end of September (2022), and it sat on the trailer outside for six weeks before we hauled it to Lloyd's shop," says Wilmot. "It's probably been 40 years since this boat was last on the water. You know, you could see daylight through some spots in the canoe. But just in the three weeks that it sat outside at my cabin, we got quite a bit of rain, and all the wood rehydrated and swelled. It was holding water like a bathtub."
Day is partnering with Robert Graumann, one of the Winneboujou Club members, to share the cost of restoring the boat, "because we both care about the history," says Day. "It's kind of a legacy, just to recapture a little bit of the 19th century. I want to set something up that will be there in another 100 years."
Day had seen the results of Wilmot and Hautajarvi's earlier restoration work, and approached the two to work on his family's Lucius as well. Day says Wilmot was the person he could entrust the cultural importance of the project to: "He's a font of information. He's a dictionary about materials and tools and building methods. He told me a lot about what Lucius canoe restoration entails, and how to restore it very close to its original state and splendor."
For Day and Graumann, the boat is something to be used, not just looked at, saying "Our idea is to have it be a club boat, open to all, with the due respect it deserves. A boat like that needs to be in the water." The restored boat will also be a way for the family to honor Day's late mother.
"My mother passed away 17 years ago and she loved the Brule," says Day. "She had a history there her entire life. She actually had her feet in two places. She married my step-father, who was the last person to be accepted into, and build a house, as part of the Winneboujou Club. So, she was both a Hannaford and a Drake. The idea is to maybe christen the boat as 'Char,' or 'Cha-Cha,' as her grandkids called her. It's going to be a consensus thing, and there are a lot of voices. I like the idea of remembering her in that way, leaving her legacy for the next generations."
Currently, Wilmot and Hautajarvi aim to have Day's family boat back in the water again after its 40-year hiatus by mid-April of this year. The boat will soak up water, expand, and become water-tight again, ready to carry the Brule traditions on.
For Wilmot, this restoration, like the previous two undertaken together with Hautajarvi, is a way of paying homage to Joe Lucius. "He built a lot of these boats. We have to keep it going."
Hautajarvi concurs, "We love them. They are early attempts to build something better than birch-bark canoes. Are they the epitome of wooden boat building? No. But, they're history. They're brilliant."
Some of the brilliant features that Lucius installed on his hand-built canoes were permanent livewells that used river water to transport trout alive, sliding bow seats, and a hull shape that allows the boat to be poled upriver without scraping lurking underwater rocks.
Look for these beautifully restored boats on the Brule—at 200 pounds of solid wood, they won't be going anywhere else without a trailer. But the Brule is where they're meant to be. For Wilmot, "In a big wide boat like this, even though it's heavier than hell, you can carry a couple of 200-pound guys, your fishing gear, your cook kit, and everything for a day on the Brule. You've probably got an 800-pound payload, and the boat is hardly underwater thanks to its hull design."
These boats are built for the long haul and Wilmot and Hautajarvi are making sure they keep hauling.