Looking back to the beginning of the pandemic in March 2020, when we were all sent home from work and school to keep everyone safe, I reflect fondly on some very special times that my kids and I shared. In our busy lives, it is common for us to settle into a routine of hurried activities and commitments, only periodically stopping for a break or vacation to relax and reset. (Our favorite destination for such a break is the North Shore.) It was a bit of a challenge to envision making our small space in South Minneapolis fulfill all of our needs, but we suddenly had the benefit of time. The slow down allowed us to stretch out our activities and enjoy them in a different way.
This special time began with our new morning ritual of taking slow walks around our neighborhood, heading in a different direction from our house each day. I carried a pick-up tool and pulled a wagon behind me with two garden buckets inside, separating recyclable materials from standard trash. It felt satisfying to be productive during what became several months of feeling very out of control of so many things; I am sure it was keeping me sane to feel in control of at least one small thing—picking up trash.
We enjoyed the unhurried pace of our walks and the ability to stop and investigate whatever interested us. We got to know our dense neighborhood so much better, and even though we were not able to have a lot of social interactions at the time, we learned a little more about our neighbors just by watching the activity around us. A nearby creek became not only our favorite swimming spot, but also a source of critters (mostly crayfish) that could be carefully collected and brought home with us to be studied before they were returned the next day. So often this involved creating special rock tunnels and caves to provide shade and privacy for the little friends.
We also spent a good amount of time in our backyard, working and playing with various crafts and creative activities. These ranged between dedicated and specific woodworking projects like splitting, sawing and shaping a small hay fork, to mixing paints and potions from crushed berries. It was a time when spending over an hour splitting and processing firewood for a cookout suddenly seemed totally fitting, whereas previously any more than five minutes would have felt like dawdling. My kids have always enjoyed working with tools and having projects to complete, but part of the fun also became completing some of the manual work that was connected to cooking outside.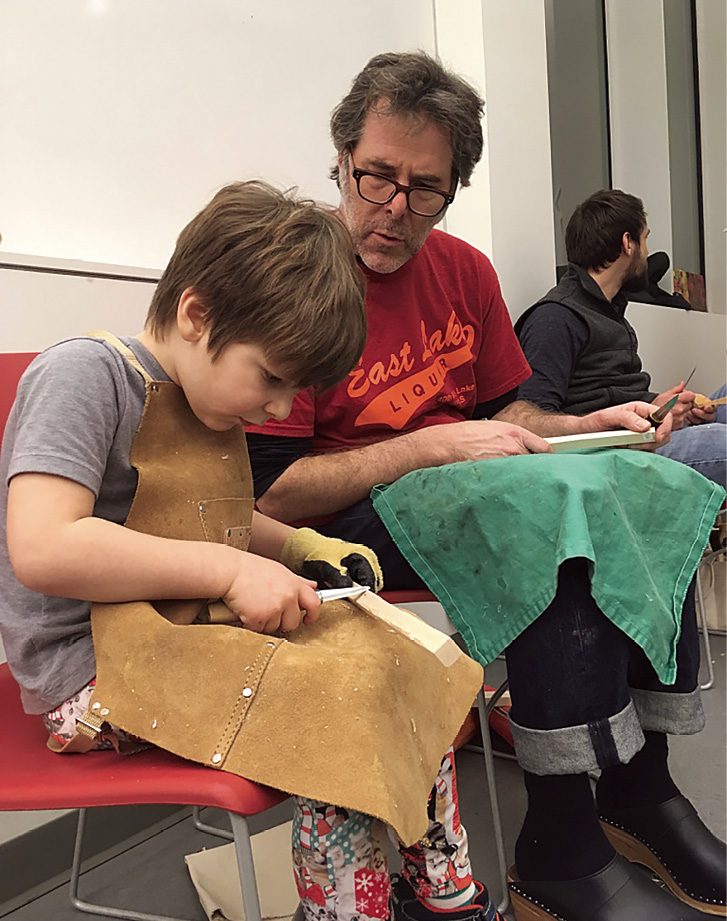 We worked together to make a large cedar table for our outdoor eating space, and as summer approached, we took advantage of every opportunity to cook and eat our meals outside. At a time when it was easy to use terms like "feeling trapped" in our home, it also felt liberating to fully activate and utilize the safe outdoor space that was all ours.
I have taken inspiration from the ways that I see my children investigate and enjoy the objects and materials of the world, from stacking rocks to collecting small flowers. Spending time arranging leaves according to color, or comparing the shapes and sizes of acorns or pinecones. I have appreciated the awesome value of parenthood inherent in experiencing things through the eyes of your children. I am grateful to have had the gift of a slower time to allow this to be more fully absorbed.
As a person who is connected to the teaching of traditional crafts, I have certainly enjoyed exposing my kids to tools and techniques that I employ, at a level appropriate to them. But I have also enjoyed watching how they apply their creativity in such interesting forms as they work and play with their hands. On sleepover trips to their grandma's house, I have ceased being surprised to see their time together resulted in small hand-stitched critters, rudimentary stuffed animals, or perhaps simple sewn "pockets" with buttons for decoration. It has reminded me to allow their work to remain fun and interesting to them, and not to discourage their interest by struggling through activities that are beyond their skill level.
Whether working inside or out, utilizing found or natural materials, from mud pie making to sewing felt with a fine needle, I think that my kids have been enjoying a bit of craft therapy that has been stimulating to them in the same way that I felt grounded in my trash pick-up duties. There is no doubt that exercising our creativity and using our hands is enriching to us on many levels—all the better when we remove the burden of a hurried pace or a prescribed outcome.
My hope is that of all the ways that the significant events of the past couple years have changed all of us, that I can remember to keep focused on the value I found from slowing down. I will strive to continue providing my kids with an opportunity to explore, craft and create, and help them connect to the natural world of our surroundings with all of their senses.
By Paul Linden
Paul Linden is a woodworking and toolmaking instructor at North House Folk School in Grand Marais, where traditional craft is taught on the shore of Lake Superior.