Red Chairs at the Battle Island Lighthouse.

| PARKS CANADA
---
Thunder Bay—The quest is on to find "Red Chairs" in Canada, including along Lake Superior's North Shore.
Travellers, hikers, paddlers and boaters have been seeking out sets of red Adirondack-style chairs (Ontarians call them Muskoka-style) placed by Parks Canada at unique locations throughout Canada, such as national parks, national historic sites, marine conservation areas, and other cultural and natural sites.
It all started a few years ago after staff at Gros Morne National Park in Newfoundland and Labrador scattered 18 pairs of red chairs throughout the park as a way to encourage visitors to venture out and find the chairs. Looking for the red chairs became so popular that Parks Canada launched the "Red Chair Experience" program across Canada in 2014 for Canadians to connect with nature and visit some of the country's most unique and treasured places. Parks Canada invited visitors to find and relax in the chairs, soak in the view, snap a picture and then hashtag the moment with #sharethechair on Twitter or Facebook.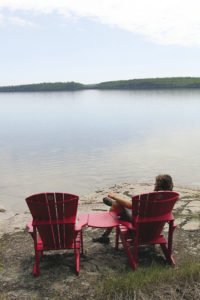 Seven Red Chair locations can be found along the North Shore of Lake Superior. Five are within Lake Superior National Marine Conservation Area (LSNMCA), considered the world's largest freshwater marine protected area, and the others at Thunder Bay Marina and Pukaswka National Park.
Two of the five LSNMCA locations are at lighthouses—Porphyry Point and Battle Island. Porphyry Point Lighthouse, established in 1873, was the second Canadian lighthouse on Lake Superior and is situated on the southern end of Edward Island, marking the entrance to Black Bay. Battle Island Lighthouse, the northernmost lighthouse in the Great Lakes, was built in 1877, rebuilt in 1915, automated in 1991 and is located on the westerly side of Battle Island, south of Rossport.
The other three LSNMCA locations with Red Chairs are on three hiking trails along the lake's shoreline. There's the 10 km (6.2 mi) Nipigon River Recreation Trail connecting the marinas of Nipigon and Red Rock towns, and delivering some spectacular 'wow' views of Lake Superior from viewing platforms like the one at Eagle's Nest. The short and relatively easy Rossport Coastal Trail starts at the east end of Rossport and meanders the lakeshore for 1.5 km (.9 mi) to the Rossport Roadside Park Rest Area. It connects to the 53 km (32 mi) Casque Isles Trail that continues along the lakeshore from Rossport, through Schreiber and ending in Terrace Bay; the Casque trail is divided into five segments, each with its own access point from Highway 17.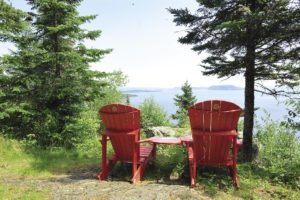 The sixth pair of Red Chairs are at Pukaswka National Park, the only wilderness national park in Ontario (about 3.5 hours east of Thunder Bay). The park has numerous hiking trails, from the easy 1.2 km (.7 mi) Boardwalk Beach Trail (30-minute hike return from Visitors Centre), to the challenging 18 km (11 mi) White River Suspension Bridge Trail.
And the seventh and easiest Red Chairs to find are right on the Thunder Bay waterfront at Prince Arthur's Landing festival area in Marina Park, where visitors can slow down, relax and enjoy awesome views of the lake and the iconic Sleeping Giant.
For information about the other Canadian Red Chair locations, visit: pc.gc.ca/en/voyage-travel/chaises-chairs.