Now is the time to plan your warm-weather adventure. Northern Wilds writers have come up with four destination expeditions, including hiking, canoeing, kayaking and fly-in fishing. These all require more planning than the typical weekend excursion, but they're all worth the effort.
Canoe Country
I t used to be easier to predict and plan for trips to canoe country (Boundary Waters Canoe Area Wilderness and Quetico Provincial Park), but climate change has added an element of uncertainty.
"There is no such thing as normal anymore," said Sarah Lynch, owner of Sawtooth Outfitters in Tofte. "No matter when you go, you could almost get anything. It could be 90 degrees or it could be 40 degrees."
Lynch stressed that canoe trippers should come prepared for anything.
If fishing is the focal point of the trip, then there's not a better time of the year than spring, with May and June being prime months for a number of game species, including walleye and lake trout. But if it's warm weather, go in July and August. If you want to avoid people, go in September and October, once kids have returned to the classroom.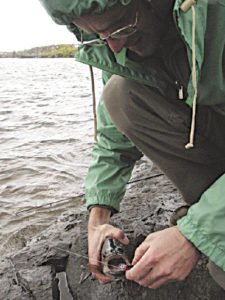 The focus of the trip will dictate the gear you'll bring. If you plan on putting lots of miles on the canoe, then light, Kevlar canoes are advisable.
But if you're going to base camp on an entry point lake, a heavier canoe will do.
Don't be overwhelmed by the decisions. There's a wealth of information available through the Internet and via outfitters such as Lynch, who are best positioned to share local knowledge.
Those outfitters can also save a trip when something as simple as a sleeping pad or life jacket is left at home. "We have all the pieces and parts to make it happen," Lynch said.
For more information, go to www.sawtoothoutfitters.com or call 218-663-7643.
Hike the Kekekabic Trail
Many who've traveled in the BWCAW have heard of this 42-mile long hiking trail that crosses the park. While it may lack the elevation of the mountain west, or even the Appalachian Trail, it's no cakewalk. It's a destination, and one that requires some serious planning.
Some sections of the trail are overgrown and it can be a challenge to avoid losing the trail, said Martin Kubik, who founded the Kekekabic Trail Club back in 1990.
Kubik, of Vandnais Heights, recommends hikers start from the Gunflint Trail side and head west towards Ely because the eastern third is most difficult. "If you can make it through that, the rest of the trail will seem like a breeze," said Kubik, who suggests hikers plan to go either in spring or fall, avoiding the humidity of summer.
And that brings up one of the logistical challenges to through-hiking the trail. It may only be 42-miles long, but it's a four-hour drive from one end to the other.
Kubik recommends hiring an outfitter to provide a shuttle (that can cost several hundred bucks).
Kubik said groups of three or four are best because they can spread out, which helps stay on the trail. He recommends planning for at least four days to complete the trail, and he stressed minimalist packing principles. It's why he cuts down his maps into strips, covering three miles around the trail but ditching the rest of the map.
"It's an emotional decision because they cost $8 a piece, but you can save ounces there," he said.
For more information, go to www.kek.org.–Javier Serna
Fly-in Fishing Adventures
T he excitement begins at take-off, because you know you are on the way to adventure. The float plane will land on a remote lake and drop you off at a rustic camp. Then, for a few days, it's just you and the fish. Sometimes the walleye fishing is so fast and furious you can hardly make a cast without catching one. Occasionally, a pike as long as your leg will appear behind a walleye struggling on your line and attempt to steal it. That's fishing.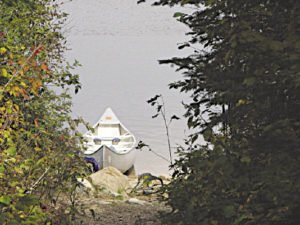 The vast wilderness north of Thunder Bay has hundreds of fly-in camps located on lightly fished lakes. Usually, the outfitter provides you with a small cabin and adequate boats and motors for your party. Food and fishing essentials are up to you. Fly-in trips range from a few days to a week or more. Very often, you won't see anyone else on the lake during your stay.
When planning a fly-in trip, decide first on what fish species you want to catch. Walleyes and pike are most common, but some camps offer fishing for lake trout or trophy-sized brook trout. Adventurous souls can even work with outfitters to arrange wilderness river trips. A couple of excellent websites listing numerous outfitters are Ontario's Sunset Country www.ontariossunsetcountry.ca and North of Superior Tourism www.superiorcountry.ca/fishing-services.
Seeking Caribou—
The Slate Islands
A Lake Superior archipelago is home to Ontario's southernmost population of woodland caribou. Created when a meteor slammed into the earth over a billion years ago, the Slate Islands, located off Terrace Bay, support a few hundred head of the far northern deer and boast sheltered waters, great scenery and excellent lake trout fishing to boot. Due to meteoric origins, the islands have unique geology, namely super-heated, glass-like rocks and a rare formation known as a shatter cone. While caribou are numerous, sighting one is a matter of luck, as is always the case when looking for wildlife.
The Slate Islands aren't a secret, yet few folks make the journey to this out-of-the-way place. Why? Because you're on your own out there. The archipelago is protected as Slate Islands Provincial Park. There are no facilities other than campsites. Most folks set up camp and then use a boat or kayak to tour the islands. You can arrange for a charter service from Terrace Bay to get here and back again. For information and a list of charter services, go to www.terracebay.ca.–Shawn Perich
---
This story was originally published in the Feb-March 2013 issue of Northern Wilds.