Unless you've been living under a rock (pun intended), you've probably noticed online posts from groups such as "Painted Rocks!" or "Kindness Rocks." You may have heard an artistic friend talking about this interesting hobby—painting rocks and placing them in special places. Or perhaps you've found a delightfully decorated rock yourself and wondered what is this all about?
It all appears to have started with women's empowerment coach and kindness activist Megan Murphy, who founded and trademarked the Kindness Rocks Project in 2015. Murphy founded the Kindness Rock Project after an introspective walk on a beach in Cape Cod, Massachusetts. On her website, Murphy explains that she frequently looks for messages on such walks—heart shaped rocks or pieces of rare sea glass. She sees these finds as signs that she is on the right path. Murphy says she had an epiphany—why not create inspirational messages for others to find?
She launched the Kindness Rocks Project and hundreds of other such groups formed across the United States and around the world, including two here on Lake Superior's North Shore. Local rocks are being painted, hidden, found and re-hidden by members of Cook County/Grand Marais Rocks and Thunder Bay Rocks.
The Cook County group is fairly small. Its Facebook page has just 164 members at this time. But for Cook County residents, it is fun to see painted rocks turning up at familiar locations, such as the Lake Superior Trading Post, outside East Bay Hotel or Grandma Ray's.
The Cook County group was founded by a rock painting visitor, Terry Bockovich of Marysville, Washington. Bockovich enjoys taking part in "Snohomish County Rocks" there. On a visit to Grand Marais in December 2016, she shared the idea with friends and family, who quickly took up the challenge to, as Bockovich says, "spread love and joy around the community."
Thunder Bay Rocks is a much larger group. The Thunder Bay Rocks Facebook page has 8,551 members. One of the administrators, Patricia Quinton, explains that she heard about the concept of painting rocks from a cousin who belongs to Winnipeg Rocks, a group with 25,485 members. She says she took up the idea as a new hobby. In a phone interview, she laughs, "After all, how many knitted afghans can you have?"
Quinton had never painted before, but decided to give it a shot. She started simply, just hiding rocks saying "Spread Kindness." But as she became more confident, she painted more elaborate rocks. Which leads to the question, is it hard to hide the rocks and not know what happens to them?
Quinton says no, because the mystery of what happens to the rocks is part of the fun. "I've done hundreds and I let them go. Will the person who finds it enjoy it? Will it make an impact on their life? The mystery makes it fun," she says.
However, Quinton admits it is also touching to hear the stories of found rocks. One of her favorites was a perfect oval rock, painted to be Spiderman. She shared it with a friend to hide, but before the friend could hide it, she encountered a little boy decked out in Spiderman gear from head-to-toe. There was no way that rock could be hidden, it had found its owner.
That happens all the time, says Quinton. In fact, her mother had a serendipitous encounter that showed how meaningful a rock with a positive message can be. Quinton's mom was at a bakery and had to dig through her purse to find change for her purchase. In her purse was a rock painted by her daughter. When the salesgirl saw the rock, she shared one she had found—one painted and hidden by Quinton! The young woman said she found it at a low point of her life. She now keeps it on a shelf at the bakery and whenever she has a bad day, she looks at it and feels better about things.
That is the purpose of the huge hide-and-seek game. Behind the whimsical artwork and silly messages; mixed amongst the masterfully painted rocks with deeply philosophical quotes, is a very serious effort to make the world a better place—one painted rock at a time.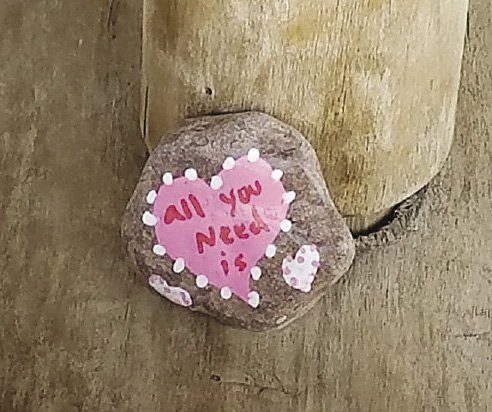 How To Join The Kindness Rock Movement—It's Simple!
PAINTERS
1. Find an interesting rock.
2. Paint it—include a reminder on the back to share to a local group's Facebook page.
3. Hide it—follow the guidelines for your local rock group.
FINDERS
If you find a rock, you have two options—keep it as an inspirational keepsake or re-hide it to be found and enjoyed by others.
For more information, visit the Facebook pages for the North Shore rock groups:
Editor's Note: Due to the COVID-19 pandemic, rock groups have halted hiding rocks until it is deemed safe to once again do so. In the meantime, many participants are still painting rocks and sharing them on the groups' Facebook page. Check it out for some uplifting thoughts of better days ahead.