In fall 2019, longtime Split Rock Lighthouse site manager Lee Radzak retired, passing the torch to Hayes Scriven. Hayes and his family moved into the light keeper's residence this winter. Northern Wilds reached out to Hayes to learn more about the man who is now caring for the historic lighthouse.
Hayes comes to Split Rock with a solid background in Minnesota and Wisconsin history. While in college at the University of Minnesota-Duluth, he was an intern at the Richard I. Bong Veterans Historical Center in Superior, Wisc.
After college, he served as the executive director of the Northfield Historical Society in southern Minnesota for over 11 years, starting there as the exhibits and education coordinator.
He and his wife, Jenny, wanted to be farther north, so when the director position for the Richard I. Bong Veterans Historical Center came open, he applied.
Hayes says, "I had always joked, that the only job that would ever take me away from Northfield was a job up north. When the job at the Bong became open, it was the perfect opportunity."
He oversaw the Bong Veterans Historical Center from 2017 until November, 2019, when he accepted the light keeper's job at Split Rock.
Hayes is not a North Shore native—he grew up in Nerstrand, Minn., about 15 miles outside of Northfield. But he has always had a fondness for the iconic lighthouse. He doesn't remember his first visit to Split Rock at just 2½ years old, but his parents recorded the moment with a photo of their little boy, gazing up at the 54-foot tall lighthouse.
There were many other trips north with his grandfather, starting when Hayes was 13 years old. The pair made annual treks to the Boundary Waters Canoe Area Wilderness, exploring the North Shore along the way.
His first visit to Split Rock when he was in college was with his girlfriend, Jenny, now his wife. He later proposed to her on top of Day Hill, the bluff in Split Rock State Park that gives panoramic views of Lake Superior and the lighthouse.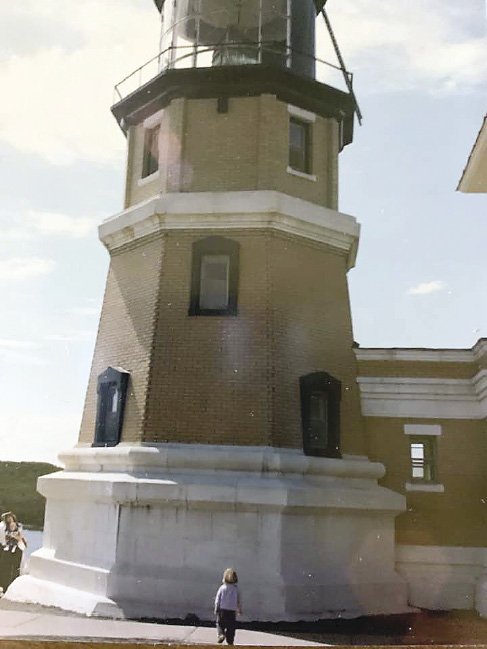 "The site and the North Shore has held a very special place in our hearts for many years," says Hayes.
A new lighthouse keeper is a big change for the site, which is a National Historic Landmark managed by the Minnesota Historical Society. Former lighthouse keeper, Radzak managed the site for 36 years. We asked Hayes if he knew Radzak.
Hayes jokes that "history geeks" always seem to find one another. Shortly after moving to Two Harbors, Hayes was hosting a trivia night at Castle Danger Brewery. Lee and his wife, along with a Split Rock program manager, Jennifer Niemi, came in to play and the rest, as they say is history.
We asked Hayes if Radzak gave him any advice as he passed the torch. Hayes says Radzak suggested that he run the site like it's his own business. Words of wisdom that Hayes plans to follow, as that was also his philosophy at the other organizations where he worked.
"If I did not fundraise, increase attendance, or increase membership, we would not be able to keep the doors open," he says. "Also, you have to have passion for what you do. If you don't have passion, your business will fail."
And Hayes adds, "Lee and I will continue to chat; he has a wealth of knowledge that I need to try and download from him."
However, there may be some changes ahead at the site.
"We are going to be introducing some small programmatic changes this year that will give our guests some more to do while they visit," explains Hayes. "We are creating pop-up programs—short 20 minute interactive presentations on a variety of topics. In addition, we hope to offer some more specialty tours which can enhance the experience at Split Rock."
Hayes and his family—wife, Jenny and children Devin, and Aneliese—are now residing on site and loving their new home. Hayes says, "We are very passionate about the outdoors, so being in the state park and living so close to Lake Superior is just a dream come true.
"The first morning we woke up in the house, I looked out the bedroom window and a bald eagle was coming right at the house and flew right over the top. It was a very magical moment, and I knew right then, we are in a very special place."
Hayes says he will work to share that feeling with the public. "We hope everyone that visits Split Rock will have the same connection and feelings that we all do to the site and the North Shore. It is hard to describe so I have been calling it 'North Shore Magic.'"
"My goal is to make every guest feel the 'North Shore Magic,'" says Hayes.
At press time, access to Split Rock Lighthouse State Park is currently restricted due to the COVID-19 national emergency, however work continues on programming for when the historic site is once again open to the public.