A weekday morning at the former Paramount Theatre building in Thunder Bay's north side is surprisingly quiet. To be sure, once you enter the lobby and look to your left, you can hear happy squeals and staccato footsteps of young children playing. Investigate further and you find yourself in a massive play area with everything a small child would want to jump on, jump in, climb up and generally have a whale of a time, safely, with parents looking on nearby.
"Maple Tops is our indoor wilderness adventure place for young children," says Candi Badanai, artistic director of Paramount Live and Badanai Theatre. "We turned one theatre into two, and put together a new three-level play section, including a toddlers area."
Yet, along with the leveled floor, colourful climbing structures, ball pit and slides, vestiges of the original Paramount Theatre itself remain.
"We kept all the art deco decorations on the walls," Badanai indicates with a sweep of her arm. "And if you go into the lobby, you'll see the 'P for Paramount'!"
Indeed, the wall for the stairway landing to the old balcony is shaped like a hollow letter P, a feature she explains was in all Paramount theatres across North America.
And yet, the place seems quiet. On this weekday morning, however, there are hints that the seeming quiet is an illusion: the Paramount building is as busy as a beehive going full-bore.
Upstairs, handy-man Dennis Lowe is hammering and sawing, creating stage sets out of reused lumber materials.
"We have a seven-week turnaround for this musical," Badanai says. Lowe is transforming the upstairs theatrical space yet again, in an endless series of changeovers to meet the needs of new productions.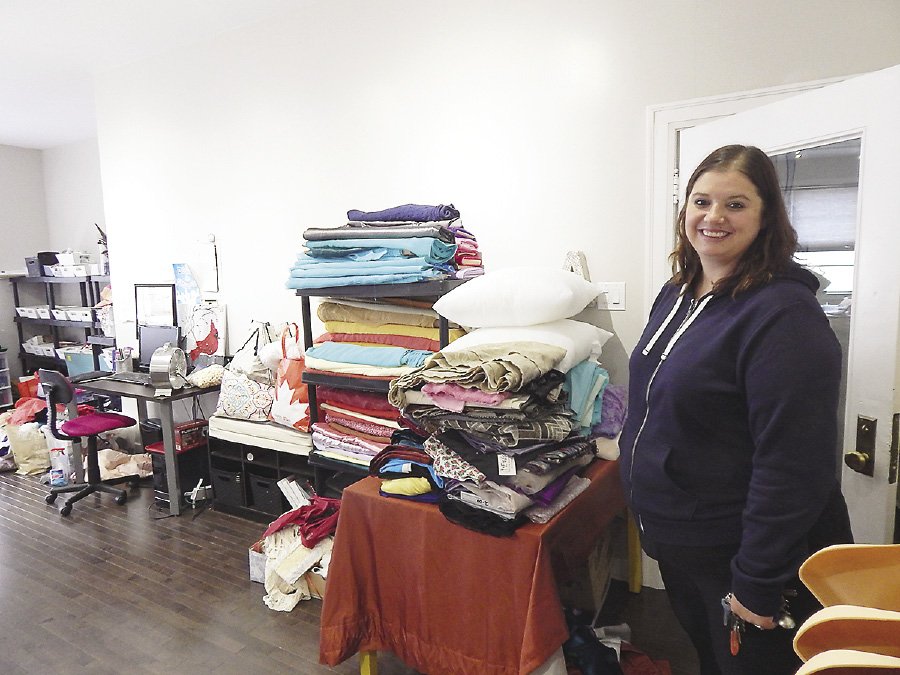 "This was a bar for The Hunger. Drag queen acrobats and a bunch of other acts performed on the stage," Badanai says, referring to a recent popular fundraiser. "And before that, the Terror in the Bay Film Festival used this space as a projection theatre." She indicates a drop-down screen and projection booth opposite. Eventually, the 200-plus theatre space will host the November children's live musical Matilda.
In the meantime and up another short flight of stairs, Badanai leads her visitor to a long room with wall-mounted full-length mirrors, posters and theatrical clutter.
"The Green Room," she says. "This is our rehearsal space. Want to see the costume room?"
Now she leads her visitor outside and up two flights of steel fire-escape stairs to another room bright with multi-coloured costumes strung along several mobile hangers, and cloth samples on a work table with a serger and sewing machine.
"We have Rosa, our seamstress and Kayleen, our volunteer assistant, doing all our costumes," Badanai says. "Props are the responsibility of those directing plays."
Plays indeed; a lot of plays and events at the Paramount at any given time, and no wonder. The building is host not only to Maple Tops, but Paramount Live Theatre and Badanai Theatre companies. This all in addition to space rental by a variety of community groups who find other available venues too expensive for their operations.
"We offer theatre programs for children from age four through to age 18, different groups," Badanai explains. "For the older kids, we have fully-licenced Broadway musicals, from Musical Theater International."
In addition, both Badanai and spouse Lawrence are working on their iTheatrics Theater Certified Instructors credential, which enables them not only to direct but instruct others in theatrical direction. This has also made productions available for licensing before they even open up to the public. Badanai, as artistic director of Paramount Live and Badanai Theatre (and choreographer, when necessary), teams well with husband Lawrence, who co-directs productions and handles marketing, lighting and sets. They are busy people.
"Thursday evenings we might have three rehearsals happening here at one time," she says. Luckily, their four-year-old daughter Emmy loves the theatre. "We couldn't do this if she didn't," Badanai smiles.
"This is an inclusive space for everyone, but we aren't handicap accessible yet. We're working on it," she continues. "The smiles on the faces of the kids make it all worth it—this is their sport, where other kids play hockey or whatever."
Badanai pauses a moment, considering, before she adds, "I wish we had these opportunities when we were young."