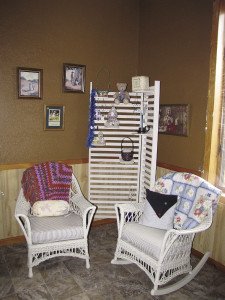 GRAND MARAIS—Oddz & Endz is the newest non-profit in Grand Marais attempting to repurpose and recycle the waste stream coming out of town. Grand Marais has no city dump. All trash is trucked out of town and down the shore, so it's no surprise that ditching your trash is expensive. A few places take clothes, dishes, and books, but no one was taking furniture or usable construction materials until last year, when four women—EvaLyn Carlson, Sharon Bloomquist, Sandi Furlow, and Arlis Thompson—came up with the idea of opening a reuse kind of store, because they often saw furniture sitting out on people's lawns (sometimes in the rain) with a "free" sign.
"We had a sense about how there are people in need," Thompson said. "We wanted to get stuff to a spot where anyone can get access."
So last June, these women, along with a lot of volunteers, opened shop in the location known as the former bowling alley, or former temporary co-op, up on the hill. It's been a work-in-progress, but today the place is full of items looking for a new home. Some of the furniture is tastefully arranged in mock dining room displays. There is a mancave and a pet corner in the back of the store, where you will most likely find tools or pet supplies. There are materials for building projects too.
The four women each put in many hours, some in the store, some restoring donated items at home. Thompson said it's basically a fulltime job, but no one gets paid, it's all volunteer.
There have been some items donated that can't be resold in the store, such as the nine bathroom sinks that came in last summer—they went to the Habitat for Humanity Re-store in Superior. Other items have gone to special places, such as the collection of wigs that came from an estate—they went to St. Luke's hospital where cancer patients can use them.
According to EvaLyn Carlson, Oddz & Endz has flipped the items in the store at least three times since they opened.
This summer, Carlson said they will add a garden and plants to attract bees and butterflies and places to sit outside. Volunteers are always welcome to come help in any way they can—cashiering, painting, organizing, and restoring items that come in.
The store has non-profit status and store profits are donated to other non-profits. Each volunteer gets to designate funds based on how many volunteer hours they have put in and to a charity of their choice. The only costs are rent, heat, lights and insurance, Thompson said.
The building that houses Oddz & Endz is currently for sale, but Thompson said, if it sells, they will simply relocate.
"We do this on a wing and a prayer," she said.