Kaministiqua—The soft blanket of winter's snow disguises the harsh reality of the wild, such as wolf attacks on dogs. Some years are worse than others, but this year seems to be a particularly nasty one. Just look on social networks and missing dog sites—there are many references to wolf attacks. Possible reasons for the attacks include low deer populations and sightings of 'brush wolves,' or 'coywolves,' that don't seem to be as afraid of humans. Whatever the reason, it's a reality of living in the north.
My dad was a trapper. He once told me about what he saw on his trap line. A lone wolf crossed a frozen lake to try and entice his dog to follow it. Sometimes, that is the wolves' strategy, to get one wolf to playfully approach a dog and lure it toward the waiting pack in the bushes. It's a tactic I've witnessed at my country home in Kaministiquia, 25 km west of Thunder Bay. From my kitchen window I saw a wolf frolicking in the front yard. It offered the bow position of "let's play" to my dog and flirtatiously ran right to left. It acted just like a domesticated dog. I quickly called my dog inside, but the wolf did not run off when it saw me. In fact, my husband and I stood on the deck and yelled at it until it slowly sauntered off. That was about 20 years ago, and since then, we've seen plenty of wolves in the yard, as well as a deer kill they made near the house.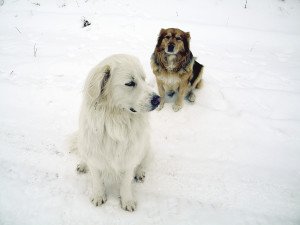 The TransCanada Pipeline runs through our property and serves as a highway for the wolves—some neighbors have said they've seen as many as 27 wolves in a pack. So it's no surprise that my family experienced a dog versus wolf encounter first hand. In 2012, we became the new forever home to a two-year-old great Pyrenees/golden retriever mix. After some time with us and our collie mix, our new dog learned to stay close to home. So when the dogs wanted to go outside early one morning, I opened the door to let them out. The collie began to bark—as she always did—at butterflies, snowmen, mailboxes and rustling leaves, so I thought nothing of it. A few hours later, when I called the dogs, only the collie came in. Then I saw the ravens flying overhead. I knew. I began to walk down the pipeline to look for our Pyrenees, and in the distance, I could see a wolf standing in the middle of the trail. I quickly turned back for home. When my husband and son came home, they took the snow machines and found a scattering of our dog's white hair. They burned the remains to deter the wolves from coming back.
Even though losing our dog was tragic, it didn't stop us from adopting other dogs. One of the benefits of living in the country is that our pets can romp and play and explore. And since I choose to live in the wild, I will always have a dog to keep away bears from the compost.
There are some things you can do to help prevent attracting wolves, especially in the winter when conditions are tough for them. Feed your dog inside. Keep your dog inside at night, or kenneled. And clean up any field dressing remains left by hunters in the fall; which may attract both dogs and wolves to the scene.