Aztec Hotel from its early days with "Illgen" letters on the Mayan column-like exterior and four 1920s Red Crown gas pumps in front. | DAVE CANO COLLECTION
---
So, how did a Mayan-inspired landmark resort end up on the North Shore?
Back in the 1920s and 1930s, an architecture movement known as the Mayan Revival was popular with American architects, who blended Mayan building styles with motifs of other pre-Columbian Meso-American cultures, such as the Aztec. Architect Robert Stacey-Judd's famous Aztec Hotel was built in 1924 in Monrovia, California and he explained that even though it was a Mayan-styled building, he named his hotel "Aztec" because it was a well-known name, whereas "Maya" was not. His Aztec Hotel is now designated a National Historic Landmark and listed in the National Register of Historic Places.
About the same time Stacey-Judd built his hotel, a German-immigrant named Rudy Bernhard Illgen and his wife Mary Ann were planning their Aztec Hotel on a 40-acre site, located on Crystal Bay. They purchased the site in 1924 from Minnesota Mining & Manufacturing Company (today's 3M).
Previously, Rudy had been the hotel proprietor innkeeper at Beaver Crossing, also known as Old Illgen City. In his article, "Some Vanished Settlements of the Arrowhead Country" (Minnesota History, spring 1955), Dr. Julius F. Wolff, Jr. wrote, "The settlement was a point of call on the Two Harbors-Beaver Bay sleigh road, which ran near the Alger Line in the upper Gooseberry and Split Rock River areas. The summer stables and pasture for horses used by the Alger-Smith company were likewise located near the town. When the railroad ceased to operate in 1923, the hotel proprietor Rudolph Illgen, moved to the present site of Illgen City, just east of the Baptism River on the North Shore."
Rudy had gone looking for land to build a resort hotel modeled after an Aztec temple, after learning that an improved highway was going to be built along Lake Superior to the Canadian border. As the story goes, he had been inspired and impressed by the Maya and Aztec buildings after a trip to Yucatan, Mexico.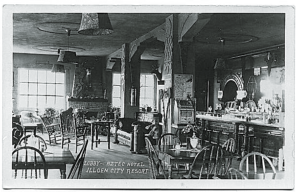 Born in 1887 in the small German town of Rossleben, Rudolph Bernhard Illgen immigrated to the U.S. at age 21, arriving in New York on November 3, 1908 aboard the ship Kaiser Wilhelm. He listed his occupation as "clerk." Two years later, he was living in Norwalk, Iowa, working as a farm labourer. A year later, on April 17, 1911 he married Mary Ann Panli in Oklahoma. They moved to Des Moines, Iowa, where he worked as a truck driver for an oil company and sometime in the early 1920s, the Illgen family moved to northern Minnesota and became hotel keepers.
According to their daughter Pauline's memoir, the Illgens could not secure a loan to construct the hotel, so they did all the work themselves. The two-story Aztec Hotel they built had a dining room; large lobby with two massive carved pillars; hand-carved 50-foot mahogany bar; electric lights powered by a Mack truck motor system (electricity didn't come until 1937); and a dozen guest rooms upstairs. At the front of the hotel, there were four Red Crown gas pumps with the distinctive 'globe' top (later three).
They named their site Illgen City—a name that still stands as an unincorporated community in Beaver Bay Township. It is located 33 miles northeast of Two Harbors at the junction of Minnesota Highways 61 and 1, surrounded by Tettegouche State Park and a half-mile from the Baptism River.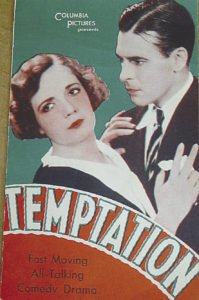 The Aztec Hotel also became the area's movie theatre in the 1930s. With a movie projector, big screen, 150 folding chairs and a contract with Columbia Pictures, movies like Temptation, Sisters and Acquitted were shown every two weeks.
Rudy was known as a visionary, an innovative entrepreneur always looking for new ideas and opportunities. So, in the late 1930s as more tourists arrived in cars on the improved highway, Rudy designed, patented and built small Quonset-like cabins he called "Cabinolas," containing one bed and small bathroom. His plan had been to build a Cabinola for each U.S. state, but in the end, only 30 were built for the horseshoe-shaped automobile campground he called Cabinola Park; which also included his Illgen Tourist Centre building.
For over 30 years—until destroyed by fire in 1958—the Aztec Hotel was the halfway stop on the North Shore for people travelling from Canada and Grand Marais to Duluth or Minneapolis.
"My parents and I travelled many times on a Greyhound bus to Minneapolis as my mom had family there and my godparents parents lived there," recalls Thunder Bay's Dave Cano. "I remember that many sections of the highway along the North Shore weren't even paved at the time."
By the time the Aztec Hotel was destroyed by a fire in 1958, Rudy and Mary Ann Illgen had retired. The Whispering Pines Motel and Cabins, which daughter Pauline and her husband Leonard Petersen had built next to the hotel in 1956, was not damaged by the fire. And in the late 1960s, the Cabinolas were sold to make way for the current Highway 61.