"The winner of this Big Bake and 10 thousand dollars is . . ." Twelve years earlier, as she spun out on glare ice during rush hour in Calgary, Jennifer Riley could not have imagined such a moment. The resulting head-on collision left her with a badly damaged knee, many surgeries, and a 10-month recovery. " . . . Team Thunder Bake!" The prize was, dare I say it, icing on the cake for Riley and her teammates Nicole Dawson and Julie Einarson. The accolades have been rolling in during the six years she has owned and operated CAKE! By Jennifer Riley in Thunder Bay.
Cake art has evolved into a profession where those with a passion for baking and an eye for artistry and invention can devise anything from themed sheet cakes to eye-popping wedding cakes. The three cake artists featured in this article have combined those skills with an entrepreneurial spirit to own and successfully operate their bakeries.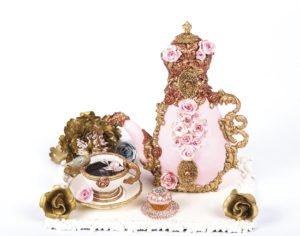 It was during her recovery, while watching the show Cake Boss, that Riley had her epiphany. She thought, "I can do this!" And indeed she has. In addition to her victory on national television, she had been named one of the top 10 cake decorators in the world. The images of her succulent cupcakes (cacti) on insider.com have had more than 10 million views.
The path to her notoriety was not easy, though. Two weeks into her first job after completing culinary school in Toronto, her employer advised her to seek another profession. She found work at a bakery production site and continued to develop her craft. After yet another surgery, she moved back to Thunder Bay and, with help from a woman's organization called PARO, she was able to start her own business.
As for how she creates her masterpieces, she says it depends on what the client wants. The type of occasion is obviously important. She tries to ascertain the number of guests and the serving sizes for the event. Some cakes may take an hour to produce, others upwards of 60 hours. A simple cake might cost 50 dollars. An extravagant structured wedding cake can run into the thousands of dollars. For myself, I may have to settle for one of those amazing cupcakes.
Down the shore in Duluth, Lila Newville studied printmaking in college. Upon returning to Duluth she got a job at Pita Pit. The general manager of How Sweet It Is bakery noticed her window designs and offered her a job. There she apprenticed under then-owner Eileen Brown. About a year ago Newville purchased the business. She strives to continue the legacy Brown created while adding her own artistic flair. The bakery specializes in wedding desserts, but they also provide other delights such as cheesecakes, bars, cookies, macaroons and tartlets.
Much like Riley, Newville takes her design lead from her clients. Some clients have very specific designs in mind, others allow her to design based on a theme. Sometimes she works from photographs. To Newville, it doesn't matter how the design comes about, only that her clients get the perfect cake they desire. While she very much enjoys working on extremely complex cakes, "at the end of the day my favorite ones are the simple cakes decorated with real florals."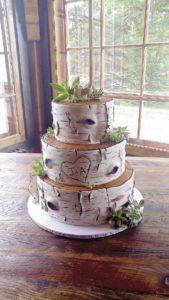 In Grand Marais, Hana Crosby also recently purchased a bakery. Baking had been a side business until the spring of 2019, when she quit her day job and opened Crosby Bakery. As with Riley and Newville, Crosby puts her strong work ethic and entrepreneurial spirit to good use.
Crosby is a self-taught baker. When she was young, she liked to bake her own birthday cakes. That way she got the cake she wanted. To her, decorating has come secondary to the flavor of the cakes. To perfect her craft, she has surrounded herself with cookbooks and online resources. She has spent hours practicing piping and working with fondant. She, too, is fond of creating wedding cakes. She enjoys the process of working with a couple to create something that is both beautiful and delicious. She also does many sheet cakes for group gatherings and celebrations. Birthday cakes range from cakes with calligraphy to cartoon themes, to carved three dimensional cakes. To her, "Baking and decorating are two sides to the same coin. Baking is chemistry. Decorating involves engineering and artistry. You have to create a solid structure for the art to be displayed."