John Jacob Astor—the first multi-millionaire in the U.S.—claimed he made his fortune as a fur-merchant, but did he get some help from Captain Kidd's pirate treasure?
Born in Germany in 1763, the son of the village butcher, Astor moved to London, England at age 16 to work for his uncle making musical instruments. After learning English, he immigrated to the U.S. in 1793 with little money and seven flutes to sell.
On board was a fur dealer who advised Astor to get into the fur-selling business. So, he sold his flutes to buy his first furs and shipped them to Europe to sell.
In Montreal, he became friends with the famous New Jersey-born fur merchant Alexander Henry the Elder (1739-1834), who introduced Astor to Lake Superior and the Great Lakes fur trade. He even secured Astor a seat on a voyageur canoe travelling along Lake Superior's North Shore to Fort William, the inland headquarters of the Montreal-based North West Company (NWC).
Beginning in 1787, Astor made annual visits to Montreal, staying at Henry's home and with his help, securing furs from various Canadian sources to sell in the U.S. and Europe. The two also partnered in deals, like NWC's first fur-business venture into China taken in 1792, in which Henry and two other Canadians held 50 percent interest while Astor held the other 50 percent with a U.S. partner. The second China voyage in 1793 had an outbound cargo of 40,000 beaver skins going to China, returning with goods such as silks and teas.
In 1794, Henry proposed that Astor become a full-fledged partner in NWC, responsible for NWC's fur trade to China and Europe, but NWC rejected the proposal. Astor did join the 1790s Canadian fur-traders, like Henry, in purchasing Canadian lands along the U.S. border and then selling them quickly for a profit.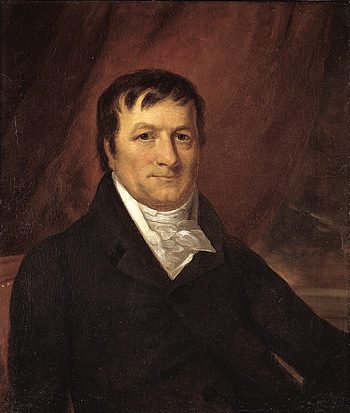 By 1800, Astor was a leading fur-merchant, having made $250,000 (2022 equivalent of $5.9 million). He later established the American Fur Company (1808), Pacific Fur Companies, Southwest Fur Company and Fort Astoria, Oregon (which he eventually sold to NWC).
So, what's behind the story to suggest that it was Captain Kidd's secret pirate treasure worth $1.4 million that financed Astor? The news made headlines, like "Captain Kidd loot basis for Astor fortune" (Idaho's Daily Star-Mirror, June 7, 1923) and "The Story of How John Jacob Astor Obtained His Great Wealth" (The Ottumwa Courier, Feb. 4, 1904).
As the story goes, in the early 1800s, an employee of Astor's discovered an iron box, engraved with the initials W.K., buried in a cave on Deer Isle near Maine. He gave it to Astor and inside the box was reportedly the hidden pirate treasure of Scottish-born Captain William Kidd, known to have sailed along the coast of Maine and plundered enemy ships.
The treasure reportedly included ancient Spanish and French coins, plus gems and jewelry, including a bracelet stolen years before by Kidd. Astor supposedly secretly sold the treasure in London, depositing $1.4 million (2022 equivalent of $32.8 million) in a New York bank.
In reality, Captain Kidd was a privateer with an officially-commissioned Letter of Marque from England's King William III to attack and capture enemy merchant shipping vessels. However, as reported in The Ely Miner on July 8, 1927 ("Captain Kidd" by Jean Newton), "When after sailing forth in his famous galley, the Adventure, he did not return with ships, it rumoured he himself had turned pirate and was roving the seas with his stolen treasure."
Hearing the rumours, Kidd arrived in Boston harbour to clear himself but was arrested, sent to England, put on trial for piracy, sentenced to death and hanged May 24, 1701. Prior to his death, he allegedly handed his wife a card, quickly confiscated by guards, on which he had written the number 44106818. In the summer of 1894, an astronomer visiting Deer Isle owner's home near the buried treasure cave, found the site to be latitude 44 degrees, 10 minutes and longitude 6818. Was it a coincidence the astronomer's numbers were the same as on Kidd's card?
Adding to the lore, banker and lawyer Franklin Harvey Head wrote in 1898 and privately-published a fictional funny pamphlet about Deer Isle, Kidd's treasure and Astor. Newspapers got wind of it and sensationalized the story as being true. Most historians consider the tale as a grand hoax, fueled by the fictional pamphlet. Or is it?
Was Captain Kidd even really a pirate? In a July 29, 1921 article "Captain Kidd Not a Pirate" by John H. Edmonds, the state archivist for Massachusetts (The Brownville Daily), wrote that Captain Kidd was a privateer of good repute from New York, not a pirate. "Yet the great American public persists in calling Captain Kidd a pirate and in searching for his treasure which does not exist." His hanging was to "satisfy political exigencies of the time," and the British Admiralty suppressed evidence that would have cleared Kidd.
Astor left the fur trade in 1834, and built the first U.S. commercial vessel to sail on Lake Superior, the 77.8-foot-long brig John Jacob Astor, used for fishing and transport. Astor died in 1848, leaving an estate worth $20 million, a 2022 equivalent of $754 million.