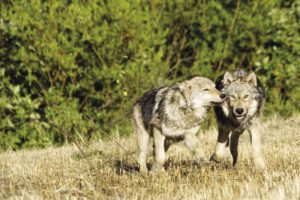 Results from the latest wolf population survey show no significant change in Minnesota's wolf population during the past four winters, according to the DNR.
The latest survey results estimate that within Minnesota's wolf range there were 439 wolf packs and 2,278 wolves last winter, compared to 374 packs and 2,221 wolves the year before. There has been no biologically or statistically significant change in the size of the statewide mid-winter wolf population over the past four years.
"The consistent wolf population surveys over the last several years are further evidence of the health and stability of Minnesota's wolf population," said Dan Stark, large carnivore specialist for the DNR.
The population survey is conducted in mid-winter near the low point of the annual population cycle. Immediately following birth of pups each spring, the wolf population typically doubles, though many pups do not survive to the following winter.
Minnesota's wolf population remains above the state's minimum goal of at least 1,600 wolves and is above the federal recovery goal of 1,251 to 1,400.
Although the population estimate was not significantly different from last year, survey results suggest wolf packs used less area on average than the previous year (62 versus 73 square miles), resulting in an increase in the estimated number of packs. This pattern is consistent with the increase in deer numbers observed in many parts of wolf range.
According to John Erb, DNR wolf research scientist, when prey numbers change, wolves must eventually re-adjust to the new conditions.
"In recent years we've observed a decline in prey that translated into larger wolf pack territories, and the reverse is now to be expected if deer numbers continue to increase," Erb said.
The survey estimated an average of 4.4 wolves per pack, down from an average pack size of 5.1 wolves per pack in last year's survey. The slight drop in average pack size from last winter could be a result of many factors, although pack size is not as correlated with prey density as is territory size. The late start and early end to winter snow cover reduced the amount of time available for wolf pack counts, which could contribute to a lower estimate.
"Regardless of the explanation, over the past 30 years, average mid-winter pack size has not shown much variability, ranging from 5.6 to 4.3," Erb said. "Counts are assumed to represent minimum estimates given the challenges with detecting all members of a pack together at the same time."
The DNR's goal for wolf management, as outlined in the state's wolf management plan, is to ensure the long-term survival of wolves in Minnesota while addressing wolf-human conflicts. Wolves in Minnesota returned to the federal list of threatened species as a result of a Washington, D.C. federal district court ruling in December 2014.
Learn more at www.mndnr.gov/wolves.