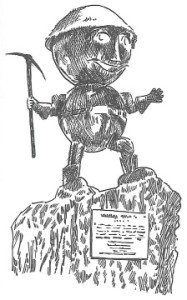 Silver Bay—As the New Year begins, some folks in the Northern Wilds are currently out of work. In December, Cliffs Natural Resources laid off workers at its Northshore Mining facilities in Silver Bay and Babbitt due to decreased demand for iron ore pellets. Similar lay-offs have occurred at mining operations across the Iron Range.
The layoffs are expected to be temporary; although some speculate it may be spring or later before workers are back on the job. While part of the industry downturn is due to less industrial demand, officials say that illegal, below-cost steel "dumping" in the U.S. by foreign competitors is the real culprit. Minnesota politicians have called upon the Obama Administration to address the issue.
In response to the shutdown, Silver Bay Mayor Scott Johnson says the city decided to not have an increase in the tax levy, shelving for the time being some plans for increased maintenance. He says most laid off workers will be fine for about six months, because they can draw about 80 percent of their usual pay via unemployment benefits. While mining shutdowns occur about every five years, he says this time folks are more anxious due to the global steel situation.
"All we can do is cross our fingers and hope," Johnson says.